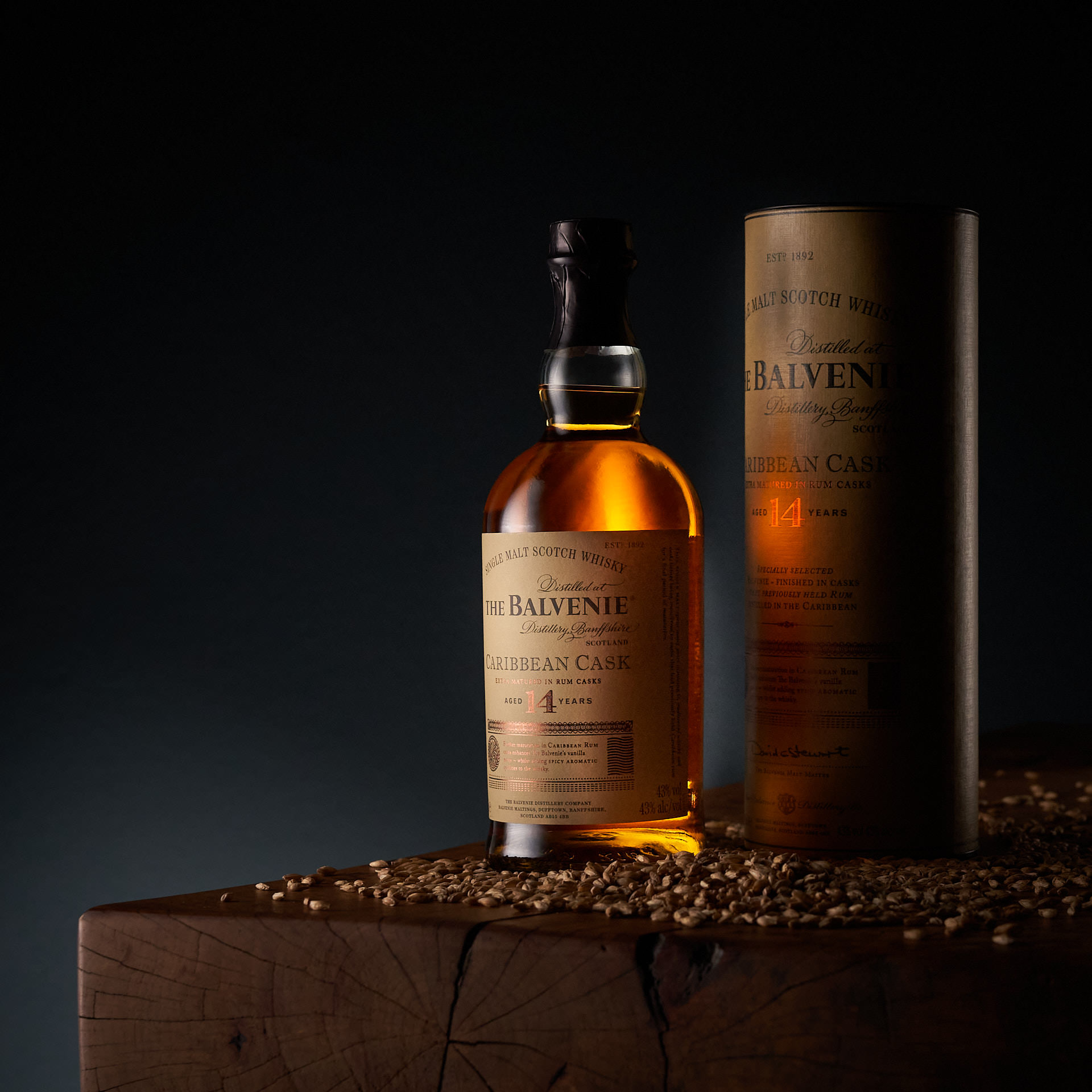 The Balvenie 14 YO Caribbean Cask Single Malt Whisky 43 % vol.
Ready for shipping. Delivery time: 1 working day
A whisky of the special class. Refined in two different casks to create a distinctive character. Rich and sweet, with a fruity character.
Meat knowledge
When Scottish flavours meet the Caribbean lifestyle, it's an adventure in itself! That's what makes the 14 year matured Balvenie Caribbean Cask so fascinating.
After the whisky has rested in selected oak casks for 14 years, slowly developing its character, it receives its passionate finish in Caribbean rum casks. This ingenious combination has resulted in a quality that has rightly been awarded two gold medals.
Good things take time
Decades of experience meet years of maturation
It is not only fabulously good meat that needs time to develop flavour and depth; with whisky, too, success lies in patience. And, of course, in choosing the perfect casks. With over 50 years of experience, Malt Master David C. Stewart always manages to create taste surprises.
In the case of The Balvenie 14 YO Caribbean Cask Whisky, with an assemblage of distinguished Speyside whisky and Caribbean rum flair.
The specially created blend, which was previously bedded in the rum casks, gives the whisky a sweet, round aroma with notes of tropical fruits and caramel.
What is Cask Strength Whisky?
This term is used to describe the cask strength of a whisky when it is made. It is the alcohol content by volume used for the whisky during its maturation, which is around 60 - 65% by volume.
In contrast to mass-produced whiskies, which are already diluted with water during bottling, cask strength whiskies arrive in the bottle unadulterated. Many producers use the dilution with water to make the whisky more "palatable" on the one hand and to reduce the production costs on the other.
With a Cask Strength Whisky, however, the focus is on pure, unadulterated enjoyment. The perfect choice for whisky lovers. Those who want their whisky to be a little milder, however, can also be happy here. Because the noble drop can be diluted with a little water and thus brought to the desired taste. So experimentation is definitely allowed here!
Playing with the whisky flavours
Adding a little water to a whisky has an enormous influence on the taste and character of the drink. Some flavours can be brought out even more strongly this way. Whether the water is added directly to the glass or in the form of ice cubes is up to you. We recommend about 1/3 to 1/2 of water for the mixture.
If you want to enjoy the Casks Strenght Whisky a little diluted, another advantage is that the contents of the bottle will naturally last much longer. Because mixed with water, you not only get more nuances and flavour, but also more whisky for the same price.
Details to the article "The Balvenie 14 YO Caribbean Cask Single Malt Whisky 43 % vol."