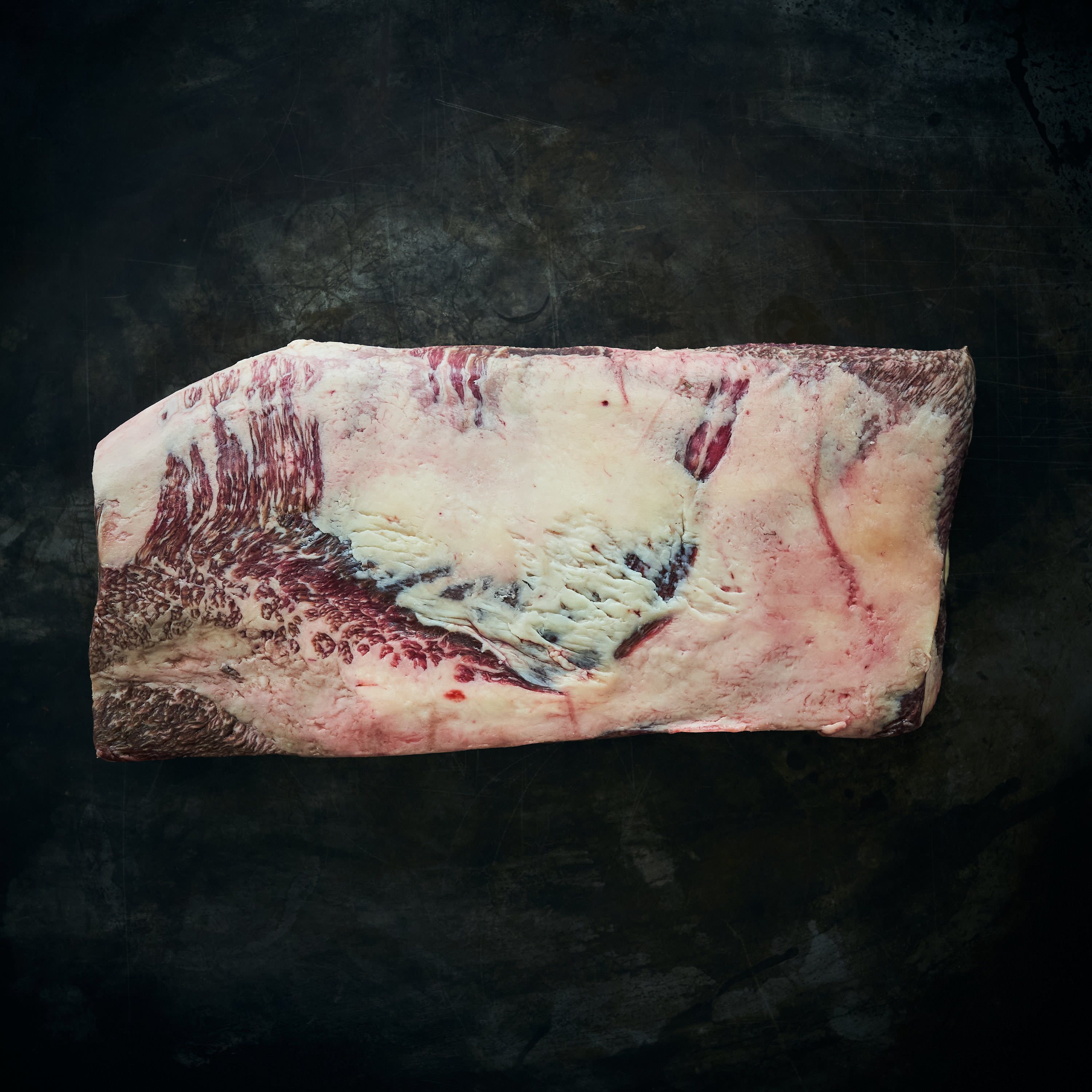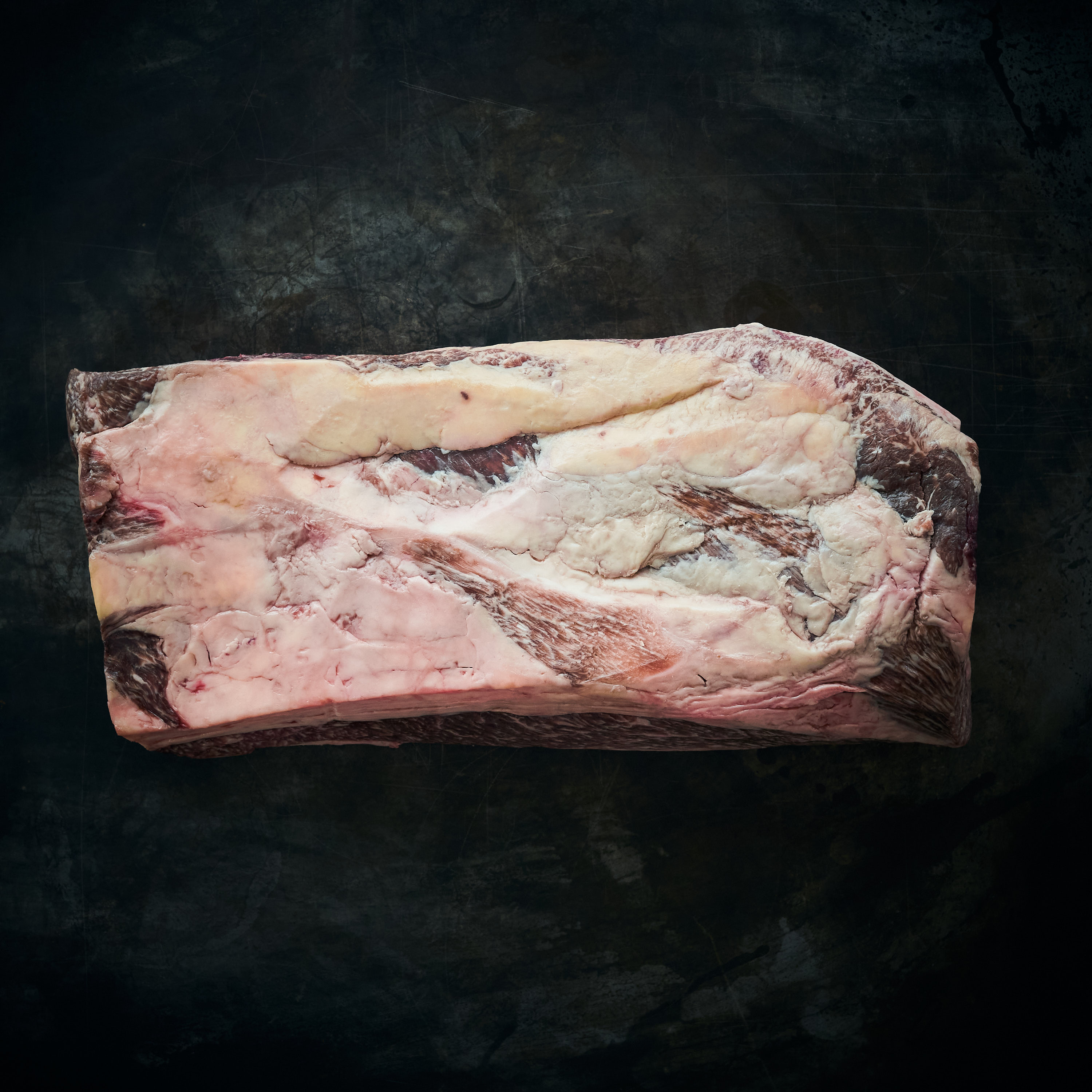 WAGYU Brisket
from Upper Austrian Fullblood-Wagyu (BMS 9-12)
Our Full Packer Briskets are an exclusive highlight on the grill. They are ready to go and have a small layer of fat that can be grilled with them or removed in just a few cuts
Meat knowledge
What would the "holy BBQ trinity" be without a Full Packer Brisket? That's right, pretty simple! Because hardly anything is as coveted as the delicious brisket core from beef. Whether whole for slow-smoking or for delicious pastrami - everyone should treat themselves to this taste experience once
Briskets are also known as brisket cores and are located on the side of the brisket. They consist of the flat and the point. The flat is the large pectoralis muscle and the point is the smaller pectoralis muscle. These two muscles are separated by a wide layer of fat that runs through the entire flat.
What really matters with briskets?
It should be noted that not every beef brisket is automatically suitable for brisket. Both the point and the flat must be nicely pronounced and have as nice a shape as possible. They also need to be matured and professionally trimmed
For preparation, the cut is already pretty great by itself. Beef should always be cut across the grain so that the meat remains tender and juicy. In the case of full-pack brisket, this is a particular stroke of luck, as the muscle fibres of the flat and point already run across each other. (The beef has already thought about this)
Full Packer Brisket from Austrian Wagyu Beef
For our briskets of Wagyu beef we use wonderful, Austrian Fullblood Black Wagyu cattle from the Salzkammergut region
On idyllic small farms with wonderfully extensive pastures, our Wagyu cattle can lead a really fine life. Whether they are grazing in the meadows, listening to the rustling of the leaves or enjoying a short walk - everything is open to them.
What makes Wagyu beef taste so good?
There is one factor that definitely sets Wagyu Beef apart from all other meats, and that is the amazingly high marbling. In contrast to other breeds of beef, where the fat tends to accumulate in spots - think of the famous eye of fat on rib-eye steak - in Wagyu it is evenly distributed throughout the meat
The muscle meat is therefore almost completely covered with the finest fat deposits, which makes it incredibly tender. In addition, there are always two components in meat. The flavour carrier and the flavour enhancer
In this case, fat acts as a flavour enhancer. With a Wagyu beef BMS 9-12, the flavour is therefore incredibly intense, as the highest degree of marbling has been achieved
The exclusive Wagyu beef from Austria
Even better than Köbe beef?
At Fitmeat you get first-class premium meat from Austrian Wagyu beef in the highest marbling grade. With a BMS of 9 - 12, there is simply nothing that could be better
Compared to Japanese Kōbe beef, our Wagyu cattle grow up on a beautiful smallholding in the Salzkammergut region. There, Carina and Roland breed 100% purebred Fullblood Black Wagyu cattle. With the highest quality standards, knowledge and passion, and already in the third generation
The outstanding characteristics of the Wagyu, or rather the intramuscular fat, the short fibres and the high amount of glutamic acid, meet here with the best and most careful breeding. Free range, exclusively natural feed and slow rearing guarantee the best quality.
Recommendation for cooking
BBQ
Zum Schmoren
Zum Smoken
Herkunft und Haltung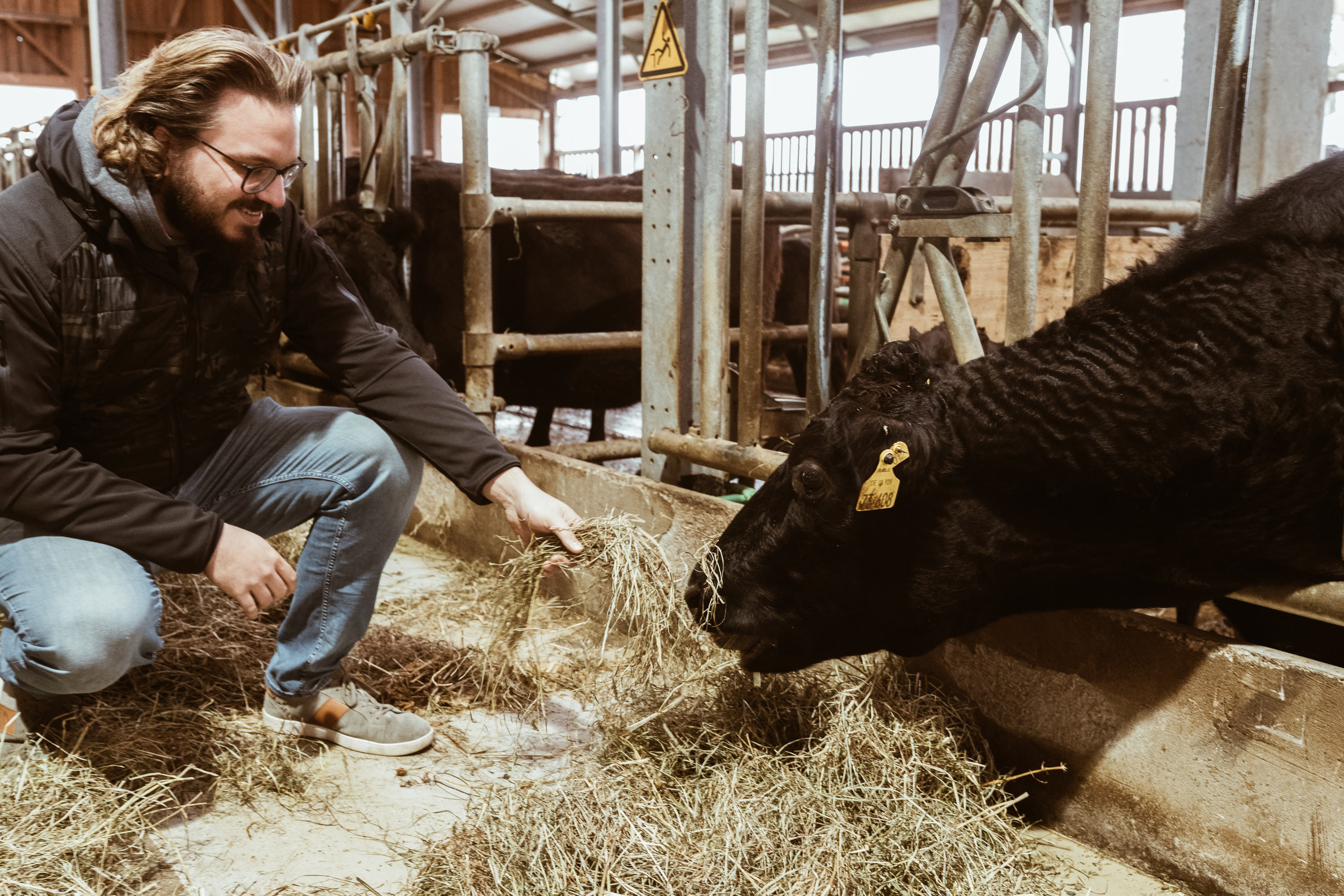 The Wagyu cattle come from a small farm in the beautiful Salzkammergut. Carina and Roland are now the third generation to breed 100 % purebred Black Wagyu cattle there.
They attach great importance to producing products of the highest quality. They place particular emphasis on animal welfare, environmental protection and strengthening the region. They do not feed maize at all in order to protect the bees and the flora.
In summer, the cattle graze on extensive pastures; in winter, they stay in the free-range barn with its own terrace.
The natural needs of the animals are always in focus, which is why the Wagyu cattle. have large walking areas in the stables. There are also separate areas for bulls, calving cows and calves depending on their age. This way we guarantee that the animals can live out their natural herd behaviour and live stress-free.
Complete documentation and careful selection of the stud bulls, along with attention to genetics, are the basis for such great Wagyu meat. Balanced and natural feed as well as particularly animal-friendly husbandry ensure the best quality.
Details to the article "WAGYU Brisket"
| | |
| --- | --- |
| Item number | FM106131 |
| Breed | 100% Fullblood Wagyu |
| Born in | Austria |
| Raised in | Austria |
| Slaughtered in | Austria |
| Cut in | Austria |
| Feeding | Fresh grass on pasture, brewer's grains, possibly maize or cereals |
| Meat maturation | 3-5 weeks on the bone |
| Shelf life at 0-4°C | 5-14 days |
| Shelf life at -18°C | 180 days |
| Hygiene advice | Prepare and consume immediately after opening. Kitchen hygiene is important: Keep the cold chain. Store separately from other products. Work cleanly. Heat through before consumption. |
| Storage advice (Fresh) | Store refrigerated at 0 °C to +4 °C. |
| Storage advice (deep-frozen) | *** compartment (-18 °C): best before: see label - ** compartment: 2 weeks - * compartment or ice cube compartment: 1-3 days - Do not refreeze after defrosting. |
Good to know
Facts
Fresh meat, no frozen goods
Meat from small farmers in Austria
Aged and finished by our traditional butcher
Billing by the gram
Recyclable packaging
Ready to ship in under 24h
Accepted payment methods
Secure shopping at Fitmeat
Packaging and delivery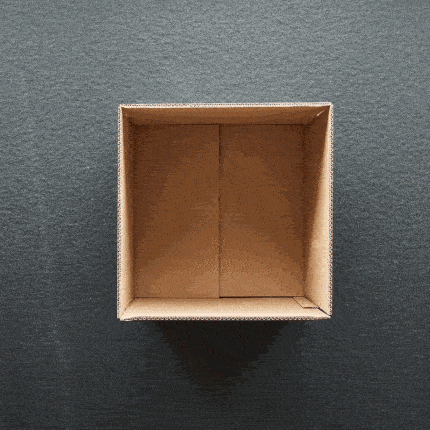 Your order will be delivered directly to your home by our partner shipping companies. During your order, you can also specify a desired date for your delivery. Thanks to sustainable packaging and specially developed insulation, your meat stays wonderfully fresh and is perfectly cooled with reusable cold packs.
Of course, you can track your order at any time via our tracking portal and view the delivery status. If you are not at home on the desired date, you can simply enter an alternative delivery address or give a drop-off authorisation.
Our express delivery guarantees safe delivery within 24 hours.
5 really good reasons for Fitmeat
At Fitmeat, you only get premium meat of the best quality from selected small farmers in Austria.
Our experienced master butchers are pioneers in meat refinement and maturation. At Fitmeat, you get perfectly matured meat that has never been frozen.
With meat from Fitmeat, you experience sustainable meat enjoyment of a special kind, because quality goes beyond the plate with us.
With meat from Fitmeat you support Austrian agriculture. Because the value chain remains one hundred percent in Austria.
What you see is what you get: Whether it's the marvellous marbling of our steaks or the beautiful pastures of our farmers - all the pictures on our website are 100% authentic and taken by us on location. After all, the eye eats with you, doesn't it?