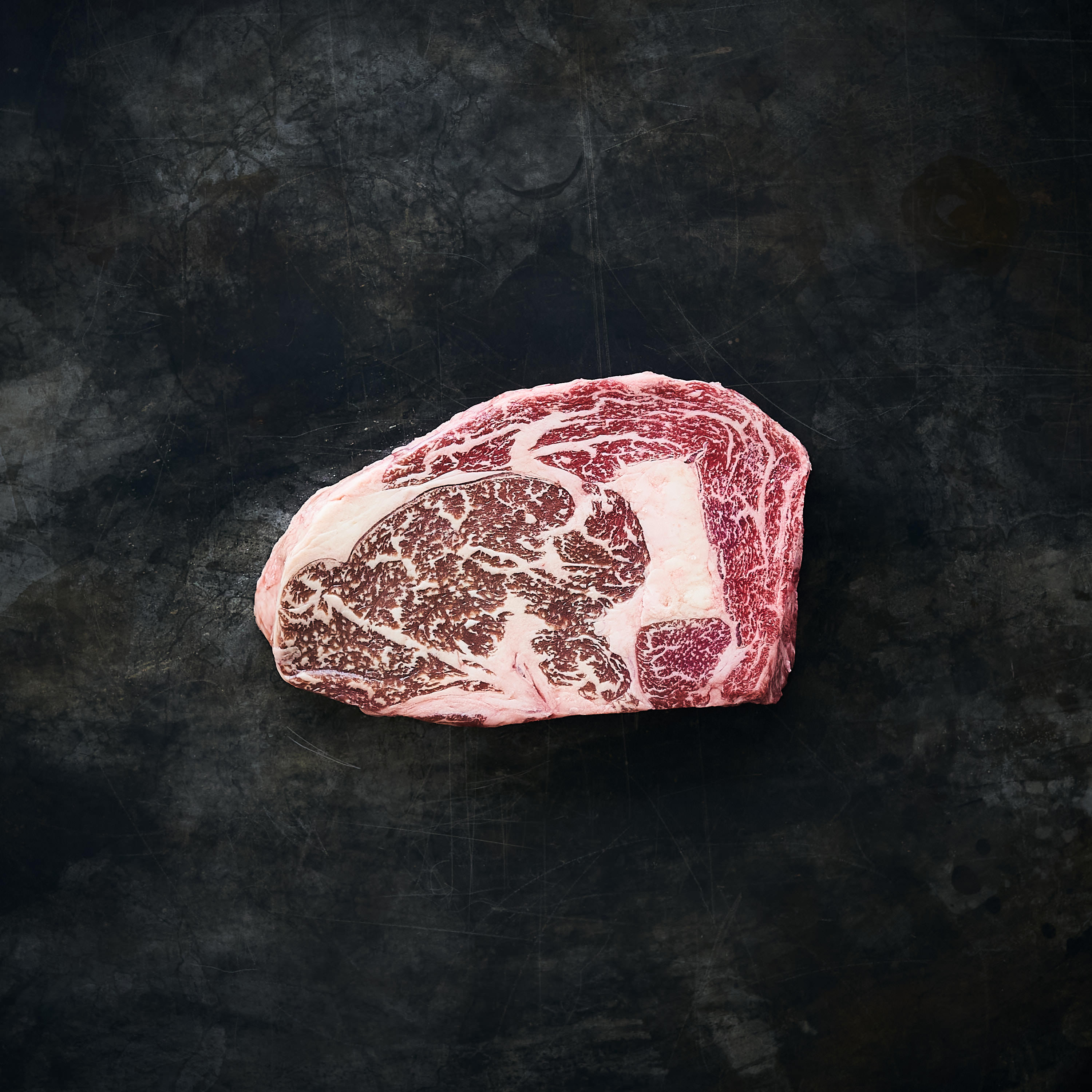 WAGYU Rib Eye Steak
from Upper Austrian Fullblood-Wagyu (BMS 9-12)
€64.90
ca.
0.25 kg
(259.6 € / kg)
On stock and ready for shipping
Steak enjoyment like you've never experienced before. The highly marbled Wagyu Rib-Eye Steak with characteristic fat eye, will make you melt. Deliciously crispy on the outside, juicy, tender and irresistibly good on the inside! Sautéed briefly, the rib eye (BMS 9-12) from Fitmeat becomes a real highlight!
Product number:
FM106104.1
Meat knowledge
What is a Rib-Eye steak from Wagyu cattle?
A wonderful crust on the outside and incredibly tender on the inside, with a soft bite. That's right, we're talking about one of the most popular cuts of beef: the Rib-Eye Steak. But we're raising the culinary bar a little higher. Because with us you get delicious Rib-Eye from Wagyu cattle.
Also known as Entrecote, Rib-Eye is called the "steak of connoisseurs and gourmets". Why? Because it combines exactly what makes a real steak.
With the Rib-Eye Steak from Austrian Wagyu cattle (BMS 9-12), we take this pleasure to the extreme. For all those who are now wondering what is so special about it, we have a few really solid facts at the ready.
Grilling Wagyu Rib-Eye Steak
Boasting real flavour
A Rib-Eye Steak makes quite a statement on the grill and is certainly a hit for bragging rights as a little showstopper. But with the Wagyu Rib-Eye Steak you can show off twice.
Besides the characteristic fat eye and the great marbling, this steak is a flavourful high-flyer. With a BMS of 9-12, it is exceptionally well infused with fat, which makes it much juicier and more intense.
Added to this is the fabulous meat flavour of Wagyu beef and the special aroma that comes from weeks of maturing on the bone. Prepared correctly, whether on the grill or in the pan, you get the ultimate steak pleasure!
The exclusive Wagyu beef from Austria
The better Kobe beef
At Fitmeat you get first-class premium meat from Austrian Wagyu beef in the highest marbling grade. With a BMS of 9 - 12, there is simply nothing that could be better - because Wagyu beef is the most highly marbled meat of all beef breeds.
Compared to Japanese Kōbe beef, our Wagyu cattle grow up on a beautiful smallholding in the Salzkammergut region. There, Carina and Roland breed 100% purebred Fullblood Black Wagyu cattle. With the highest quality standards, knowledge and passion, and already in the third generation.
The outstanding characteristics of the Wagyu, or rather the intramuscular fat, the short fibres and the high amount of glutamic acid, meet here with the best and most careful breeding. Free range, exclusively natural feed and slow rearing guarantee the best quality.
How does the perfect Rib-Eye Steak turn out?
Whether on the grill or in the pan, the steak becomes a highlight in any case. The fine marbling and fat inclusions not only provide extra flavour, they also prevent the meat from drying out quickly.
A short, hot sear is enough to get the beloved combination of delicious crust and soft, juicy core. The meat is then left in the oven to mature to the desired core temperature (we recommend 54 °C).
Recommendation for cooking
In the pan
BBQ
Herkunft und Haltung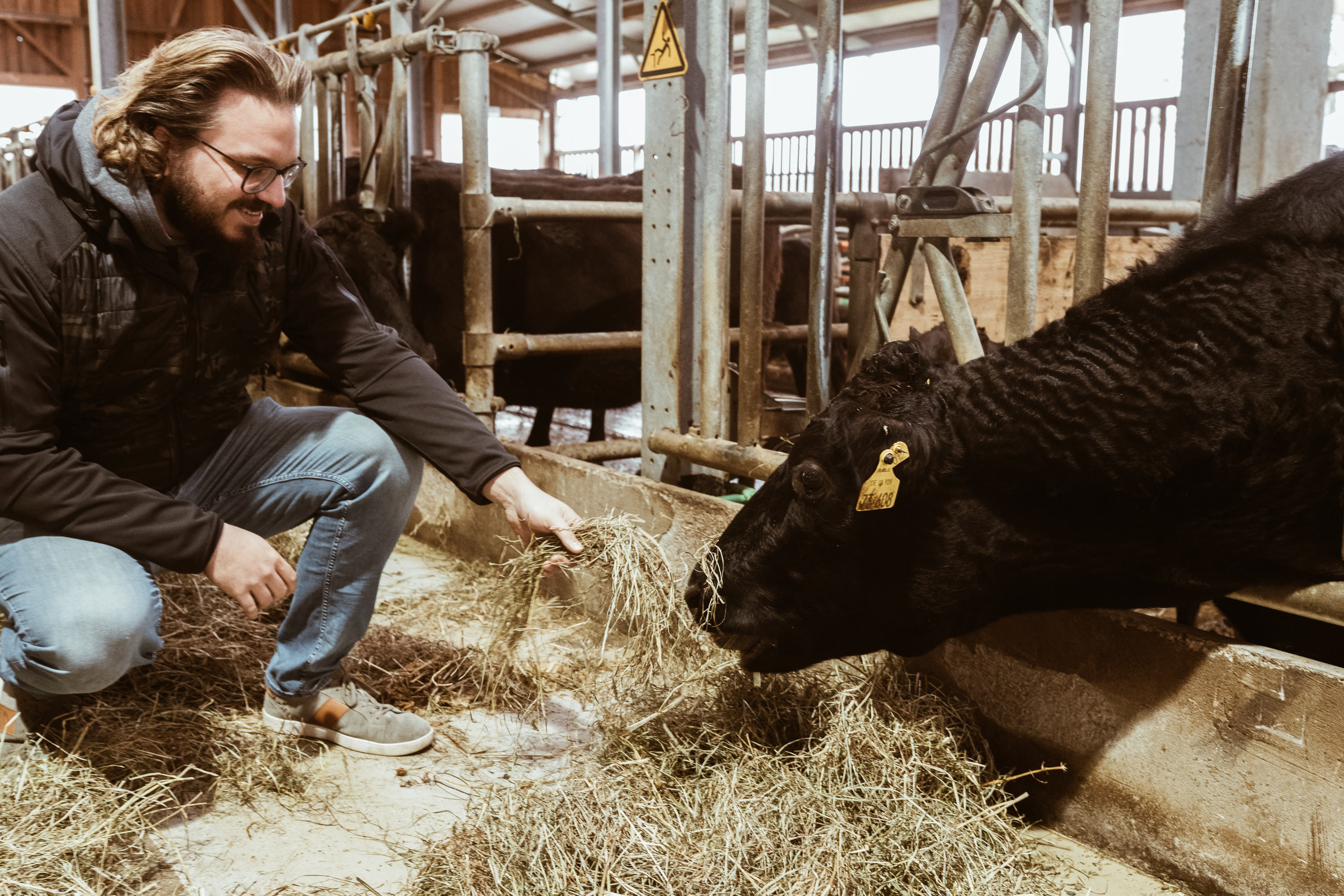 The Wagyu cattle come from a small farm in the beautiful Salzkammergut. Carina and Roland are now the third generation to breed 100 % purebred Black Wagyu cattle there.
They attach great importance to producing products of the highest quality. They place particular emphasis on animal welfare, environmental protection and strengthening the region. They do not feed maize at all in order to protect the bees and the flora.
In summer, the cattle graze on extensive pastures; in winter, they stay in the free-range barn with its own terrace.
The natural needs of the animals are always in focus, which is why the Wagyu cattle. have large running areas in the stables. There are also separate areas for bulls, calving cows and calves depending on their age. This way we guarantee that the animals can live out their natural herd behaviour and live stress-free.
Complete documentation and careful selection of the stud bulls, along with attention to genetics, are the basis for such great Wagyu meat. Balanced and natural feed as well as particularly animal-friendly husbandry ensure the best quality.
Details to the article "WAGYU Rib Eye Steak"
| | |
| --- | --- |
| Item number | FM106104.1 |
| Breed | 100% Fullblood Wagyu |
| Born in | Austria |
| Raised in | Austria |
| Slaughtered in | Austria |
| Cut in | Austria |
| Feeding | Fresh grass on pasture, brewer's grains, possibly maize or cereals |
| Meat maturation | 3-5 weeks on the bone |
| Shelf life at 0-4°C | 5-14 days |
| Shelf life at -18°C | 180 days |
| Hygiene advice | Prepare and consume immediately after opening. Kitchen hygiene is important: Keep the cold chain. Store separately from other products. Work cleanly. Heat through before consumption. |
| Storage advice (Fresh) | Store refrigerated at 0 °C to +4 °C. |
| Storage advice (deep-frozen) | *** compartment (-18 °C): best before: see label - ** compartment: 2 weeks - * compartment or ice cube compartment: 1-3 days - Do not refreeze after defrosting. |
Good to know
Facts
Fresh meat, no frozen goods
Meat from small farmers in Austria
Aged and finished by our traditional butcher
Billing by the gram
Recyclable packaging
Ready to ship in under 24h
Accepted payment methods
Secure shopping at Fitmeat
Packaging and delivery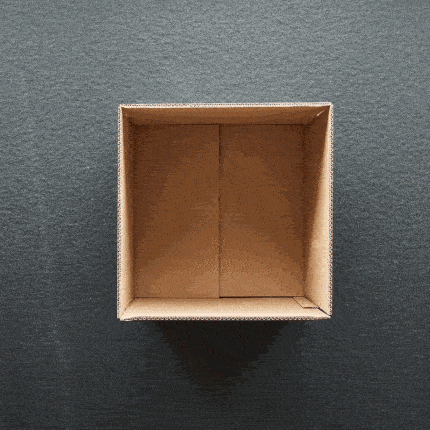 Your order will be delivered directly to your home by our partner shipping companies. During your order, you can also specify a desired date for your delivery. Thanks to sustainable packaging and specially developed insulation, your meat stays wonderfully fresh and is perfectly cooled with reusable cold packs.
Of course, you can track your order at any time via our tracking portal and view the delivery status. If you are not at home on the desired date, you can simply enter an alternative delivery address or give a drop-off authorisation.
Our express delivery guarantees safe delivery within 24 hours.
5 really good reasons for Fitmeat
At Fitmeat, you only get premium meat of the best quality from selected small farmers in Austria.
Our experienced master butchers are pioneers in meat refinement and maturation. At Fitmeat, you get perfectly matured meat that has never been frozen.
With meat from Fitmeat, you experience sustainable meat enjoyment of a special kind, because quality goes beyond the plate with us.
With meat from Fitmeat you support Austrian agriculture. Because the value chain remains one hundred percent in Austria.
What you see is what you get: Whether it's the marvellous marbling of our steaks or the beautiful pastures of our farmers - all the pictures on our website are 100% authentic and taken by us on location. After all, the eye eats with you, doesn't it?