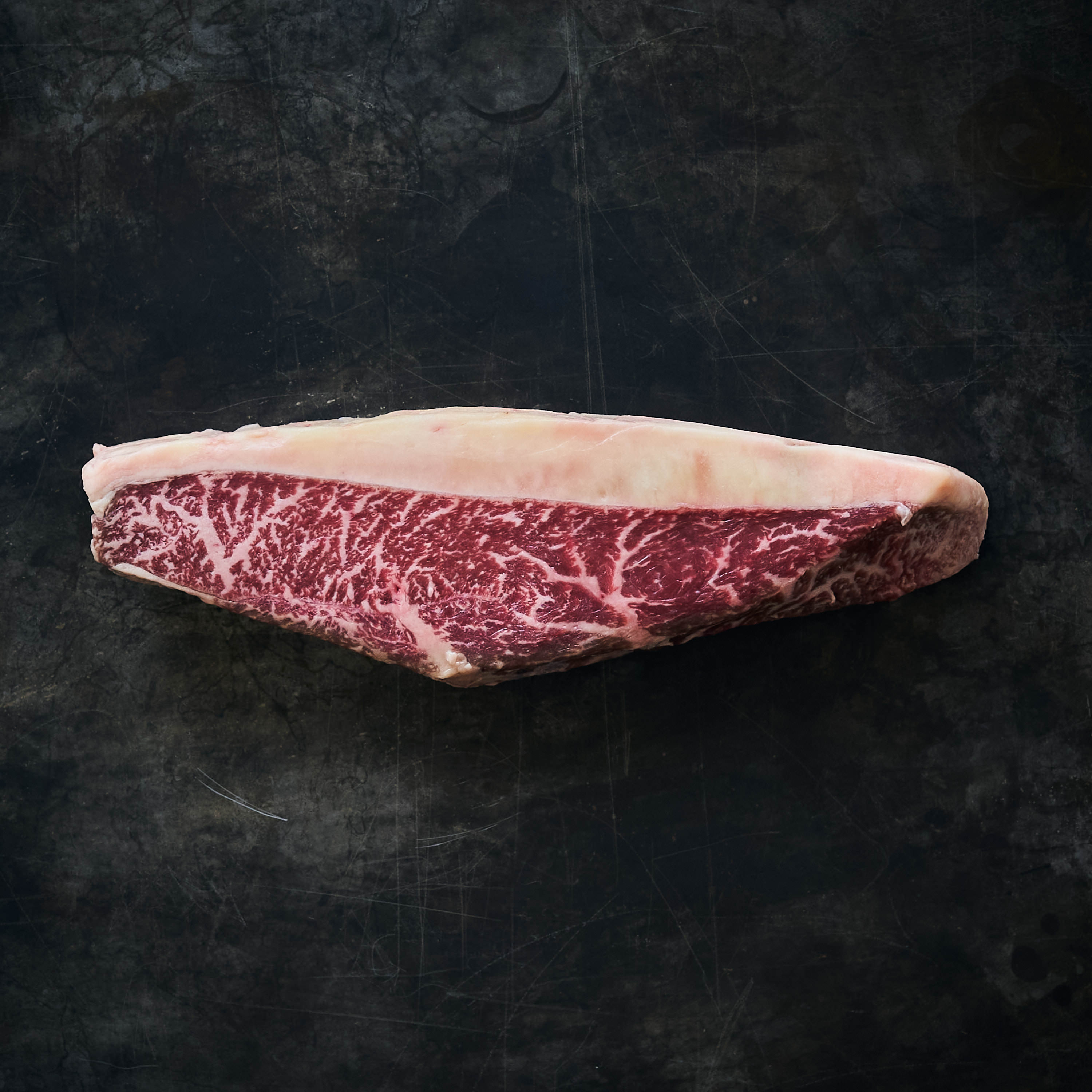 WAGYU Picanha
from Upper Austrian Fullblood-Wagyu (BMS 9-12)
€57.90
ca.
0.25 kg
(231.6 € / kg)
Picanha steaks from Wagyu beef are wonderfully suited for rotisserie cooking on the home barbecue. Grilled over an open fire at high heat, the meat with the characteristic fat cover develops its full aroma. Seasoned with coarse sea salt and cut into thin slices from the skewer, it is a wonderfully juicy steak.
Meat knowledge
It's getting hot! Our Picanha steaks are a real South American delicacy and provide real variety on the grill. Juicy, tender and with a wonderful aroma, you don't need much more to experience real pleasure. Our exclusive Picanha steaks from Wagyu beef (BMS 9-12) complete the taste experience
The incredible marbling of Wagyu beef makes the Picanha an extremely fine and aromatic fine cut that will turn your taste buds upside down
Picanha vs. Tafelspitz
What's the difference now?
The cut may be the same, but there is actually a huge difference in the preparation! So to lump the two together would be rather unfair. The classic boiled beef, as we know and love it, is only suitable for grilling to a limited extent
Due to the lack of a fat cover, it is a boiling meat and in this sense really delicious. However, it is precisely this layer of fat that is crucial for preparation on the grill. Only in this way is the meat protected from drying out and can develop its full flavour
With the Picanha Cut, this fat cover is preserved accordingly, which results in an excellent grilling result
What to look out for with Picanha
Marbling is the be-all and end-all!
To get the full flavour and the best out of the popular cut, you should definitely pay attention to a strong marbling. With our Picanha from Wagyu beef, you are absolutely right. With a BMS of 9-12, it couldn't be more marbled
In addition to the fat cover, the high marbling ensures a tenderness and juiciness of the meat that is incomparable. The juicy and butter-tender, meat with its wonderful aroma is a special feast for true barbecue fans. With so much flavour of its own, there is no need for any other frills during preparation, apart from a little coarse sea salt
Wagyu beef vs. Kōbe beef
What is the difference now?
Meat from Wagyu beef has become an absolute hype that has now established itself worldwide. Thus, Wagyu has practically overtaken Kōbe beef. Interestingly, however, it is virtually the same
Kōbe beef is basically nothing more than a subcategory of Wagyu beef. Similar to sparkling wine, which can only be called Champagne if it comes from the Champagne region, it is the same with Kōbe. Only cattle from special Japanese Kōbe regions are given this designation
The exclusive Wagyu beef from Austria
The better Kobe beef
At Fitmeat, you get first-class premium meat from Austrian Wagyu beef in the highest marbling grade. With a BMS of 9 - 12, there is simply nothing that could be better
Compared to Japanese Kōbe beef, our Wagyu cattle grow up on a beautiful smallholding in the Salzkammergut region. There, Carina and Roland breed 100% purebred Fullblood Black Wagyu cattle. With the highest quality standards, knowledge and passion, and already in the third generation
The outstanding characteristics of the Wagyu, or rather the intramuscular fat, the short fibres and the high amount of glutamic acid, meet here with the best and most careful breeding. Free range, exclusively natural feed and slow rearing guarantee the best quality
How the Wagyu got its marbling
In Japan, Wagyus were used as pure farm animals for a long time. The focus was always on their resistance to stress. To achieve a certain endurance, the animals developed so-called "low-twitch muscle fibres" over time. This enabled them to gain energy from fat deposits
At the same time, the absolute uniqueness of Wagyu beef developed, namely its incredibly strong marbling, which causes culinary wow effects all over the world
What does Wagyu meat taste like?
The Picanha of Wagyu beef in BMS 9 - 12 is already an exclusive delicacy for real gourmets. The meat is fabulously tender and almost melts in your mouth. On the tongue, you get a taste explosion of the best flavours together with a meat consistency that was previously unknown.
Since fat is a flavour carrier or enhancer, it should be clear that this is a particularly delicate treat.
Recommendation for cooking
In the pan
BBQ
Zum Schmoren
Zum Smoken
Sous-vide cooking
Herkunft und Haltung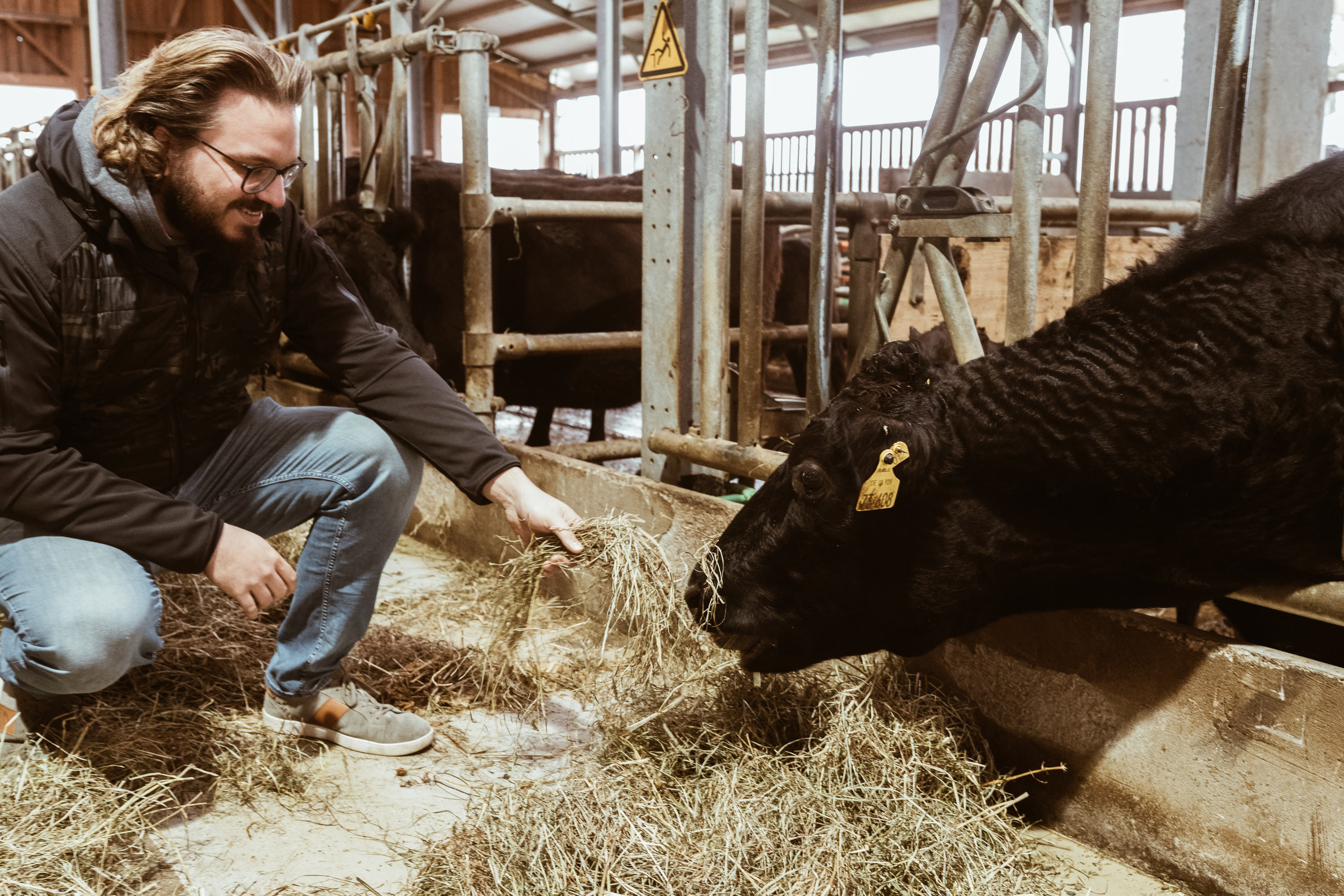 At Fitmeat, the highest quality and species-appropriate animal husbandry are top priorities. That is why 100% of the animals come from small farmers in Austria. The farms are located in Lower Austria, the Waldviertel, Salzburg and neighbouring Upper Austria
Our classic Wagyu cattle breed is the so-called Fullblood Black Wagyu cattle from the Salzkammergut region. It is very important to us that the animals are born and raised by small farmers
As we distance ourselves from long transport routes and factory farming, we have the animals respectfully slaughtered individually by our partner butchers in the immediate vicinity of the farms (max. 15 minutes transport distance) or directly on the farm.
We also have close and personal contact with the farmers and work exclusively with butchers who know both farmer and animal personally. Our master butchers cut each animal into the finest parts and let them mature selectively
In this way, we obtain first-class and well-hung meat that does not lose water during roasting and can be enjoyed with a clear conscience.
Details to the article "WAGYU Picanha"
| | |
| --- | --- |
| Item number | FM106116 |
| Breed | 100% Fullblood Wagyu |
| Born in | Austria |
| Raised in | Austria |
| Slaughtered in | Austria |
| Cut in | Austria |
| Feeding | Fresh grass on pasture, brewer's grains, possibly maize or cereals |
| Meat maturation | 3-5 weeks on the bone |
| Shelf life at 0-4°C | 5-14 days |
| Shelf life at -18°C | 180 days |
| Hygiene advice | Prepare and consume immediately after opening. Kitchen hygiene is important: Keep the cold chain. Store separately from other products. Work cleanly. Heat through before consumption. |
| Storage advice (Fresh) | Store refrigerated at 0 °C to +4 °C. |
| Storage advice (deep-frozen) | *** compartment (-18 °C): best before: see label - ** compartment: 2 weeks - * compartment or ice cube compartment: 1-3 days - Do not refreeze after defrosting. |
Good to know
Facts
Fresh meat, no frozen goods
Meat from small farmers in Austria
Aged and finished by our traditional butcher
Billing by the gram
Recyclable packaging
Ready to ship in under 24h
Accepted payment methods
Secure shopping at Fitmeat
Packaging and delivery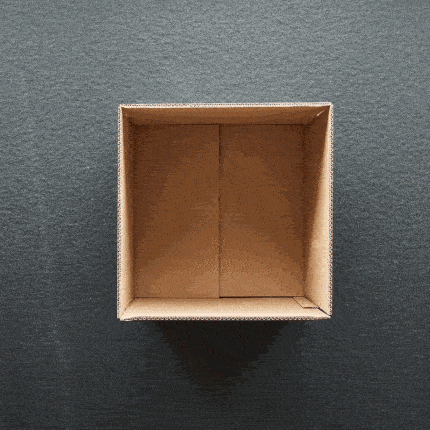 Your order will be delivered directly to your home by our partner shipping companies. During your order, you can also specify a desired date for your delivery. Thanks to sustainable packaging and specially developed insulation, your meat stays wonderfully fresh and is perfectly cooled with reusable cold packs.
Of course, you can track your order at any time via our tracking portal and view the delivery status. If you are not at home on the desired date, you can simply enter an alternative delivery address or give a drop-off authorisation.
Our express delivery guarantees safe delivery within 24 hours.
5 really good reasons for Fitmeat
At Fitmeat, you only get premium meat of the best quality from selected small farmers in Austria.
Our experienced master butchers are pioneers in meat refinement and maturation. At Fitmeat, you get perfectly matured meat that has never been frozen.
With meat from Fitmeat, you experience sustainable meat enjoyment of a special kind, because quality goes beyond the plate with us.
With meat from Fitmeat you support Austrian agriculture. Because the value chain remains one hundred percent in Austria.
What you see is what you get: Whether it's the marvellous marbling of our steaks or the beautiful pastures of our farmers - all the pictures on our website are 100% authentic and taken by us on location. After all, the eye eats with you, doesn't it?