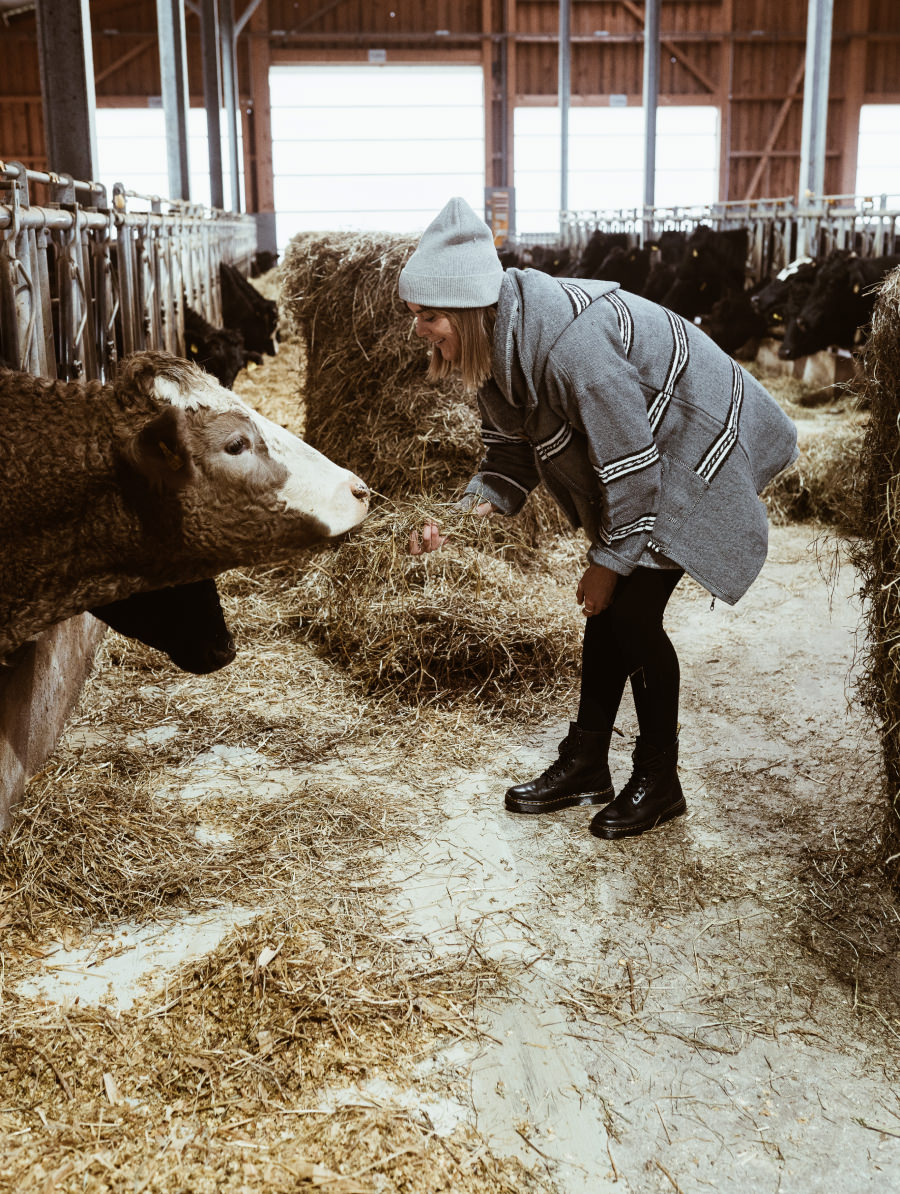 Farmers with heart and love for animals.
We source our meat from selected small farmers in the Waldviertel region of Lower Austria, the Salzkammergut region and the Salzburger Land region. That's why lush meadows and the best feed are a common feature for us!
The animals enjoy the free run on the green pastures of the farms, sunbathe or let the cool breeze freshen up their fur. Meanwhile, our farmers give only the best feed made from the finest ingredients to ensure the animals' natural growth!
OUR BEEF
Large pastures, natural feed and plenty of space in the barn!
Animal welfare is our top priority and our local Austrian farmers share these values with us. To guarantee our claim and promise to our customers, we strictly distance ourselves from factory farming and long transport routes. Our animals live free from stress and without the use of questionable supplements.
OUR POULTRY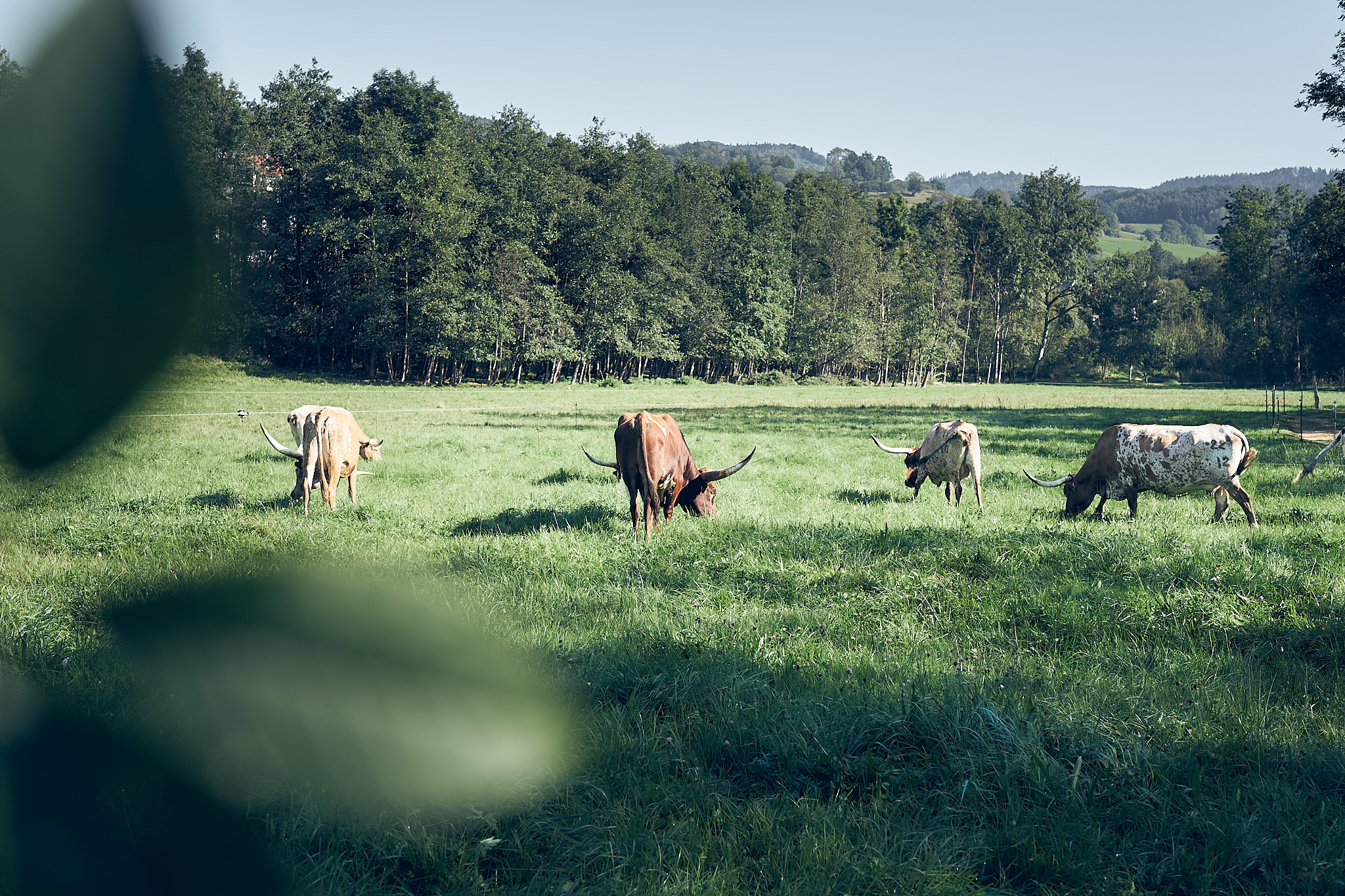 We are very pleased to work with suppliers and farms that share these standards with us! Because through fair payment of our partners and a high level of expertise, we can offer you premium meat from happy and naturally fed animals!
Some of our farmers
SHOW ALL
BEEF
PORK
CHICKEN
VENISON BREEDS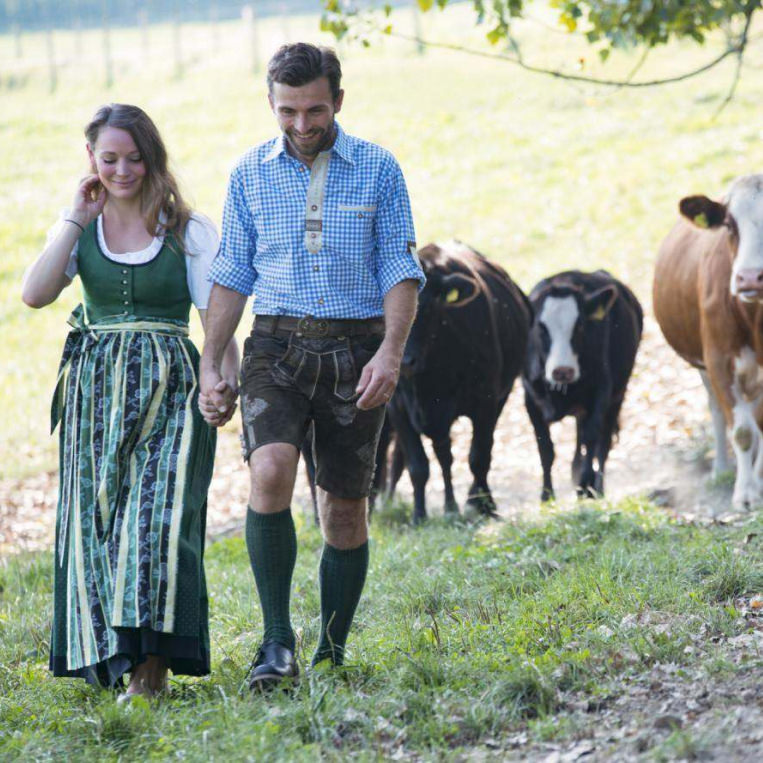 Carina & Roland Pühringer
Origin: Salzkammergut (Ohlsdorf in Upper Austria)
Breeds: Fullblood-Wagyu
Carina and Roland are already running their small farm in the third generation. They have been specialising in the breeding of Wagyu cattle. Since 2008, their focus has been 100% on Black Wagyu cattle, which are considered the most exclusive Wagyu breed.
On the idyllic farm, the cattle enjoy free range and wonderful feed! When the time is right, they are accompanied to the nearby Gruber butchery and processed there by the master butcher..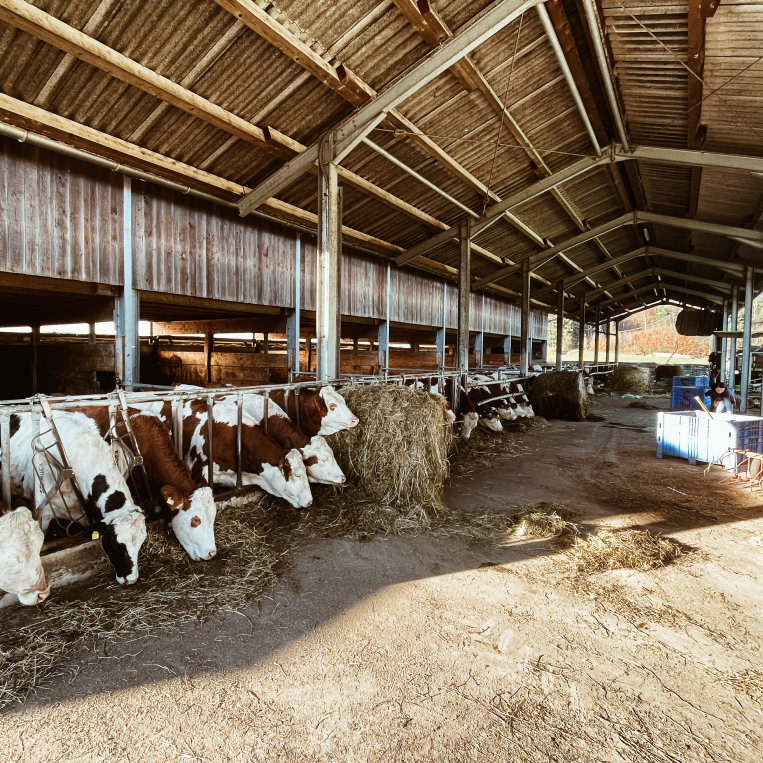 Norbert Derting
Origin: Hallwang near Salzburg
Breeds: Simmental Fleckvieh and Tirolean Grey Cattle
Norbert is a trained master butcher and processed the cattle himself in the farm's modern on-site butchery room. Stress-free butchering is one of the most important factors for first-class meat quality.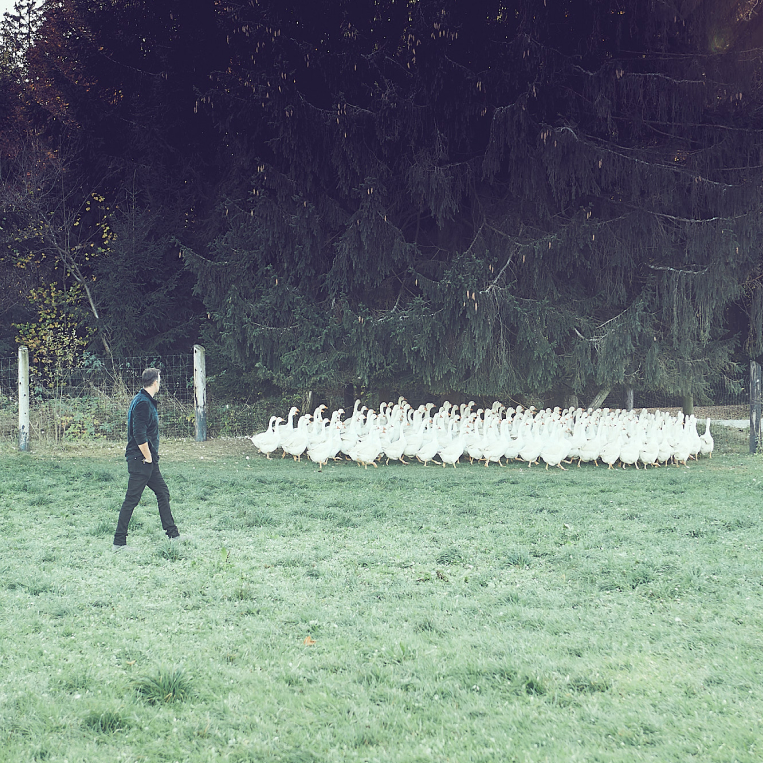 Rene und Sonja Steininger
Origin: Waldviertel (Grafenschlag in Lower Austria)
Breeds: Organic wild chicken, organic grazing geese, organic wild chicken, organic ducks.
Rene and Sonja offer their animals a wonderful life! On the property, which stretches over several hectares, the geese and ducks can move freely all year round. Common appointments for a leisurely splash in the pond and cheerful quacking in the gang are included!
That can make them get hungry! That's why the geese and ducks are free to help themselves to a snack at the feeding bowl. Whatever they're in the mood for - it's all done in a happy, united flock!
Except for one thing: In order to ensure that the individual butchering of the animals is as stress-free and respectful as possible, it takes place directly at the farm without long transport routes.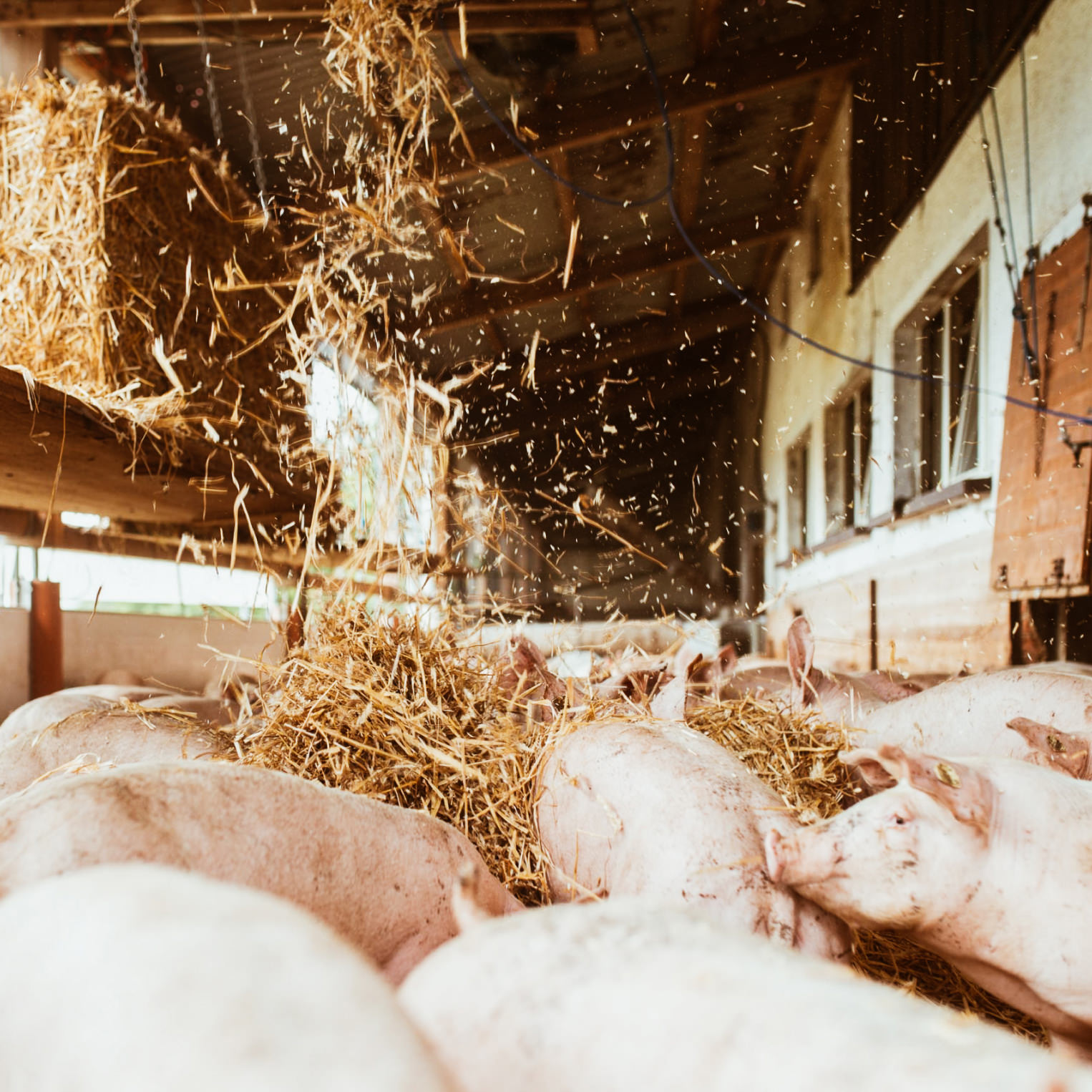 Gustino Strohschwein
Origin: Salzburg Land
Breeds: Straw pigs
Gustino straw pigs grow up on Austrian family farms, eat mainly farm-grown feed, have 60% more space in the barn and a resting area with straw bedding.
The pigs eat mainly GMO-free feed from the farm's own cultivation. Wheat, rape, peas and beans. As a supplement, there is high-quality protein as well as minerals and vitamins.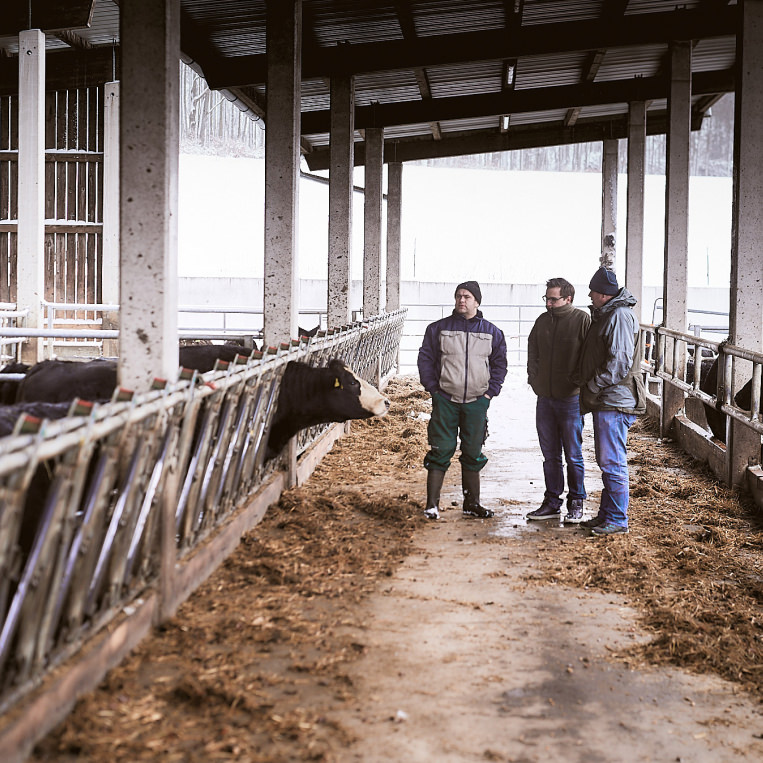 Thomas Rauscher
Origin: Waldviertel (Rastenfeld in Lower Austria)
Breeds: Limousin, Black Angus and Red Angus
In the beautiful Waldviertel in Lower Austria, Thomas Rauscher breeds very special breeds of cattle. The newly built open barn offers the cattle a lot of space and direct access to the pasture.
Thus, the cattle can move freely and at will and lead a really fine life. Respectful and stress-free handling of the animals is an absolute matter of course for Thomas Rauscher and distinguishes him and the quality of his cattle. In cooperation with master butcher Böck, the meat of the cattle is perfectly processed and refined.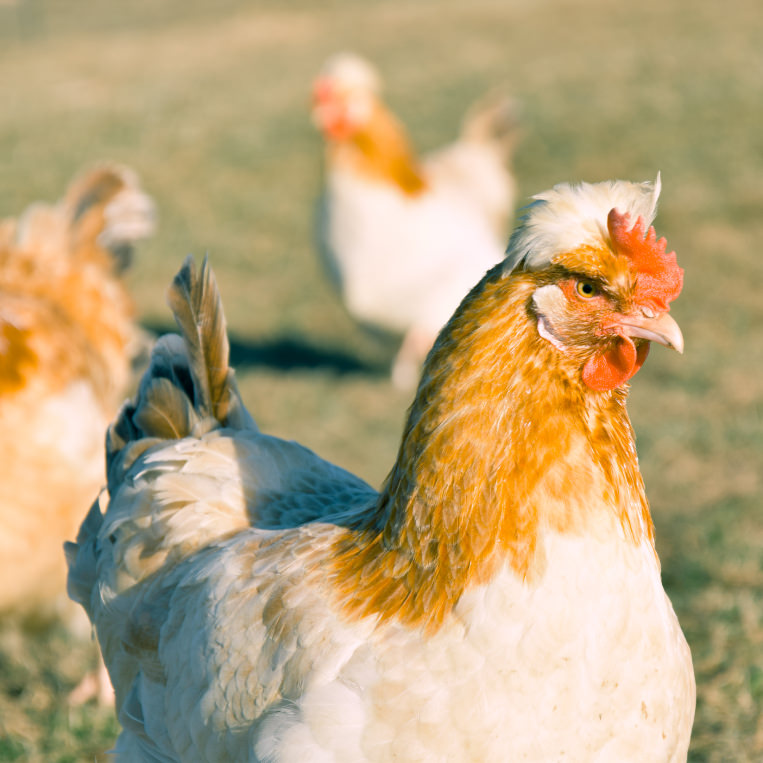 Sebastian Sturm
Origin: Waldviertel (Frankenreith in Lower Austria)
Breeds: Waldviertler Weidehendl
In the idyllic Waldviertel, young farmer Sebastian and his wife Julia breed the popular Fitmeat Weidehendl. This is an ingenious collaboration that arose from a cooperation between Fitmeat and farmer Sebastian. The slow and careful rearing, together with the first-class feeding, are a guarantee for the best meat quality. As a family business, together with their mother-in-law Maria, the three of them lovingly look after their chickens, which spend their entire lives on the farm. And they are allowed to stay there for quite some time.
The Fitmeat chickens live for 8 to 10 weeks instead of 28 to 30 days, as is the case with supermarket chickens. In the mobile chicken coop, also known as the "chicken tractor", Sebastian's pasture-raised chickens get only the best of the best to peck at. A special feed mix that makes the taste of the chicken meat unique. The mobile chicken house is moved every few days so that the chickens always have fresh grass under their claws.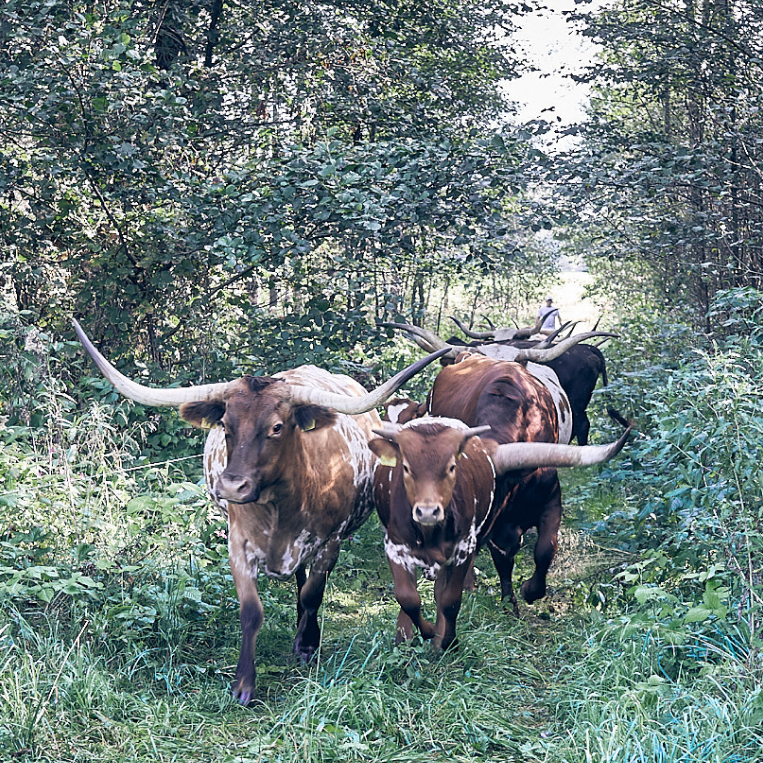 Micha und Elisbeth Hamersky
Origin: Waldviertel (Pöggstall in Lower Austria)
Breeds: Texas-Longhorn and Angus cattle as well as Freilandhendl.
Micha Hamersky and his wife Elisabeth have achieved a real masterpiece. They are among the first Texas Longhorn breeders in Europe. A cattle breed that had almost fallen into oblivion was brought to Austria by them and established with absolute passion and know-how.
For Micha, the cattle became the centre of his life and this is reflected in the exceptional meat quality. As an absolute expert in terms of breeding Texas Longhorn cattle, he knows exactly which animals go together and what really matters when it comes to meat quality.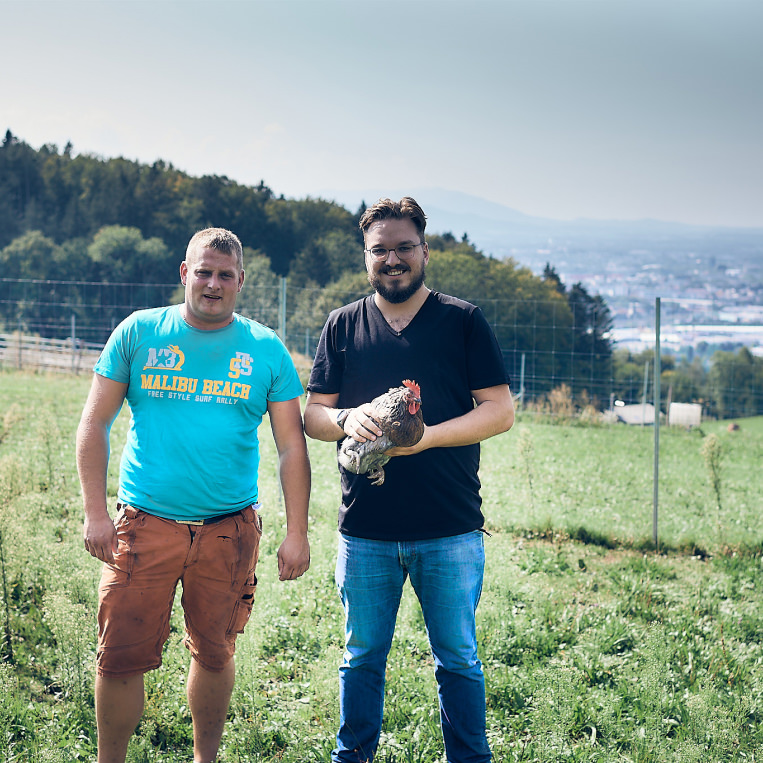 Toni Eigenherr
Origin: At the Heuberg near Salzburg
Breeds: Highland cattle, fattened ducks, barbary ducks, turkeys, free-range eggs.
Toni Eigenherr's farm is located in beautiful Salzburg on the even more beautiful Heuberg. A remarkably large area is available to his cattle, ducks and chicken - all year round. The cattle can move freely on the gentle slope and do exactly what they feel like doing.
Of course, his chickens, ducks and turkeys also join in. For they, too, enjoy their lives on large areas of natural soil, where they can grow up peacefully in pristine and, above all, species-appropriate surroundings, healthy and content.
What particularly distinguishes Toni Eigenherr is that the stress-free and respectful individual butchering of the animals takes place directly on his farm. This eliminates the need for any animal transports.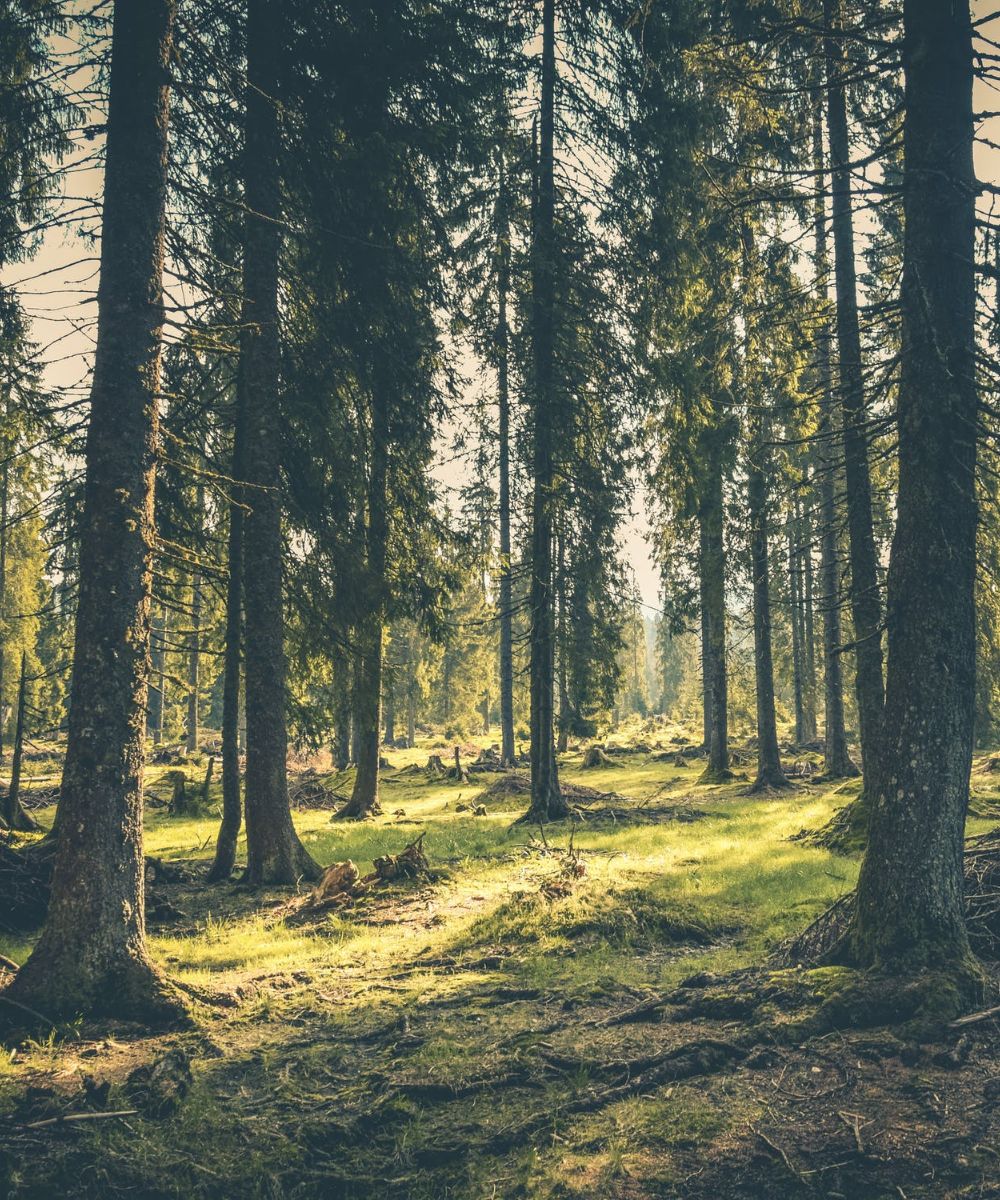 Ottensteiner Wild
Origin: Waldviertel (Ottenstein in Lower Austria)
Breeds: First-class venison from the beautiful Waldviertel region
Our venison is truly wild - because it is native to Austria's native forests and thus comes from the wild. They don't need a farmer who carefully tends and cares for them. They are born to be wild!
At Fitmeat, we place great value on premium meat of the highest quality. This also applies to our venison, which is why the range is very limited. The venison is shot exclusively by experienced hunters in Salzburg and Königsbrunn in Lower Austria.
We strictly distance ourselves from creel hunting and other reprehensible methods. Any rushing or driving of the animals not only leads to a high loss of quality, it also does not correspond to our values.
Instead, we take a mindful approach so that the animals do not experience any stress and a high quality of meat can be ensured.
You know of a farmer you think we should work together with?
Then get in touch with us and let us know..
At Fitmeat, we always try to find small farmers whose quality standards we are convinced of. To ensure that we can always guarantee the highest possible quality of local meat, we change suppliers and add new ones as the occasion arises.
Butcher's Auernig (left)
In the third generation, master butcher Stefan Auernig runs the butcher's shop in Hallwang with his family. As a specialist in dry-aging and American barbecue, he finishes and cuts the meat from our farmers expertly and with the utmost precision. Stefan is a passionate butcher and always strives for perfection. He lives his values and loves his job.
Butcher's Böck (right)
The Böck butcher's shop has been a traditional enterprise since 1862. In the business, Martin and Helga Böck rely on innovation and top modern equipment. In this way, they have succeeded in combining long tradition and many years of knowledge with state-of-the-art meat processing. Martin and Helga Böck's business is constantly modernised and combines modern meat processing with tradition.