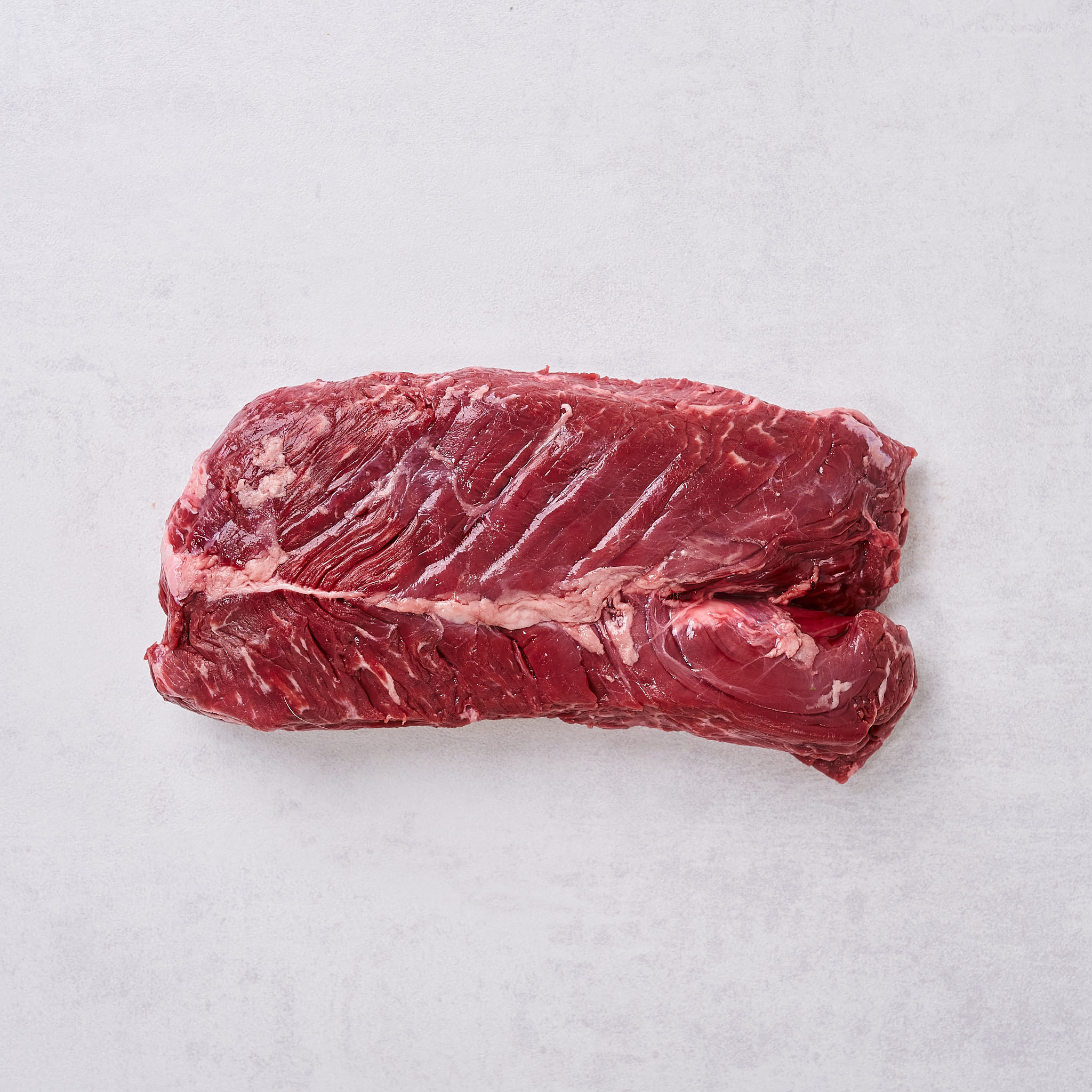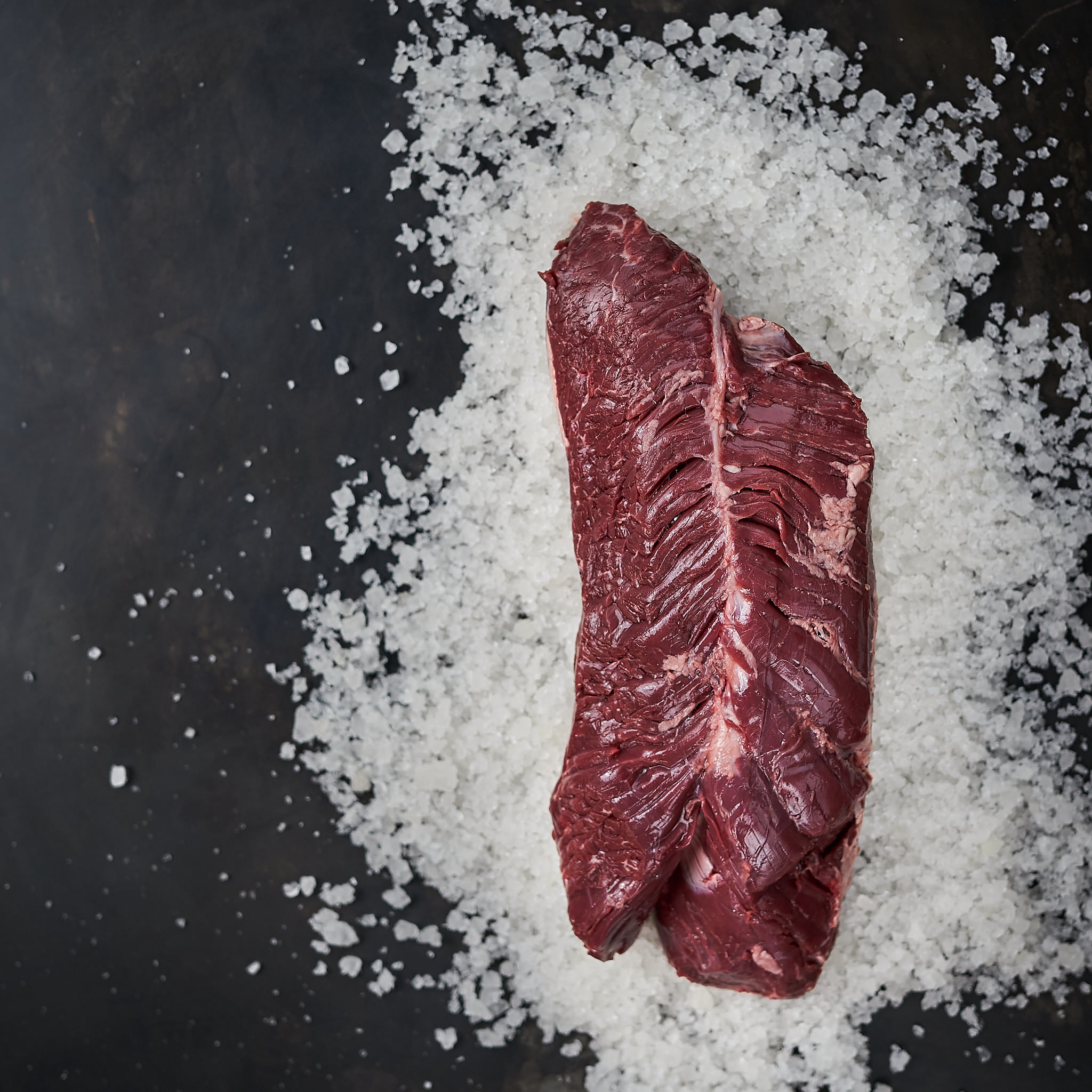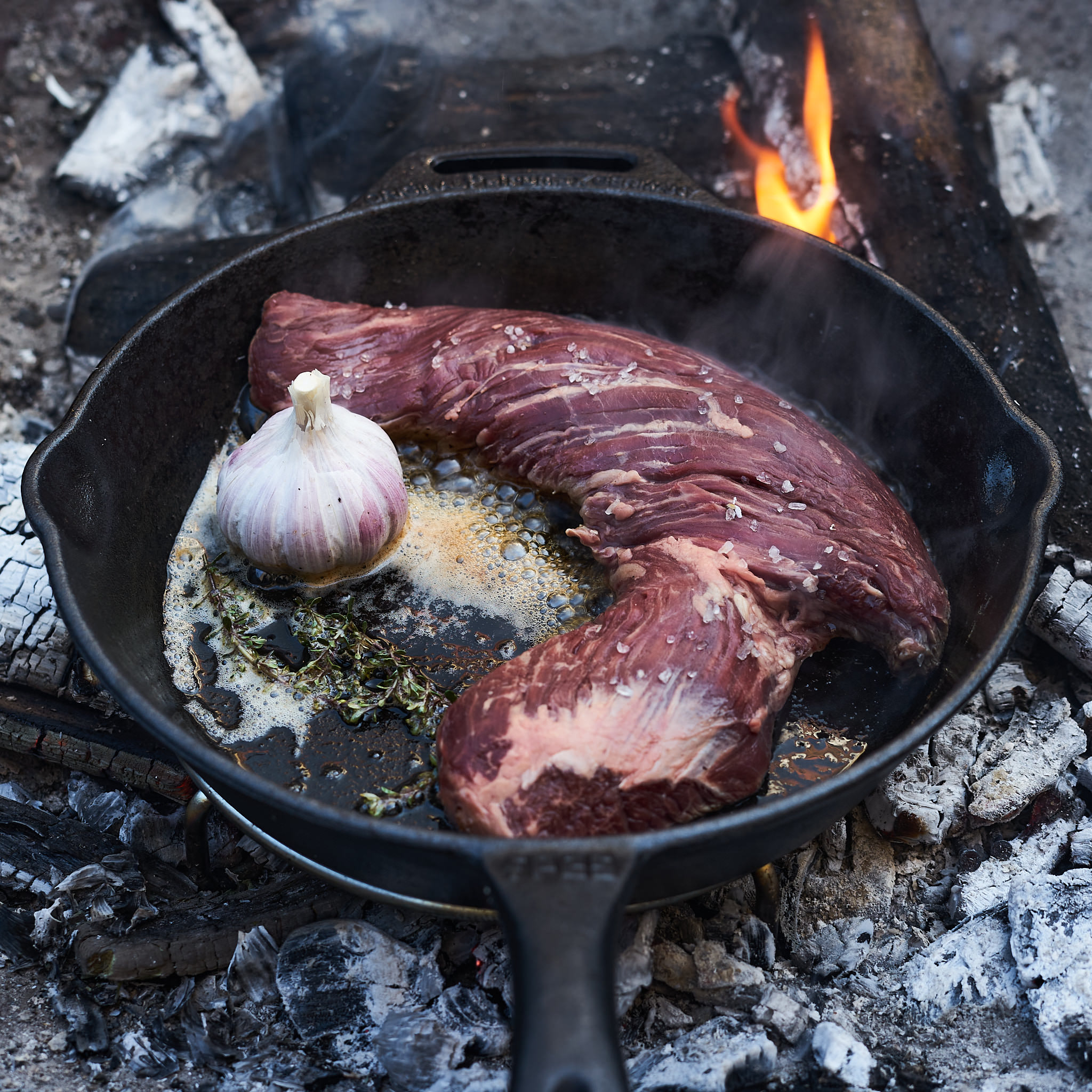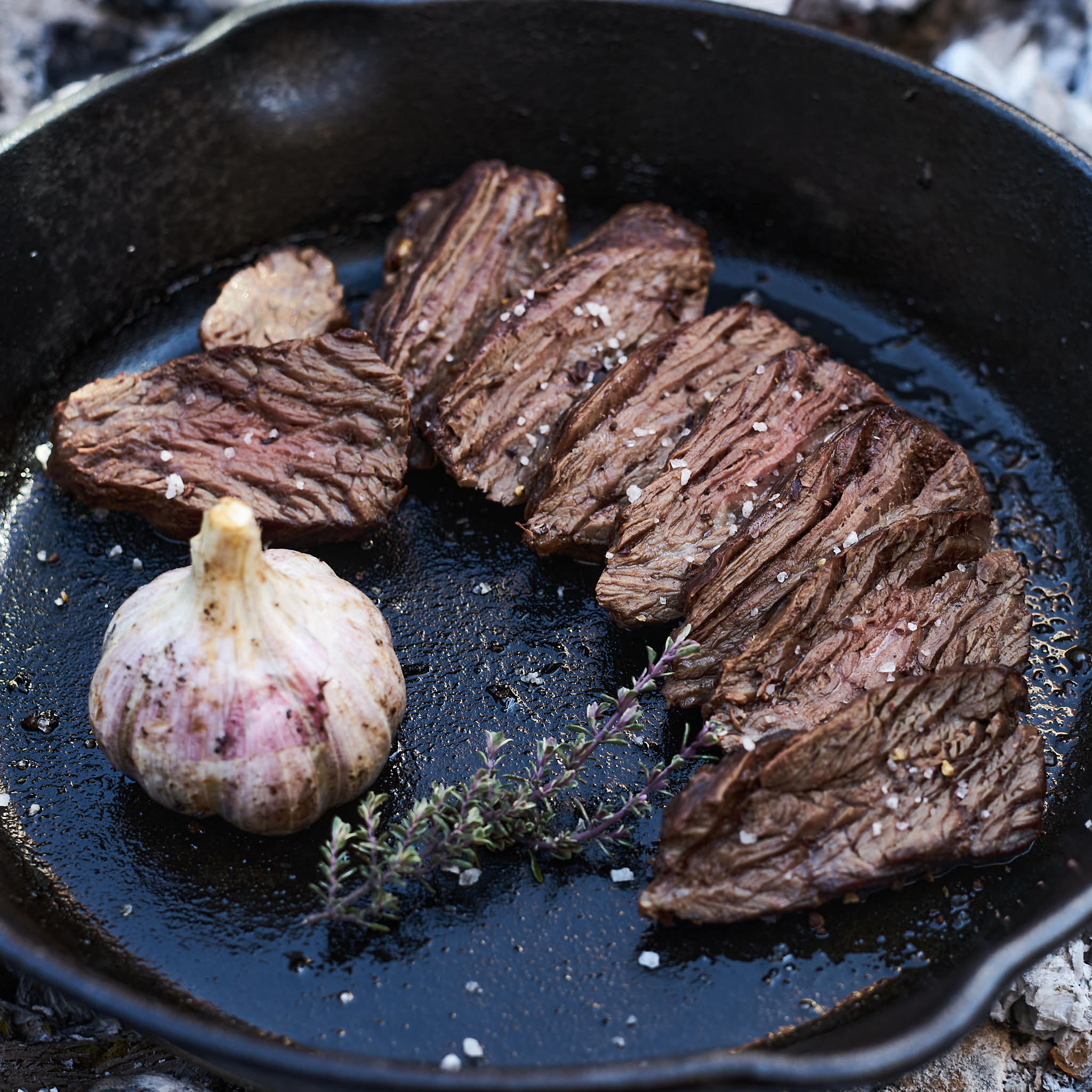 Onglet - Hanging Tender
from the Austrian calf (heifer)
€32.90
ca.
0.9 kg
(36.56 € / kg)
On stock and ready for shipping
The Hanging Tender is characterised by its intense flavour and the extremely tender meat. A delicate cut of beef and a real insider tip!
Meat knowledge
You are a full-blooded steak fan and stride with some courage to the grill! Perfect, then you've come to the right place. All the others who prefer cheap offers and the tried and tested, let yourself be inspired by something new.
Because the Hanging Tender, also known as Onglet, is a real delicacy that has absolutely nothing to do with what you find in the supermarket. Just like all our products, because at Fitmeat you only get the best of the best.
A special "steak" - the Hanging Tender
There is only one Hanging Tender per calf, which makes the meat an absolute rarity right from the start. But there is another special feature: although the onglet is a muscle, compared to all other steaks it technically belongs to the organs.
This is due to its proximity to the heart of the calf. This location also plays a major role in terms of taste. Because the Hanging Tender is probably the most intense cut in terms of flavour. For real steak fans, this is an outstanding delicacy that you should definitely treat yourself to.
What does an Onglet / Hanging Tender taste like?
Due to its position, it is clear that this is a well-cooked piece of meat. In terms of taste, the Hanging Tender makes it clear that beef from the calf is good for much more than the purely classic steak cuts.
Juicy and nutty, with a wonderful red colouring, the Hanging Tender is even almost more tender than a fillet. With its strong marbling and short-fibred meat structure, the onglet puts some fine cuts in the shade. In Austria, however, this cut is still an absolute insider tip.
Preparing Beef Onglet or Hanging Tender correctly
Compared to other steaks, this one requires a little more intuition. Because of its proximity to the heart, it is particularly important to prepare the Hanging Tender fresh. However, it is less suitable for freezing.
At Fitmeat, you get 100% fresh Hanging Tender of the highest meat quality for a fabulous experience. Our meat is never frozen and comes exclusively from Austrian cattle.
Before preparation, the meat should be separated from the characteristic middle tendon. The steak can then be prepared on the grill or in a coated pan.
Recommendation for cooking
In the pan
BBQ
Zum Schmoren
Sous-vide cooking
Medium rare at approx. 53 °C core temperature
Quantity per person
We recommend an onglet for two to three people.
Herkunft und Haltung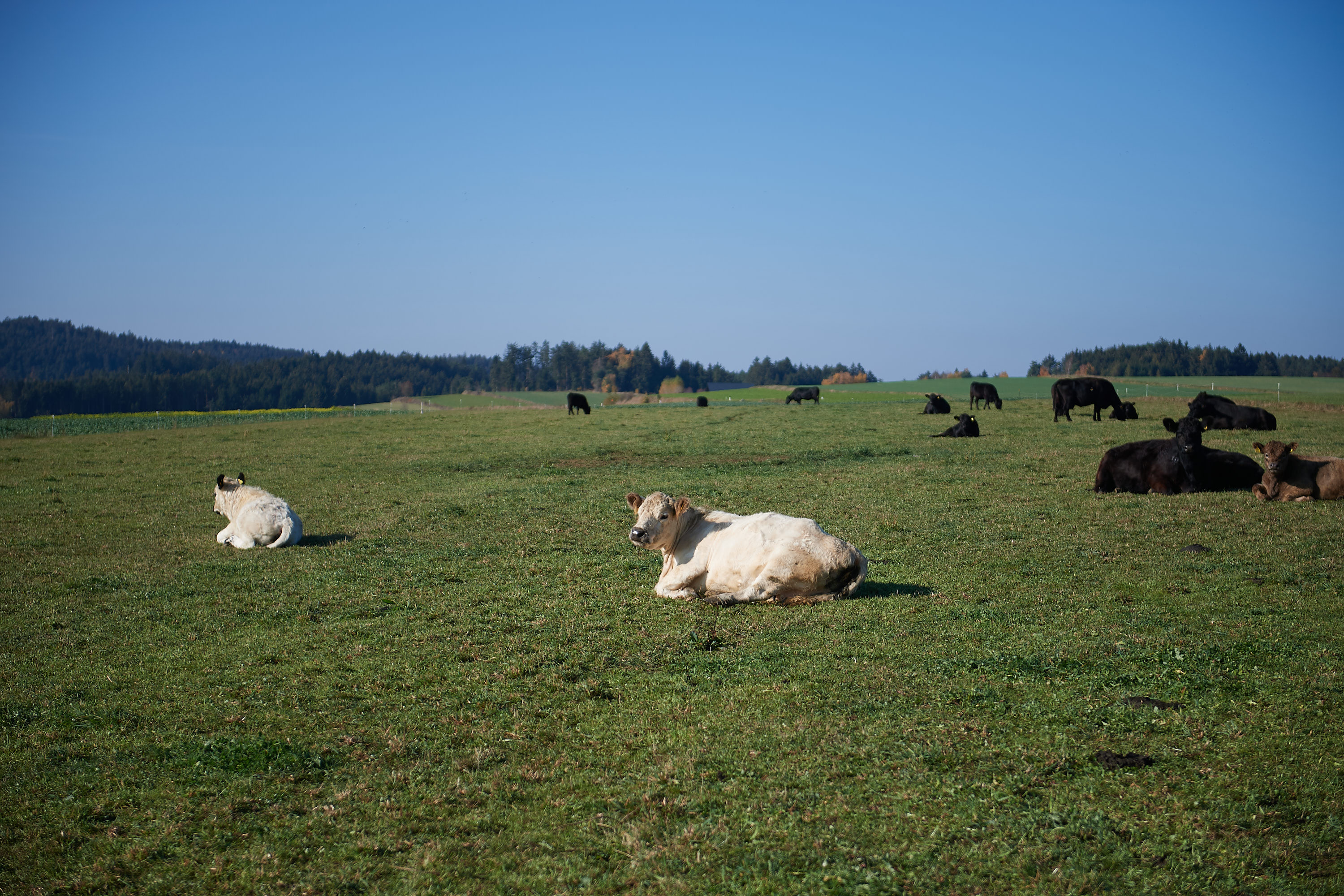 Quality is our highest concern, and in the case of beef, a few factors are crucial. These include the perfect breed of cattle, the age of the animals and optimal feeding, free of concentrated feed. However, this alone is not enough to meet our requirements.
Because we don't do things by halves when it comes to the quality of our meat products! That is why 100% of our animals come from Austria. The farms are located in the Waldviertel in Lower Austria, in Salzburg and in neighbouring Upper Austria. In addition, at Fitmeat we only process the finest meat from heifers and steers.
The meat has a wonderful marbling and taste. Our classic cattle breeds include Red-Angus, Black-Angus, Charolais, Limousin, White-Blue Belgian and Wagyu, as well as various crossbreeds.
Our cattle are 4x AT certified. This means that birth, rearing, butchering and refinement take place 100% in Austria. The value chain therefore remains entirely in Austria.
We distance ourselves from long animal transports and select our partners very carefully. Therefore, we rely on animals that are kept in a species-appropriate manner, born and raised by small farmers, and on butchers who know both the farmer and the animal personally.
Our butchers let the cuts mature on the bone for a long time. This gives us first-class, well-hung meat that does not lose water during roasting and can be enjoyed with a clear conscience.
Details to the article "Onglet - Hanging Tender"
| | |
| --- | --- |
| Item number | FM101019 |
| Breed | Black Angus, Red Angus, Simmental, Pinzgau, Tyrolean Grey, Charolais, ... |
| Born in | Austria |
| Raised in | Austria |
| Slaughtered in | Austria |
| Cut in | Austria |
| Feeding | Fresh grass on pasture, brewer's grains, possibly maize or cereals |
| Meat maturation | 2-3 weeks on the bone |
| Shelf life at 0-4°C | 5-7 days |
| Shelf life at -18°C | 180 days |
| Hygiene advice | Prepare and consume immediately after opening. Kitchen hygiene is important: Keep the cold chain. Store separately from other products. Work cleanly. Heat through before consumption. |
| Storage advice (Fresh) | Store refrigerated at 0 °C to +4 °C. |
| Storage advice (deep-frozen) | *** compartment (-18 °C): best before: see label - ** compartment: 2 weeks - * compartment or ice cube compartment: 1-3 days - Do not refreeze after defrosting. |
Good to know
Facts
Fresh meat, no frozen goods
Meat from small farmers in Austria
Aged and finished by our traditional butcher
Billing by the gram
Recyclable packaging
Ready to ship in under 24h
Accepted payment methods
Secure shopping at Fitmeat
Packaging and delivery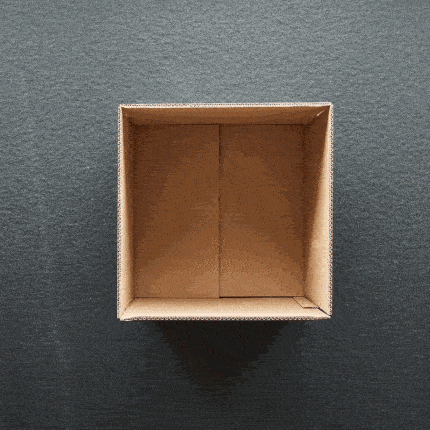 Your order will be delivered directly to your home by our partner shipping companies. During your order, you can also specify a desired date for your delivery. Thanks to sustainable packaging and specially developed insulation, your meat stays wonderfully fresh and is perfectly cooled with reusable cold packs.
Of course, you can track your order at any time via our tracking portal and view the delivery status. If you are not at home on the desired date, you can simply enter an alternative delivery address or give a drop-off authorisation.
Our express delivery guarantees safe delivery within 24 hours.
5 really good reasons for Fitmeat
At Fitmeat, you only get premium meat of the best quality from selected small farmers in Austria.
Our experienced master butchers are pioneers in meat refinement and maturation. At Fitmeat, you get perfectly matured meat that has never been frozen.
With meat from Fitmeat, you experience sustainable meat enjoyment of a special kind, because quality goes beyond the plate with us.
With meat from Fitmeat you support Austrian agriculture. Because the value chain remains one hundred percent in Austria.
What you see is what you get: Whether it's the marvellous marbling of our steaks or the beautiful pastures of our farmers - all the pictures on our website are 100% authentic and taken by us on location. After all, the eye eats with you, doesn't it?