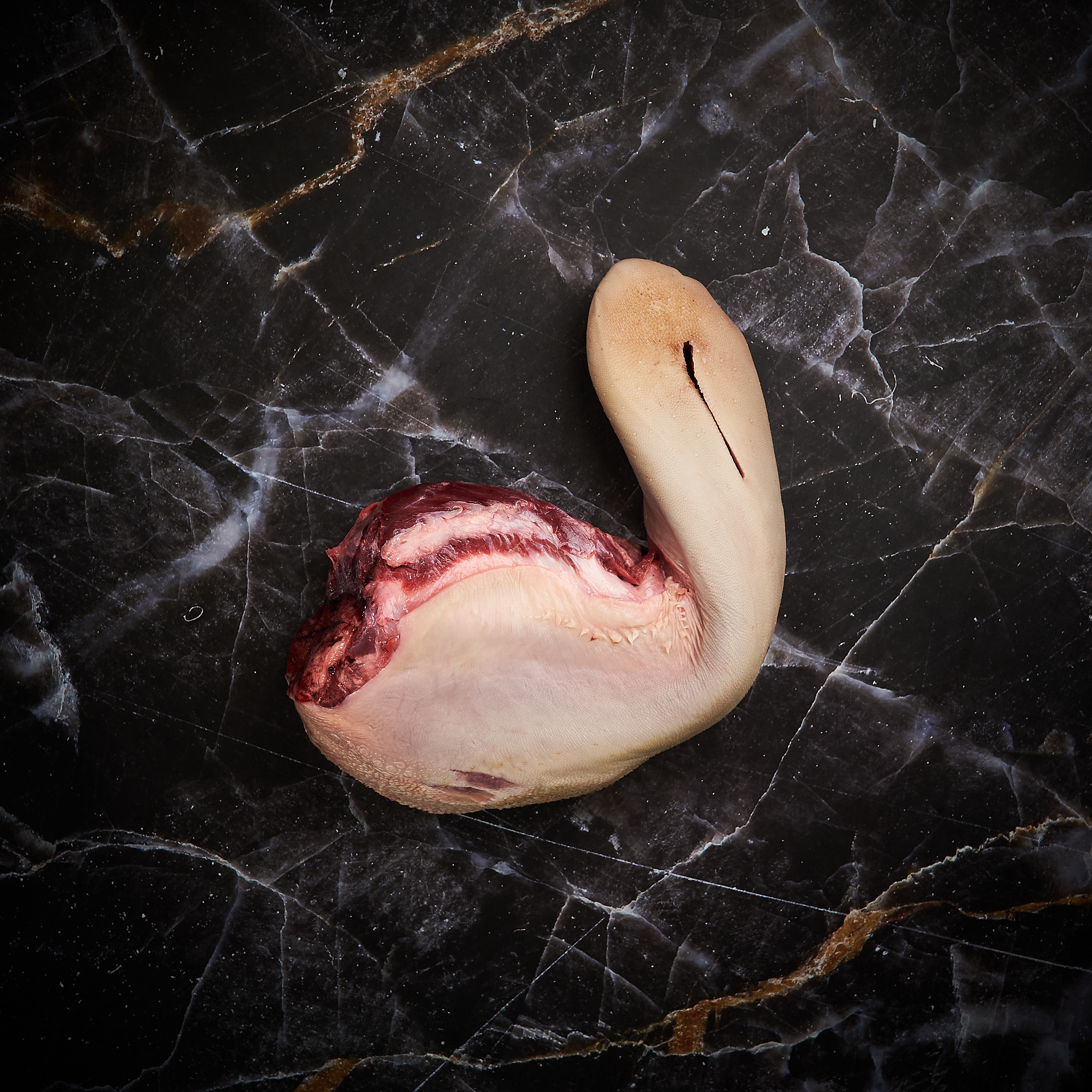 Tongue (Swiss Cut)
from the Austrian calf (heifer)
€25.90
ca.
1.3 kg
(19.92 € / kg)
Ready for shipping. Delivery time: 1 working day
Beef tongue is a popular ingredient for traditional dishes such as ox mouth salad or various braised dishes. At Fitmeat, you get fresh beef tongues that have not yet been skinned. This means you can use them universally.
Meat knowledge
The complete utilisation of animals used to be something completely normal, but it has become somewhat less so over the course of time. Meat, fur, bones - all cuts or parts of the animal were used, which gave the animal additional value.
In a time when people prefer to focus on high-end cuts, many treasures have almost fallen into oblivion. Reason enough to revive the "nose-to-tail" approach and experience pleasure anew.
One of these treasures, or delicacies, is Tongue (Swiss Cut) . Alongside the classic offal, it is one of the most important of these, even though it is actually a muscle meat.
What does a calf's tongue taste like?
Here, too, it is similar to steaks: the older the beef or veal, the more intense its flavour. In younger animals, on the other hand, the beef tongue is lower in fat, more tender and higher in protein.
The tongue of the calf is particularly delicious and much more delicate in taste than a typical beef tongue. Prepared whole, it is excellent for braised dishes, but can also be served on its own and sliced on bread.
How a Tongue (Swiss Cut) is prepared?
A fresh tongue from the calf should first be carefully scraped off, washed and poured over with boiling water. The Tongue (Swiss Cut) is then cooked for several hours and skinned. The gullet at the rear end of the tongue is already removed by us, so you can start preparing it straight away.
In general, the preparation of a fresh tongue is more time-consuming than that of a classic steak. But that's a good thing, because the effort is worth it! At the latest when the tender sliced muscle meat can be arranged on the plate and enjoyed.
Calves (also called heifers) are female cattle that are already sexually mature but have not yet calved. This is of course also recognisable from the meat structure. The meat of a calf has a bright dark red colour and extremely fine fibres.
In terms of marbling, veal meat is an absolute highlight, which makes it extremely juicy and tender.
The meat of the calf is a rarity
Most young female calves (also known as heifers) are used for milk production and only selected ones are refined into real gourmet meat. Accordingly, the meat of the calf is extremely sought after among gourmets.
Because gourmets know: The finer the structure of muscle meat and fat, the more valuable the meat!
Recommendation for cooking
BBQ
Zum Schmoren
Zum Smoken
Sous-vide cooking
Quantity per person
We recommend one beef tongue for three to four people.
Herkunft und Haltung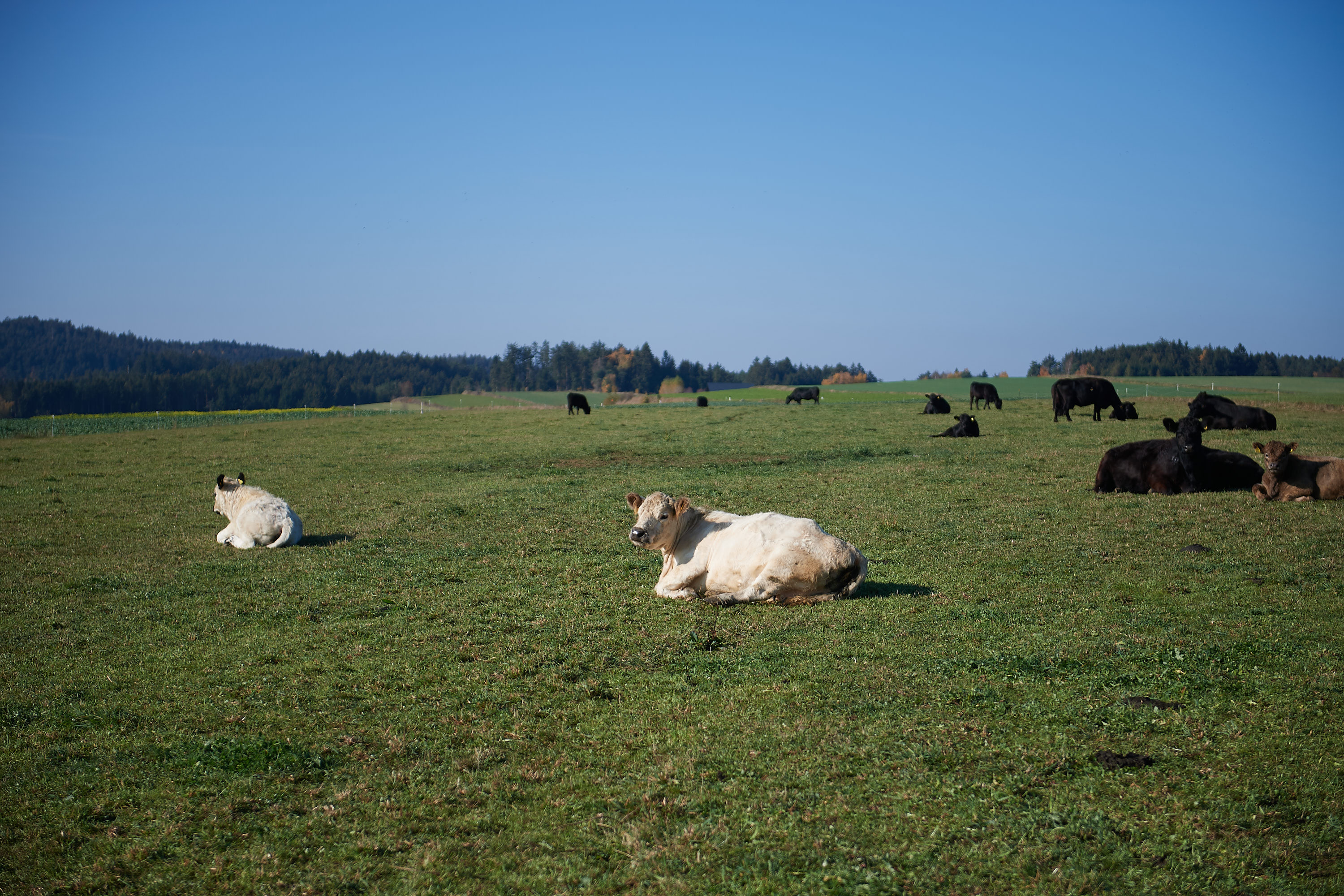 Quality is our highest concern, and in the case of beef, a few factors are crucial. These include the perfect breed of cattle, the age of the animals and optimal feeding, free of concentrated feed. However, this alone is not enough to meet our requirements.
Because we don't do things by halves when it comes to the quality of our meat products! That is why 100% of our animals come from Austria. The farms are located in the Waldviertel in Lower Austria, in Salzburg and in neighbouring Upper Austria. In addition, at Fitmeat we only process the finest meat from heifers and steers.
The meat has a wonderful marbling and taste. Our classic cattle breeds include Red-Angus, Black-Angus, Charolais, Limousin, White-Blue Belgian and Wagyu, as well as various crossbreeds.
Our cattle are 4x AT certified. This means that birth, rearing, butchering and refinement take place 100% in Austria. The value chain therefore remains entirely in Austria.
We distance ourselves from long animal transports and select our partners very carefully. Therefore, we rely on animals that are kept in a species-appropriate manner, born and raised by small farmers, and on butchers who know both the farmer and the animal personally.
Our butchers let the cuts mature on the bone for a long time. This gives us first-class, well-hung meat that does not lose water during roasting and can be enjoyed with a clear conscience.
Details to the article "Tongue (Swiss Cut) "
| | |
| --- | --- |
| Item number | FM101037 |
| Breed | Black Angus, Red Angus, Simmental, Pinzgau, Tyrolean Grey, Charolais, ... |
| Born in | Austria |
| Raised in | Austria |
| Slaughtered in | Austria |
| Cut in | Austria |
| Feeding | Fresh grass on pasture, brewer's grains, possibly maize or cereals |
| Shelf life at 0-4°C | 2-5 days |
| Shelf life at -18°C | 180 days |
| Hygiene advice | Prepare and consume immediately after opening. Kitchen hygiene is important: Keep the cold chain. Store separately from other products. Work cleanly. Heat through before consumption. |
| Storage advice (Fresh) | Store refrigerated at 0 °C to +4 °C. |
| Storage advice (deep-frozen) | *** compartment (-18 °C): best before: see label - ** compartment: 2 weeks - * compartment or ice cube compartment: 1-3 days - Do not refreeze after defrosting. |
Good to know
Facts
Fresh meat, no frozen goods
Meat from small farmers in Austria
Aged and finished by our traditional butcher
Billing by the gram
Recyclable packaging
Ready to ship in under 24h
Accepted payment methods
Secure shopping at Fitmeat
Packaging and delivery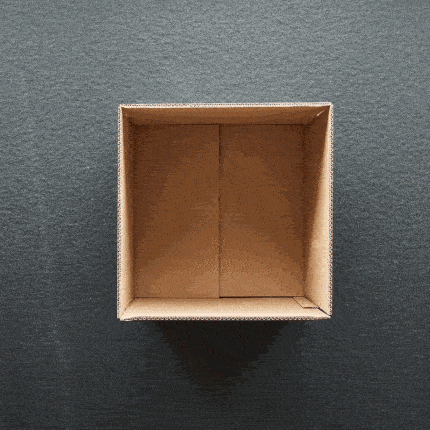 Your order will be delivered directly to your home by our partner shipping companies. During your order, you can also specify a desired date for your delivery. Thanks to sustainable packaging and specially developed insulation, your meat stays wonderfully fresh and is perfectly cooled with reusable cold packs.
Of course, you can track your order at any time via our tracking portal and view the delivery status. If you are not at home on the desired date, you can simply enter an alternative delivery address or give a drop-off authorisation.
Our express delivery guarantees safe delivery within 24 hours.
5 really good reasons for Fitmeat
At Fitmeat, you only get premium meat of the best quality from selected small farmers in Austria.
Our experienced master butchers are pioneers in meat refinement and maturation. At Fitmeat, you get perfectly matured meat that has never been frozen.
With meat from Fitmeat, you experience sustainable meat enjoyment of a special kind, because quality goes beyond the plate with us.
With meat from Fitmeat you support Austrian agriculture. Because the value chain remains one hundred percent in Austria.
What you see is what you get: Whether it's the marvellous marbling of our steaks or the beautiful pastures of our farmers - all the pictures on our website are 100% authentic and taken by us on location. After all, the eye eats with you, doesn't it?