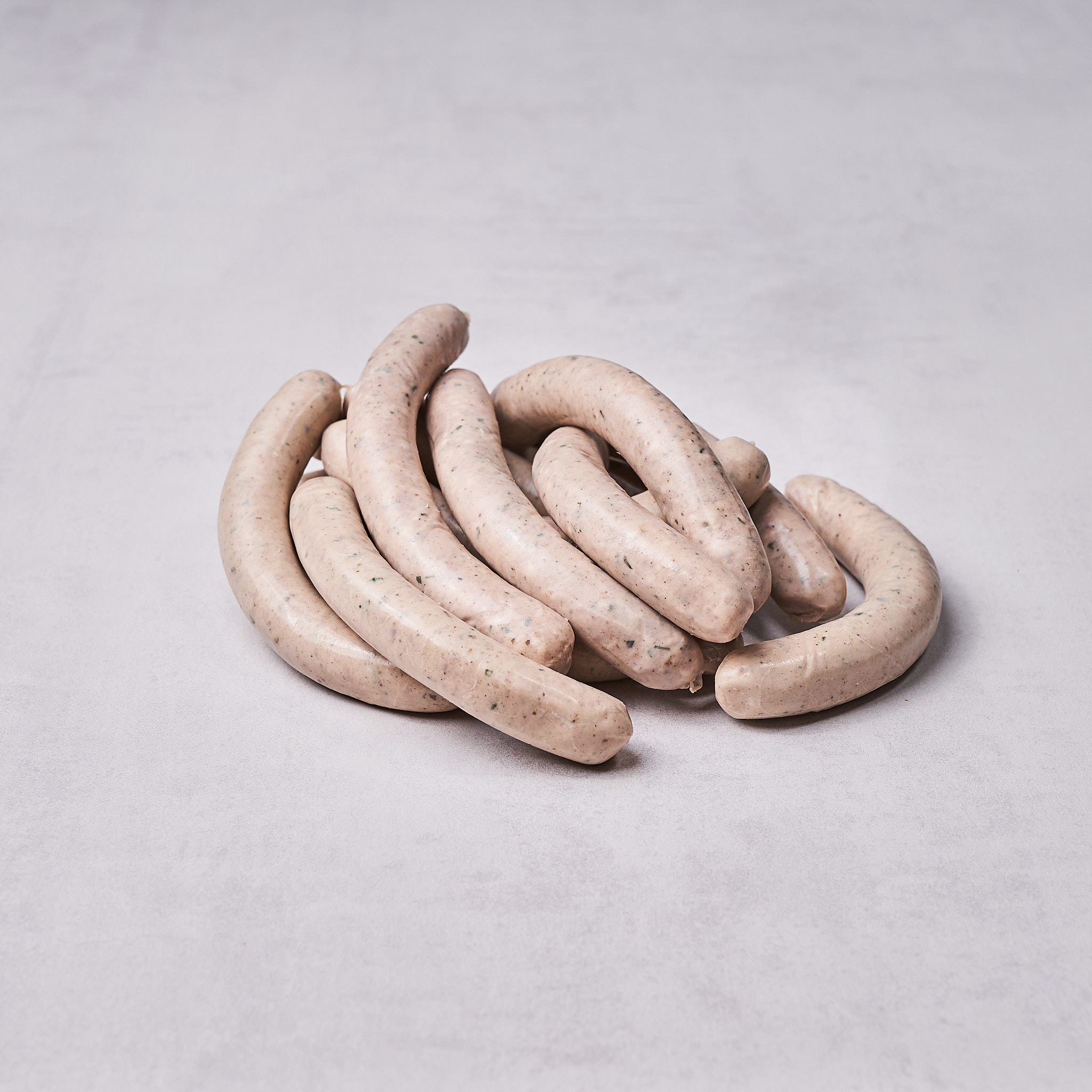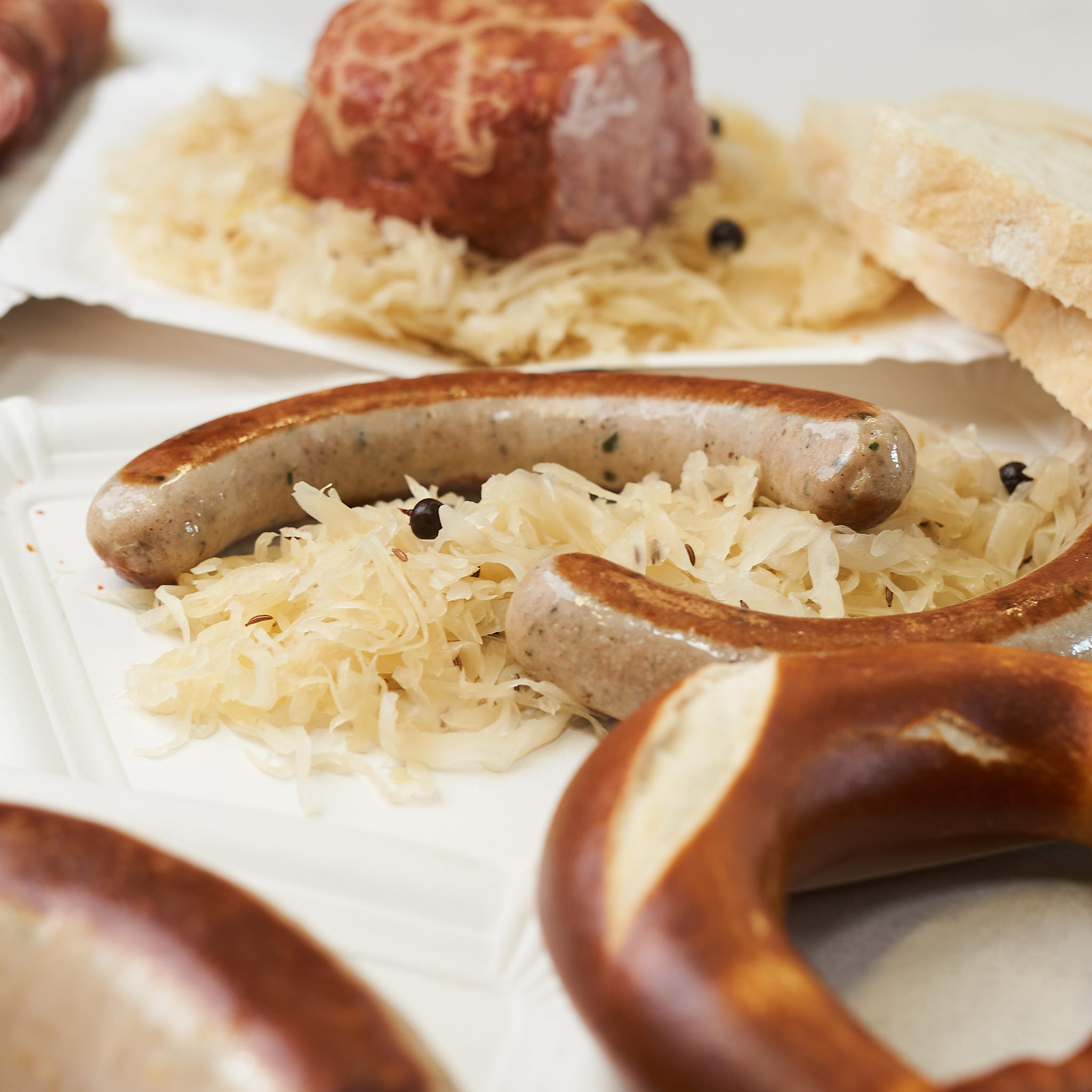 Salzburger Schweinsbratwürstel (pork)
from the artisan butcher
Ready for shipping. Delivery time: 1 working day
Spicy, crunchy and wonderfully fine - our Salzburg roast pork sausages are a must at any barbecue.
Meat knowledge
Our Salzburg pork bratwursts are among the favourites of our community. Because their taste is simply sensational. A hearty, strong aroma and a really fine crust that develops during grilling and frying - it couldn't be better
Traditionally, Salzburg pork bratwurst is made from coarse pork roast, which is why it is sometimes also called "coarse bratwurst". Salzburg pork bratwursts, on the other hand, are somewhat finer and are refined with selected spices
Pork bratwursts are perfect for grilling or frying in a pan. As a side dish, we recommend sauerkraut, mashed potatoes or vegetables. If you like it a little more special, you can also prepare the sausages on a skewer and serve them with rösti.
Quantity per person
A pack of one kilogram of Salzburg roast pork sausages contains approx. 10 pairs of sausages. This corresponds to 4 portions.
Herkunft und Haltung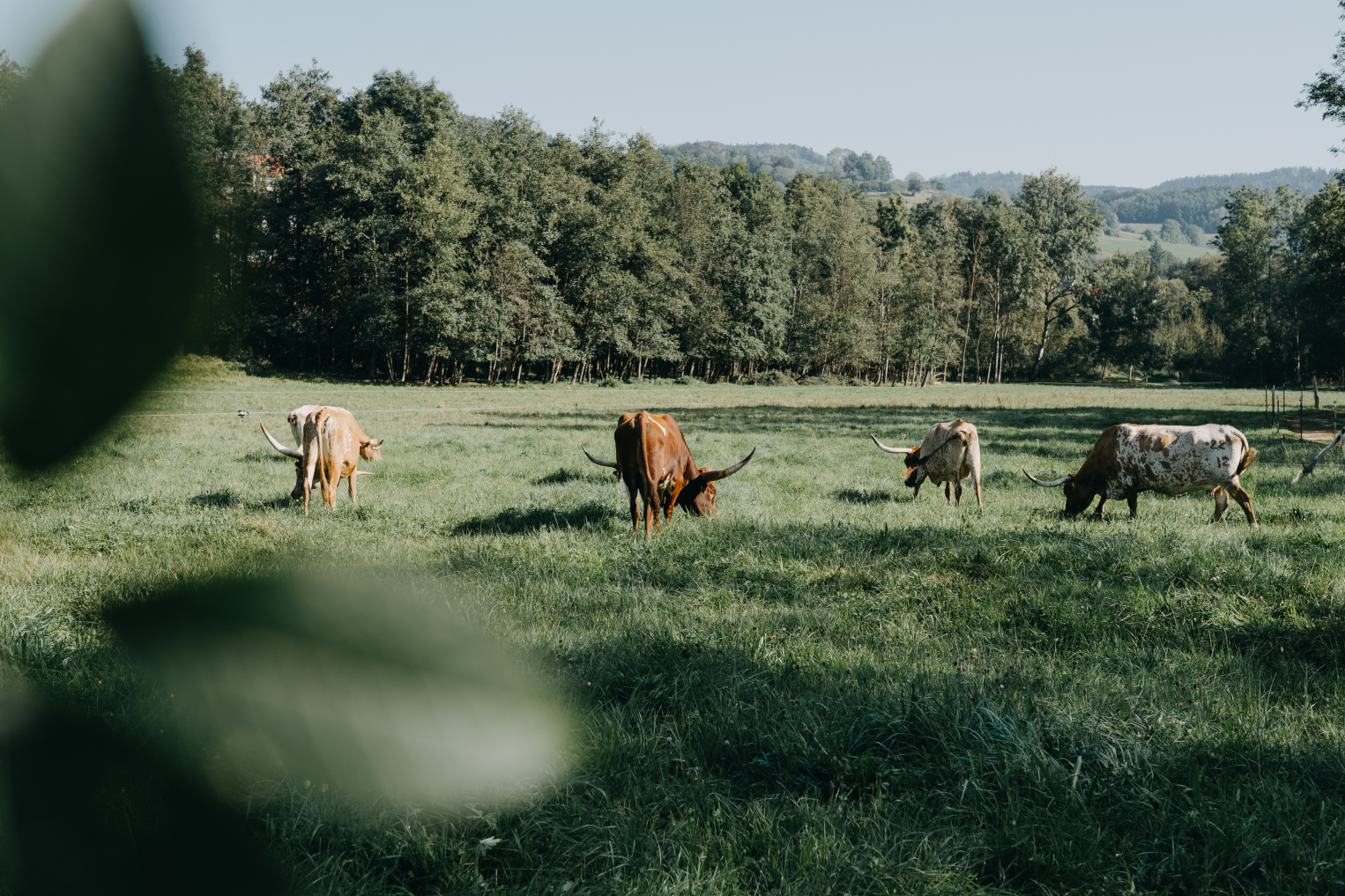 At Fitmeat, the highest quality and species-appropriate animal husbandry are top priorities. That is why 100% of the animals come from small farmers in Austria. The farms are located in the Waldviertel region of Lower Austria, in Salzburg and in neighbouring Upper Austria
Since we distance ourselves from long transport routes and factory farming, we have the animals respectfully slaughtered individually by our partner butchers in the immediate vicinity of the farms (max. 15 minutes transport distance) or directly on the farm
We also have close and personal contact with the farmers and work exclusively with butchers who know both farmer and animal personally. Our master butchers cut each animal into the finest parts and allow them to mature selectively. This is not only true for our steaks, but also for ham, sausages and bacon!
These are carefully prepared and refined by hand by our master butchers according to the original recipe. The result? Sausages of the highest quality for a fabulous enjoyment experience.
Details to the article "Salzburger Schweinsbratwürstel (pork)"
| | |
| --- | --- |
| Item number | FM109010 |
| Born in | Austria |
| Raised in | Austria |
| Slaughtered in | Austria |
| Cut in | Austria |
| Shelf life at 0-4°C | 10-14 days |
| Shelf life at -18°C | 180 days |
| Ingredients | Pork, bacon, drinking water, table salt, spice extracts, flavour enhancer: monosodium glutamate, spice extracts, flavouring |
| Hygiene advice | Consume soon after opening. Kitchen hygiene is important: keep the cold chain, store separately from other products, work cleanly. |
| Storage advice (Fresh) | Store refrigerated at 2 °C to +6 °C. |
Good to know
Facts
Fresh meat, no frozen goods
Meat from small farmers in Austria
Aged and finished by our traditional butcher
Billing by the gram
Recyclable packaging
Ready to ship in under 24h
Accepted payment methods
Secure shopping at Fitmeat
Packaging and delivery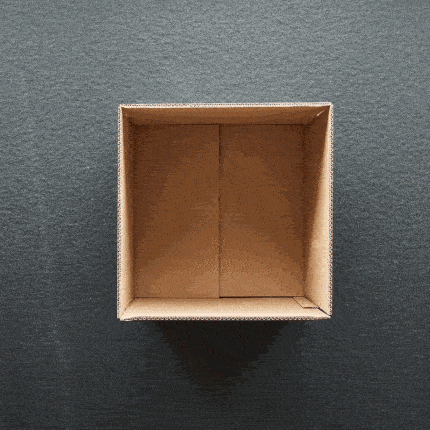 Your order will be delivered directly to your home by our partner shipping companies. During your order, you can also specify a desired date for your delivery. Thanks to sustainable packaging and specially developed insulation, your meat stays wonderfully fresh and is perfectly cooled with reusable cold packs.
Of course, you can track your order at any time via our tracking portal and view the delivery status. If you are not at home on the desired date, you can simply enter an alternative delivery address or give a drop-off authorisation.
Our express delivery guarantees safe delivery within 24 hours.
5 really good reasons for Fitmeat
At Fitmeat, you only get premium meat of the best quality from selected small farmers in Austria.
Our experienced master butchers are pioneers in meat refinement and maturation. At Fitmeat, you get perfectly matured meat that has never been frozen.
With meat from Fitmeat, you experience sustainable meat enjoyment of a special kind, because quality goes beyond the plate with us.
With meat from Fitmeat you support Austrian agriculture. Because the value chain remains one hundred percent in Austria.
What you see is what you get: Whether it's the marvellous marbling of our steaks or the beautiful pastures of our farmers - all the pictures on our website are 100% authentic and taken by us on location. After all, the eye eats with you, doesn't it?