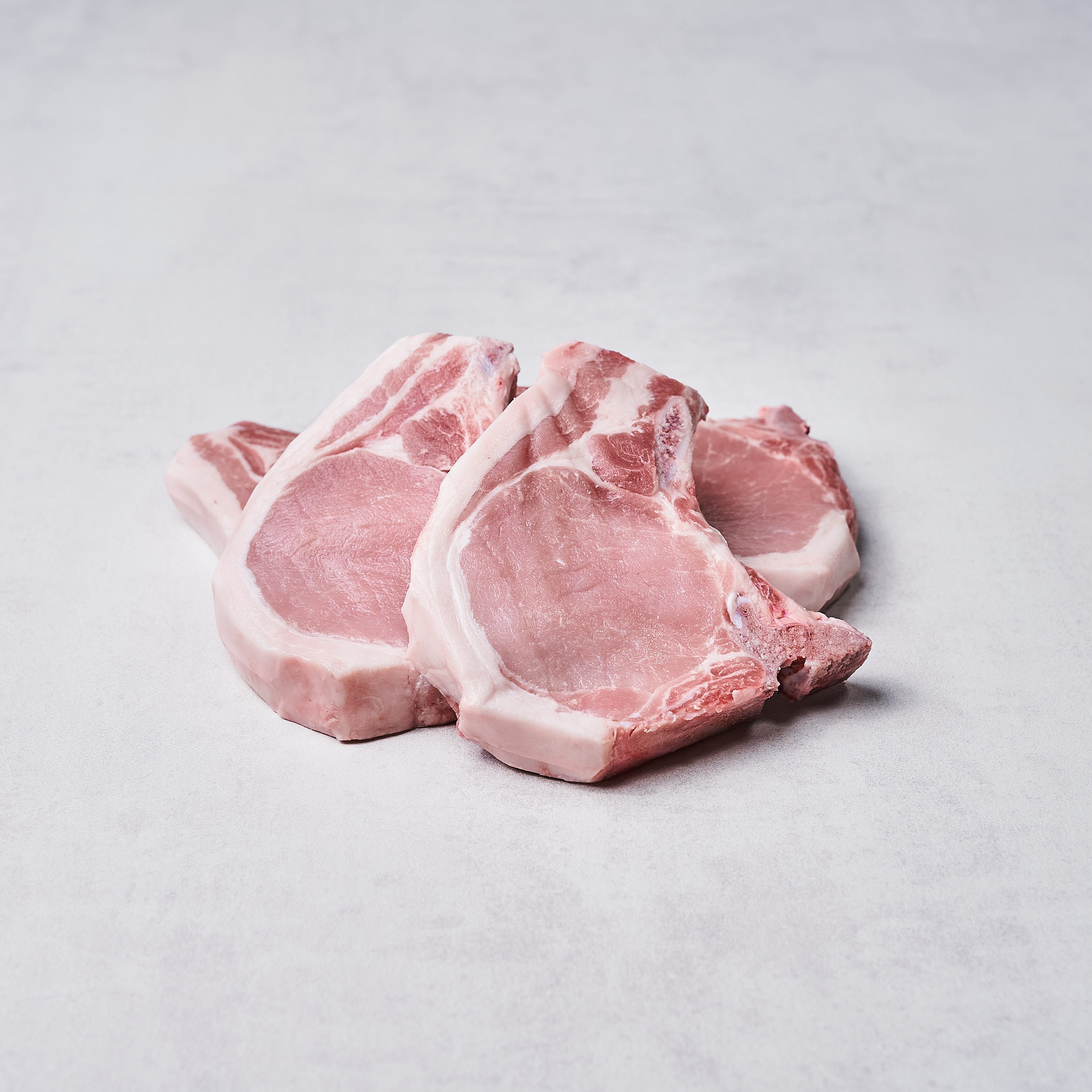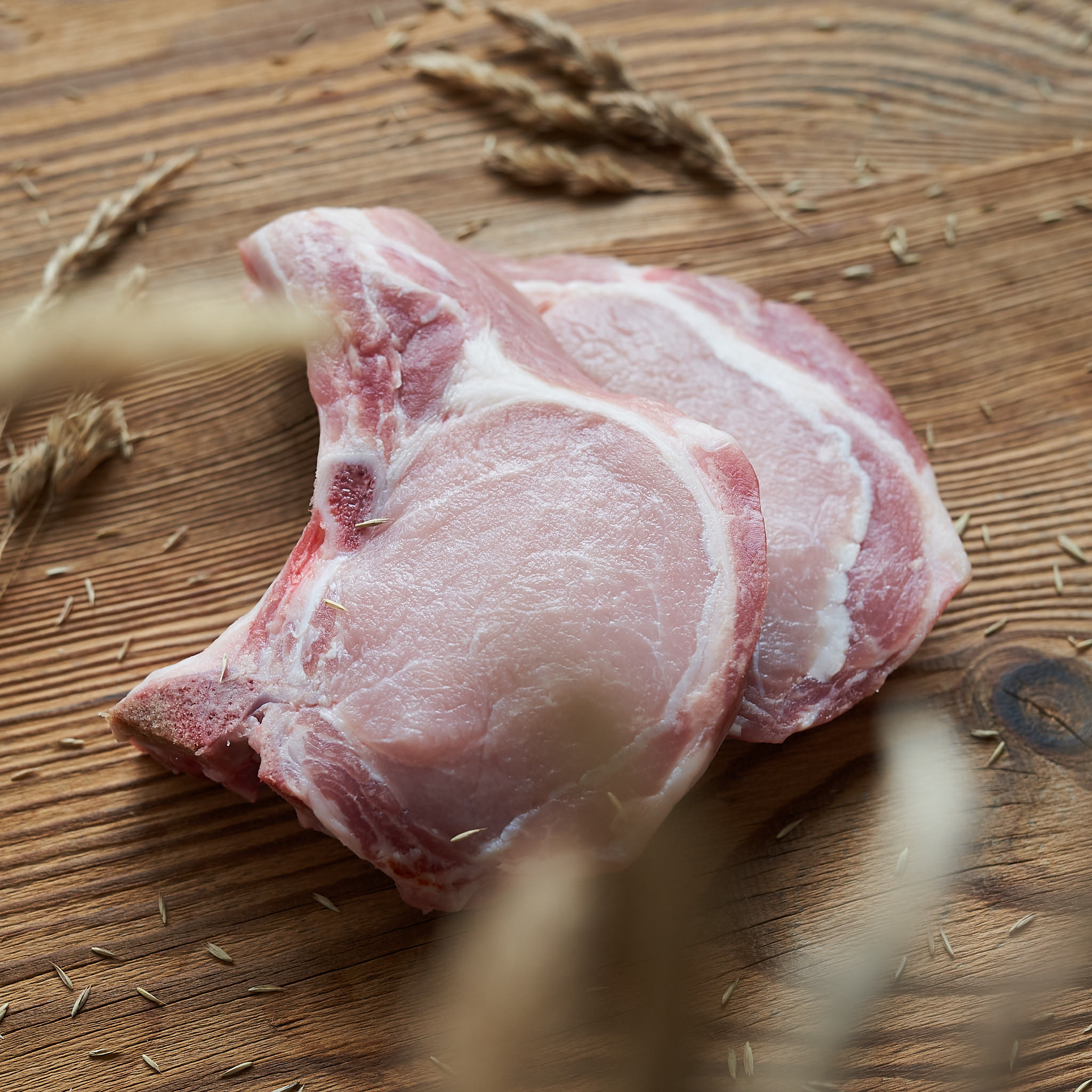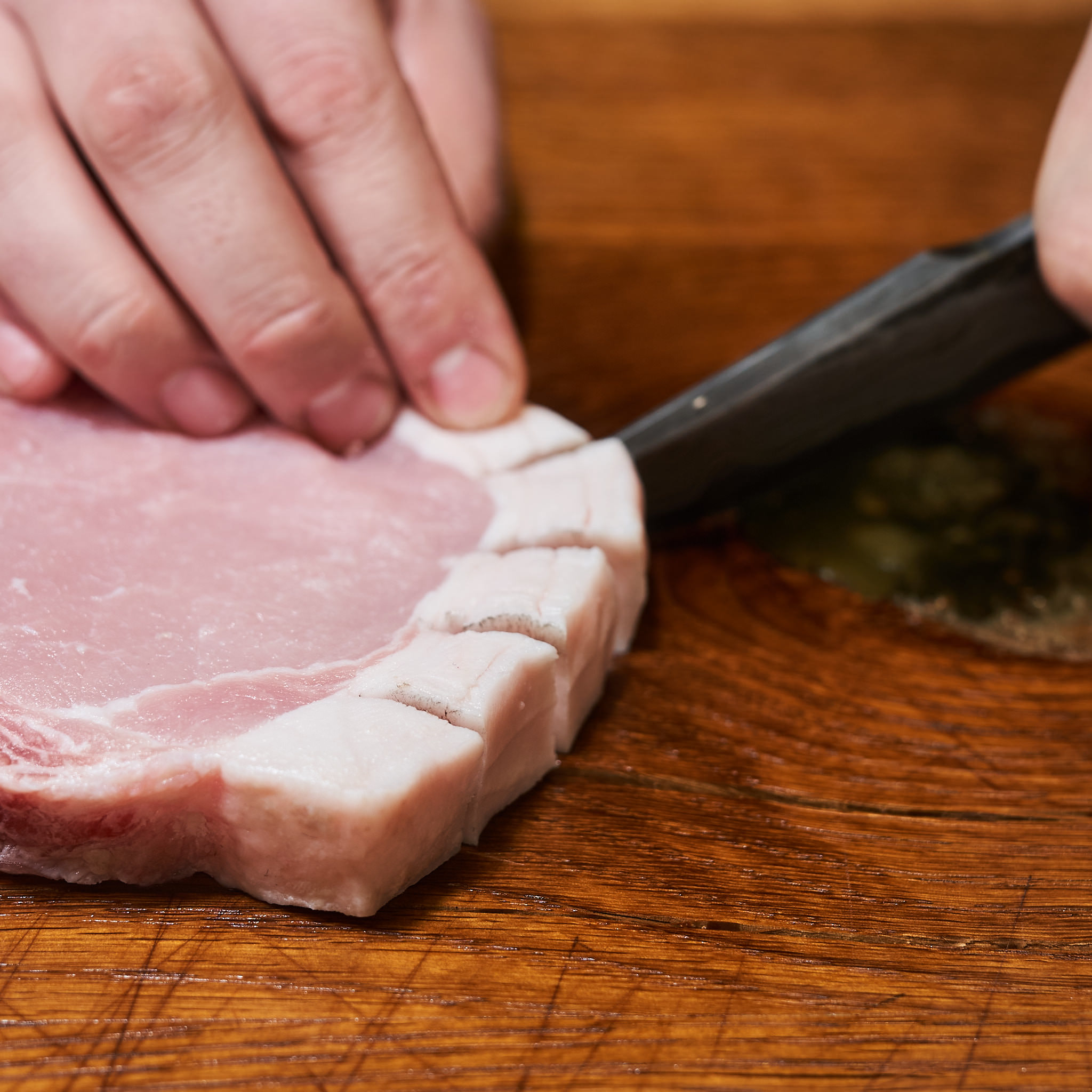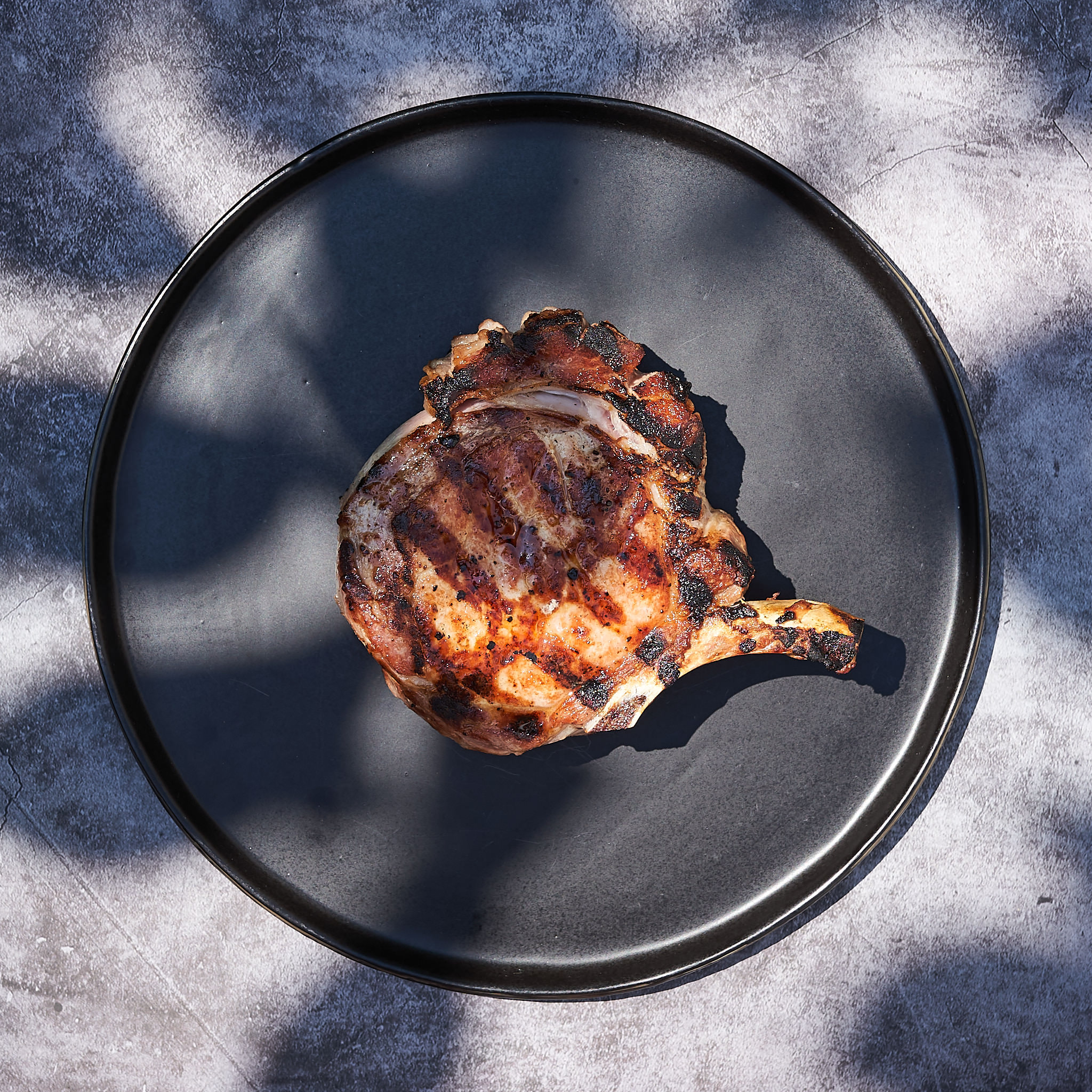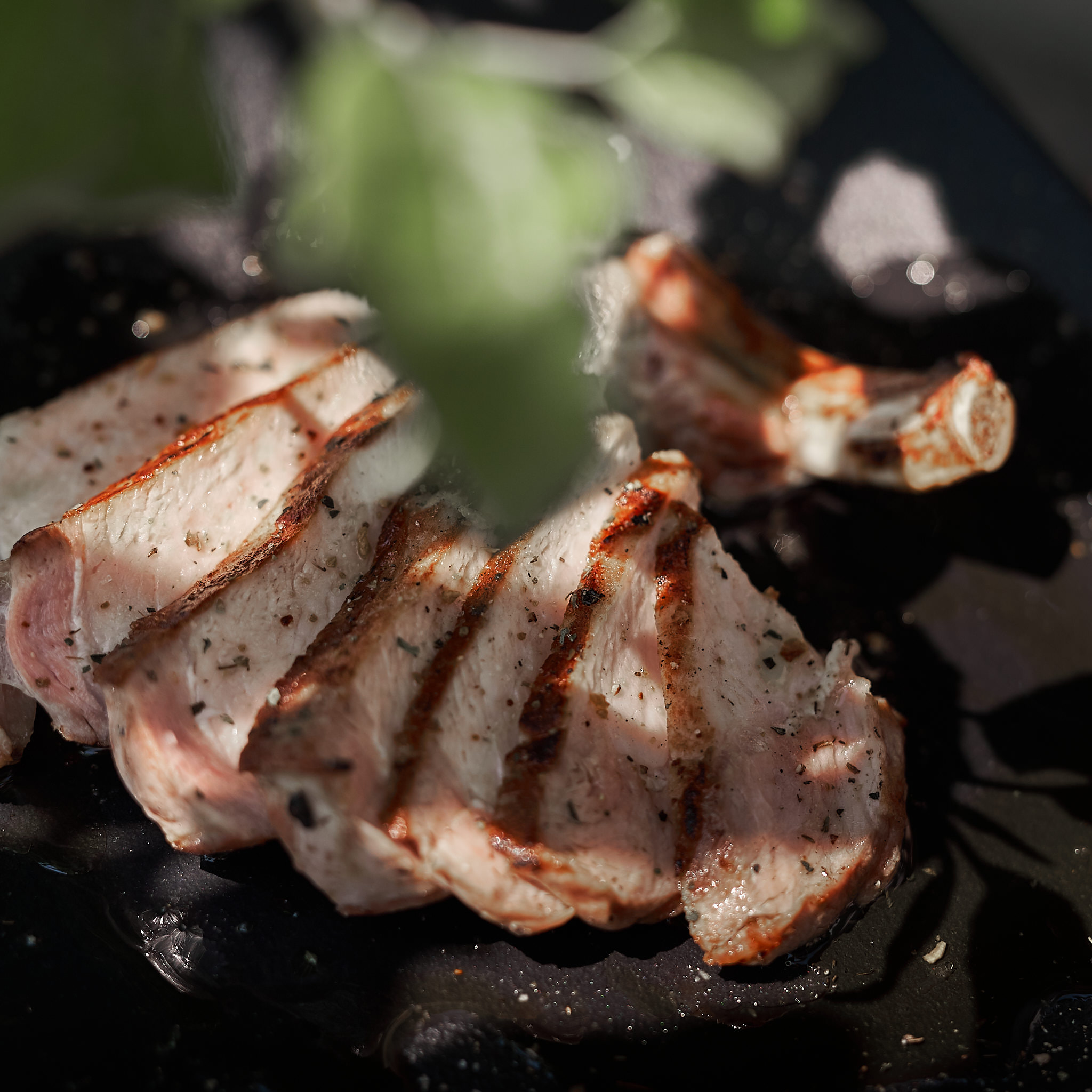 Chops
from the Austrian straw pig
Ready for shipping. Delivery time: 1 working day
Juicy, soft and with a wonderful crust - pork chops are an absolute treat and should not be missing from any barbecue party! The fat layer also ensures an unforgettable aroma.
Meat knowledge
The delicious pork chops have almost been forgotten and yet they are a real treat and also provide a whole portion of important nutritional values.
With a crispy, brown crust and soft, juicy meat, they are a hit at every barbecue and also look great when prepared in a pan.
The chop is located on the side of the spine at the back of the pig. This part is also called the cutlet strand and extends to the hind leg. The cutlet is divided into a front and a rear part, so to speak. Chops from the front strand are also known as the stem chop.
Pork chops - the forgotten classic
Whether for short roasting, breading or grilling - pork chops are suitable for countless preparation methods. If the bone is still attached, the meat loses very little liquid during preparation and remains wonderfully juicy. This gives the meat enough time to develop its full flavour.
Chops of straw pig - this is how they become perfect!
Preparing really juicy chops is often not that easy. Because of the relatively lean meat, there is a high risk that it will resemble a shoe sole later on. We at Fitmeat show you how you can experience real pleasure.
No matter which type of cutlet you choose, there are a few important points you should pay attention to.
The colour of the meat is an important indicator of freshness. For a cutlet, it should be nice and pink with a fine sheen. The intensity of the colour depends on the age and feeding of the pig.
Pork chops from Fitmeat
At Fitmeat you only get fresh premium meat that has never been deep-frozen. That's why our pork chops are not only juicy and fresh, they also retain the meat juices better. This means they don't dry out during preparation and stay nice and tender.
The right thickness is nevertheless an important point. Sliced too thinly, even the best chop is quite difficult to cook to perfection. So boneless pork chops should be at least 2 cm thick.
Recommendation for cooking
In the pan
BBQ
Zum Schmoren
Sous-vide cooking
Quantity per person
We recommend one pork chop per person.
Herkunft und Haltung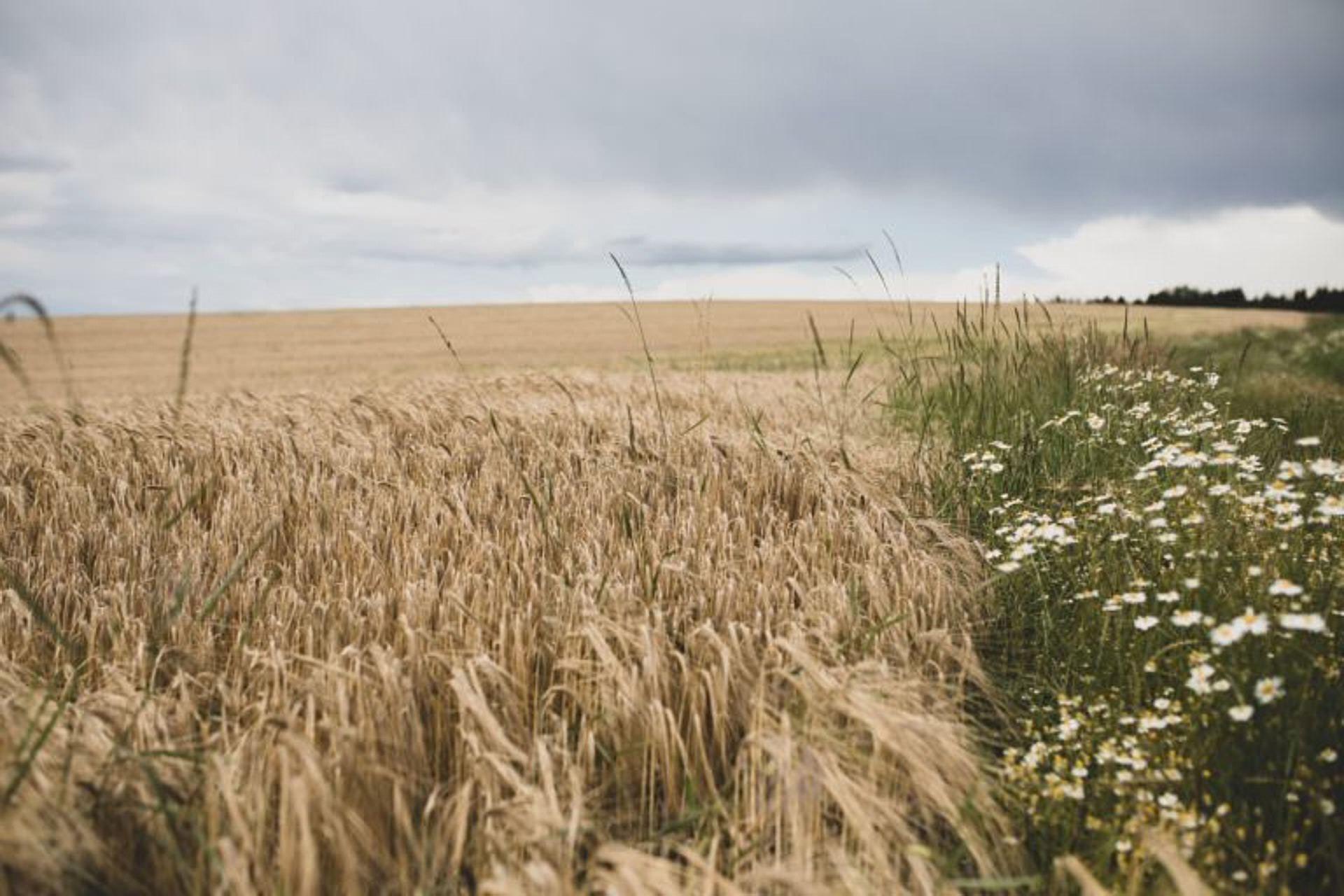 Pigs are extremely intelligent and clean animals. Therefore, species-appropriate and caring rearing is the be-all and end-all for us.
A requirement that is also noticeable in the taste. If you compare pigs from factory farms, for example, one thing is immediately clear: due to the permanent stress, the meat is much firmer, loses a lot of water during roasting and has hardly any flavour of its own.
For us at Fitmeat, this kind of rearing is out of the question for many reasons. We fight for animal welfare and the appreciation of meat products and strictly distance ourselves from immoral factory farming.
After the careful and stress-free individual slaughter of the pigs, our butchers leave the straw pigs to mature on the bone for a few days. The result is juicy and tender pieces of pork with a wonderful aroma.
Details to the article "Chops"
| | |
| --- | --- |
| Item number | FM102014 |
| Breed | Noble pig/landrace x Pietrain |
| Born in | Austria |
| Raised in | Austria |
| Slaughtered in | Austria |
| Cut in | Austria |
| Feeding | Farm-grown vegetable feeds such as barley, wheat, rape, beans, peas and maize. Non-GMO donauja from regional cultivation serves as a source of protein, as well as minerals and vitamins. |
| Meat maturation | 5-10 days |
| Shelf life at 0-4°C | 5-7 days |
| Shelf life at -18°C | 180 days |
| Hygiene advice | Prepare and consume immediately after opening. Kitchen hygiene is important: Keep the cold chain. Store separately from other products. Work cleanly. Heat through before consumption. |
| Storage advice (Fresh) | Store refrigerated at 0 °C to +4 °C. |
| Storage advice (deep-frozen) | *** compartment (-18 °C): best before: see label - ** compartment: 2 weeks - * compartment or ice cube compartment: 1-3 days - Do not refreeze after defrosting. |
Good to know
Facts
Fresh meat, no frozen goods
Meat from small farmers in Austria
Aged and finished by our traditional butcher
Billing by the gram
Recyclable packaging
Ready to ship in under 24h
Accepted payment methods
Secure shopping at Fitmeat
Packaging and delivery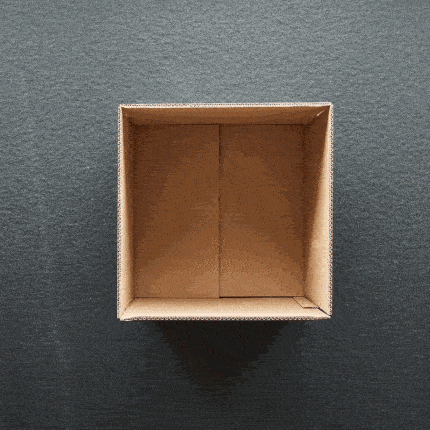 Your order will be delivered directly to your home by our partner shipping companies. During your order, you can also specify a desired date for your delivery. Thanks to sustainable packaging and specially developed insulation, your meat stays wonderfully fresh and is perfectly cooled with reusable cold packs.
Of course, you can track your order at any time via our tracking portal and view the delivery status. If you are not at home on the desired date, you can simply enter an alternative delivery address or give a drop-off authorisation.
Our express delivery guarantees safe delivery within 24 hours.
5 really good reasons for Fitmeat
At Fitmeat, you only get premium meat of the best quality from selected small farmers in Austria.
Our experienced master butchers are pioneers in meat refinement and maturation. At Fitmeat, you get perfectly matured meat that has never been frozen.
With meat from Fitmeat, you experience sustainable meat enjoyment of a special kind, because quality goes beyond the plate with us.
With meat from Fitmeat you support Austrian agriculture. Because the value chain remains one hundred percent in Austria.
What you see is what you get: Whether it's the marvellous marbling of our steaks or the beautiful pastures of our farmers - all the pictures on our website are 100% authentic and taken by us on location. After all, the eye eats with you, doesn't it?