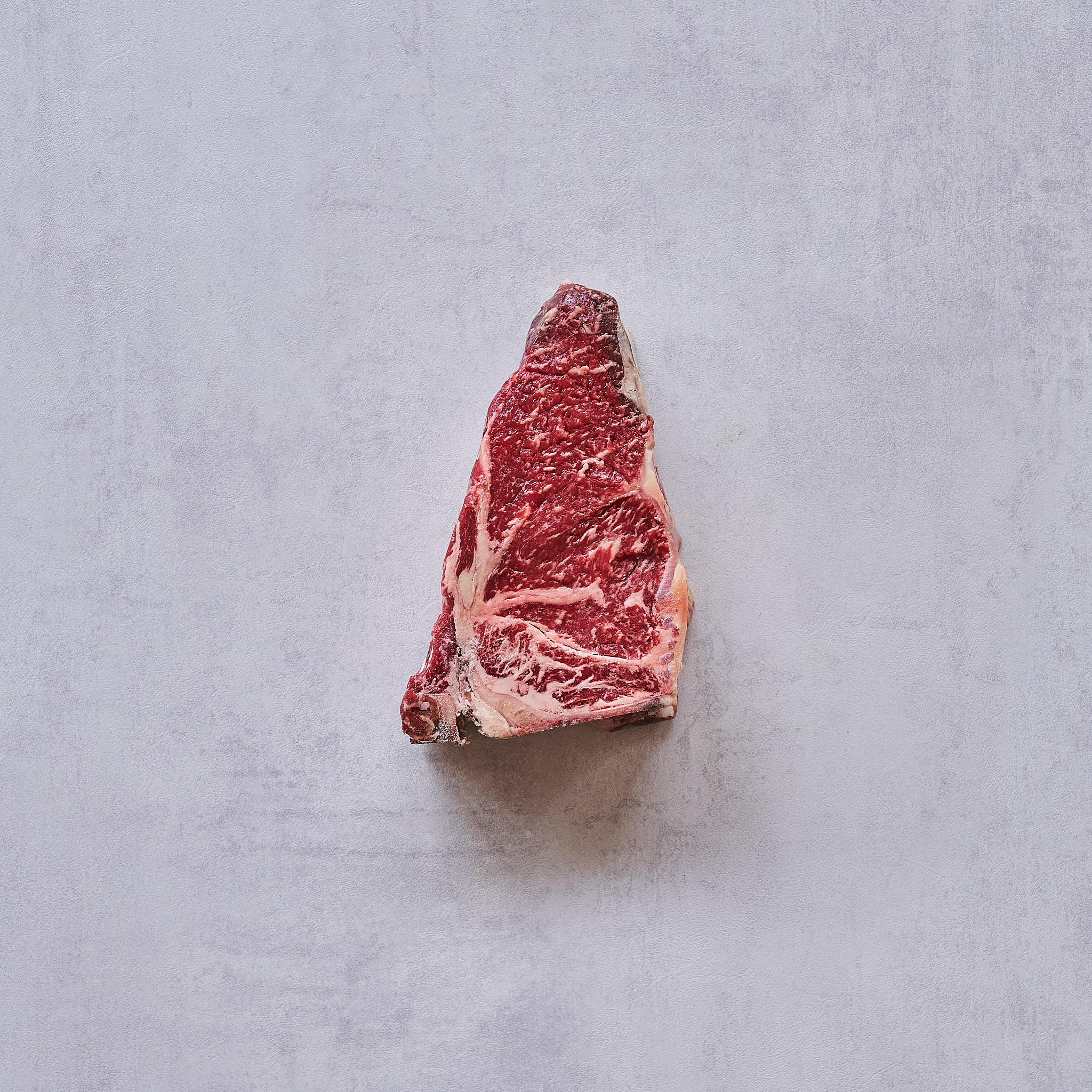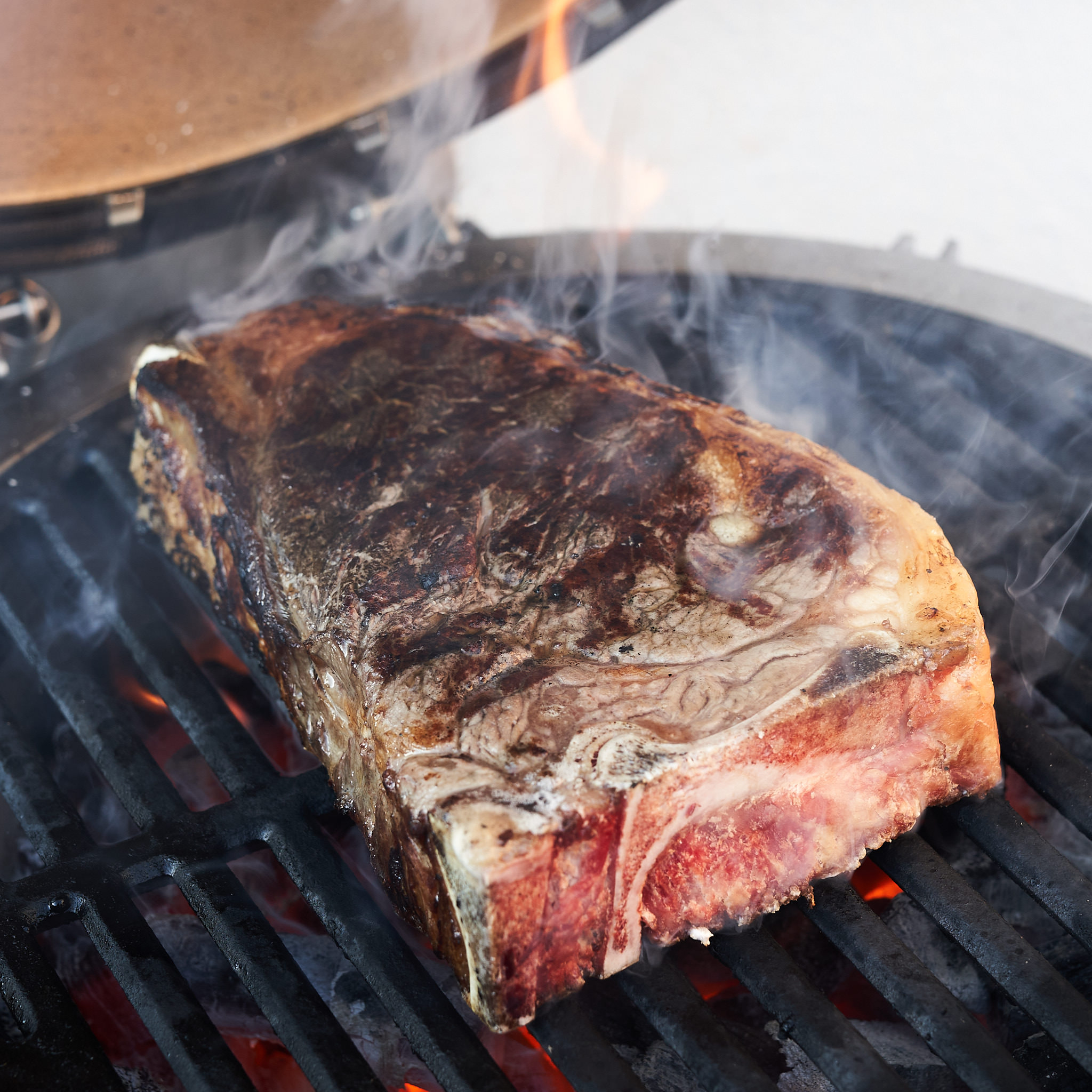 Dry Aged Clubsteak
from the Austrian Heifer (heifer)
€52.90
ca.
0.8 kg
(66.13 € / kg)
Ready for shipping. Delivery time: 1 working day
The Club Steak, or Rump Steak on bone, is top marbled, with a wonderful fat cover and characteristic bone.
Meat knowledge
Our Dry-Aged Clubsteak from the Heifer is characterised by short fibres and the light fat cover. It is suitable for short roasting on the grill or in the pan. Due to the long maturing time, the meat develops a fabulous flavour of its own that is clearly more intense and combines with wonderfully nutty, buttery aromas.
Rump steak or Club Steak?
The Club Steak is cut from the beef loin, similar to the rump steak. Here, however, the bone stays on. This makes the steak a somewhat leaner alternative to the Rib-Eye steak on bone and it also comes from the lower part of the round back.
The meat matures directly on the bone and is protected by a fat cover. This is how the characteristic aroma develops. Thanks to the short fibres, this steak is very soft and juicy. With the bone, however, the meat becomes even more flavourful. With the preparation, it finally unfolds its full aroma.
What is so special about Dry-Aged Club Steak from Heifer?
Heifer, or , refers to female cattle that have not yet calved. The meat is wonderfully dark red in colour and has extremely fine fibres. The meat also has a special marbling that enhances the flavour.
This first-class marbling, i.e. the storage of fat in the muscle, is the result of the very slow growth of the heifers.
Dry-aged beef from the Heifer
A hype that is worth it
The Dry Aging maturing process is not just hype, it has many advantages! Not only does the taste of the meat or steak become ingenious, but the consistency of the meat also benefits. The fibres become softer and the meat as a whole is much more tender.
The reason for this is that during ripening the so-called glycogen is converted into lactic acid. This reaction causes rigid muscles or the hardened compounds of the muscle proteins to be loosened.
But not every breed of cattle is automatically suitable for dry-aging: That's why at Fitmeat you can get dry-aged beef from the Austrian Heifer (heifer) or steer. These cattle breeds grow up gently and can develop slowly and naturally.
Recommendation for cooking
In the pan
BBQ
Sous-vide cooking
Medium rare at approx. 53 °C core temperature
Quantity per person
One Club Steak is enough for one good eater or one or two normal eaters.
Herkunft und Haltung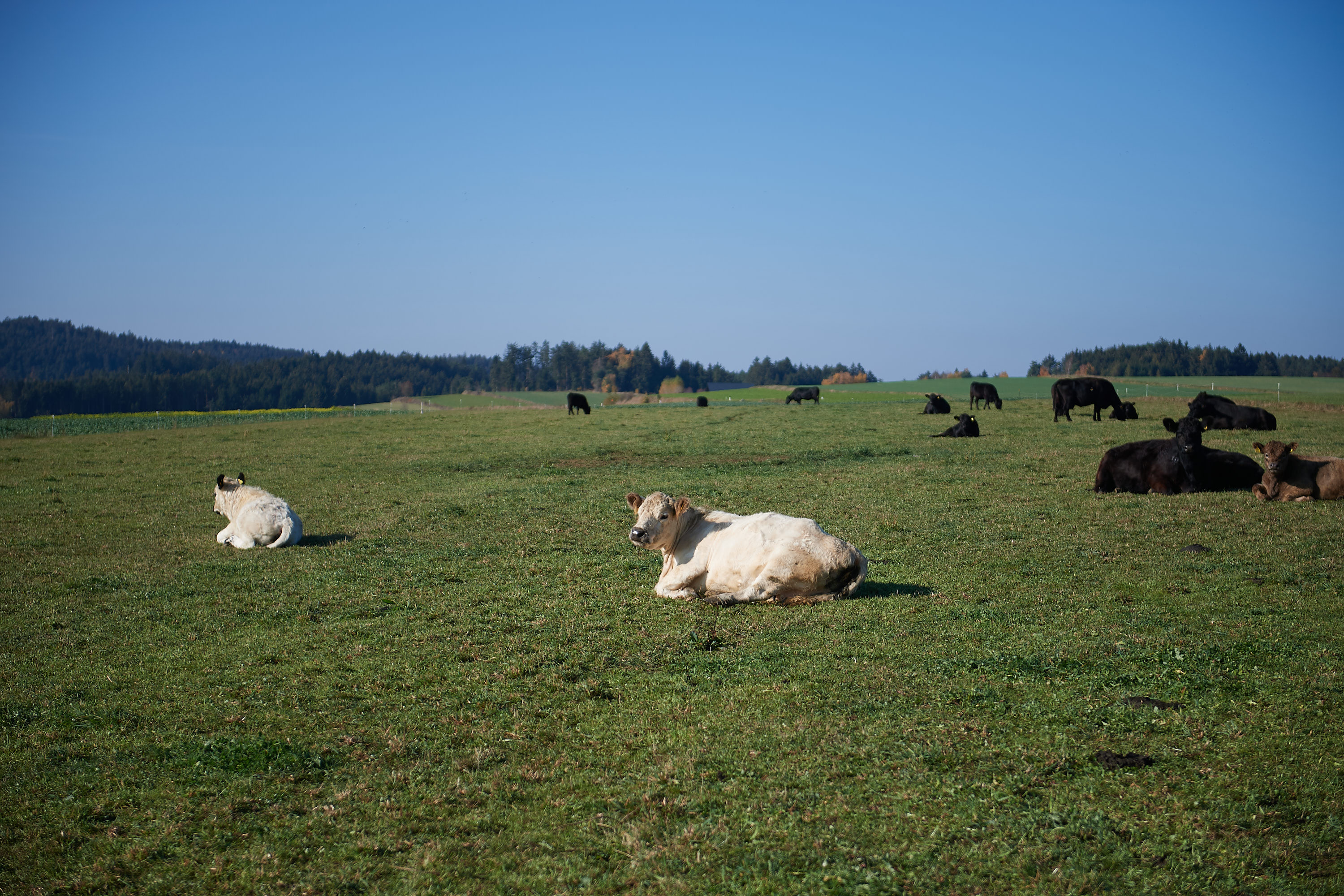 Quality is our highest concern, and in the case of beef, a few factors are crucial. These include the perfect breed of cattle, the age of the animals and optimal feeding, free of concentrated feed. However, this alone is not enough to meet our requirements.
Because we don't do things by halves when it comes to the quality of our meat products! That is why 100% of our animals come from Austria. The farms are located in the Waldviertel in Lower Austria, in Salzburg and in neighbouring Upper Austria. In addition, at Fitmeat we only process the finest meat from heifers and steers.
The meat has a wonderful marbling and taste. Our classic cattle breeds include Red-Angus, Black-Angus, Charolais, Limousin, White-Blue Belgian and Wagyu, as well as various crossbreeds.
Our cattle are 4x AT certified. This means that birth, rearing, butchering and refinement take place 100% in Austria. The value chain therefore remains entirely in Austria.
We distance ourselves from long animal transports and select our partners very carefully. Therefore, we rely on animals that are kept in a species-appropriate manner, born and raised by small farmers, and on butchers who know both the farmer and the animal personally.
Our butchers let the cuts mature on the bone for a long time. This gives us first-class, well-hung meat that does not lose water during roasting and can be enjoyed with a clear conscience.
Details to the article "Dry Aged Clubsteak"
| | |
| --- | --- |
| Item number | FM101055 |
| Breed | Black Angus, Red Angus, Simmental, Pinzgau, Tyrolean Grey, Charolais, ... |
| Born in | Austria |
| Raised in | Austria |
| Slaughtered in | Austria |
| Cut in | Austria |
| Feeding | Fresh grass on pasture, brewer's grains, possibly maize or cereals |
| Meat maturation | 2-3 weeks on the bone |
| Shelf life at 0-4°C | 6-10 days |
| Shelf life at -18°C | 180 days |
| Hygiene advice | Prepare and consume immediately after opening. Kitchen hygiene is important: Keep the cold chain. Store separately from other products. Work cleanly. Heat through before consumption. |
| Storage advice (Fresh) | Store refrigerated at 0 °C to +4 °C. |
| Storage advice (deep-frozen) | *** compartment (-18 °C): best before: see label - ** compartment: 2 weeks - * compartment or ice cube compartment: 1-3 days - Do not refreeze after defrosting. |
Good to know
Facts
Fresh meat, no frozen goods
Meat from small farmers in Austria
Aged and finished by our traditional butcher
Billing by the gram
Recyclable packaging
Ready to ship in under 24h
Accepted payment methods
Secure shopping at Fitmeat
Packaging and delivery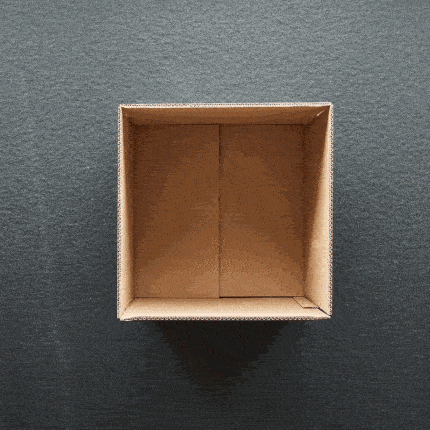 Your order will be delivered directly to your home by our partner shipping companies. During your order, you can also specify a desired date for your delivery. Thanks to sustainable packaging and specially developed insulation, your meat stays wonderfully fresh and is perfectly cooled with reusable cold packs.
Of course, you can track your order at any time via our tracking portal and view the delivery status. If you are not at home on the desired date, you can simply enter an alternative delivery address or give a drop-off authorisation.
Our express delivery guarantees safe delivery within 24 hours.
5 really good reasons for Fitmeat
At Fitmeat, you only get premium meat of the best quality from selected small farmers in Austria.
Our experienced master butchers are pioneers in meat refinement and maturation. At Fitmeat, you get perfectly matured meat that has never been frozen.
With meat from Fitmeat, you experience sustainable meat enjoyment of a special kind, because quality goes beyond the plate with us.
With meat from Fitmeat you support Austrian agriculture. Because the value chain remains one hundred percent in Austria.
What you see is what you get: Whether it's the marvellous marbling of our steaks or the beautiful pastures of our farmers - all the pictures on our website are 100% authentic and taken by us on location. After all, the eye eats with you, doesn't it?