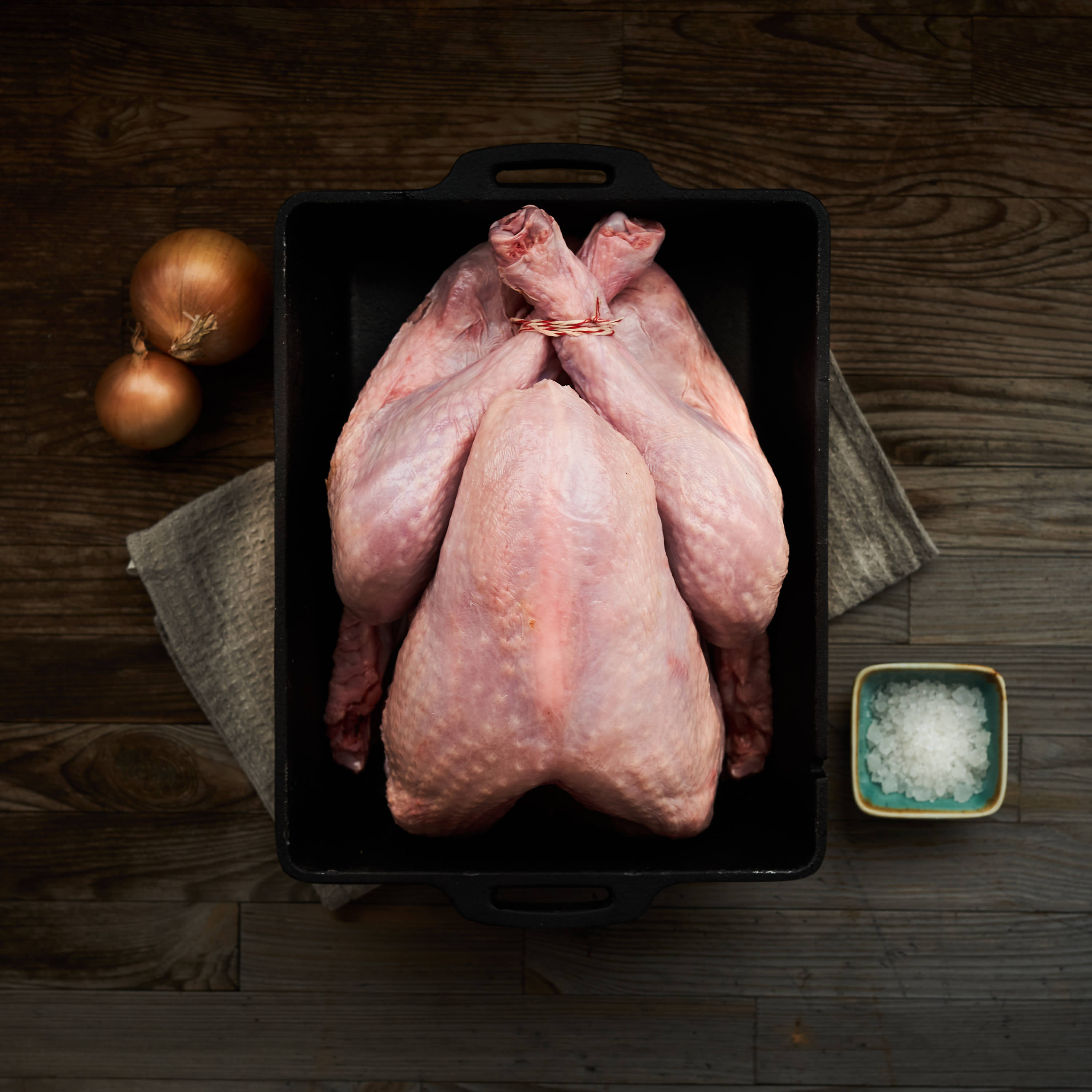 Mini farm turkey approx. 7.00 - 8.00 kg
from the Waldviertel (Lower Austria)
Our mini turkey can be ideally prepared whole in the oven as a roast. The fine-grained meat stays wonderfully tender and the roast gets a wonderfully crispy crust! Served with hearty side dishes, the mini turkey is the perfect festive treat for Thanksgiving.
Product number:
FM103011.6
Meat knowledge
Our Mini turkeys from Lower Austria are ideal for a successful Thanksgiving meal. Because their butter-tender meat not only has a unique taste, they can be optimally used for various dishes.
But for the Thanksgiving feast, our mini turkeys will be a wonderful festive roast for the whole family. At Fitmeat you can get delicious mini farm turkey in 7 - 8 kg.
Turkey or turkey?
What's the difference?
Mini turkeys are light turkeys with a roasting weight of about 3 - 5 kilos. This makes them ideal for 4 - 5 people. Due to their size, they can be roasted whole and become wonderfully crispy.
Just the way it should be for a festive roast! Compared to turkey, turkey meat is much more tender and has a finely fibrous muscle meat that dries out less quickly.
Fitmeat mini turkeys - a real feast
How does the Thanksgiving roast turn out?
Traditionally, turkey is served as a Thanksgiving or Christmas roast and comes with plenty of side dishes on the table. Seasonal delicacies such as chestnuts, potatoes, roasted apples or pears and nuts are particularly popular. There are no limits to creativity. But what must not be missing? That's right, a cranberry sauce!
If you want to try a proper filling, you can use a mixture of onions, white bread, eggs and spices such as parsley. The filling can be refined with bacon or chestnuts.
Good to know:
The history of side dishes
The sumptuous side dishes that make up a real feast today were used for a completely different reason in the past. In those days, meat was a real rarity and quite lean! In order to fill up a whole family, plenty of side dishes were served, which were much cheaper.
Recommendation for cooking
BBQ
Zum Smoken
Herkunft und Haltung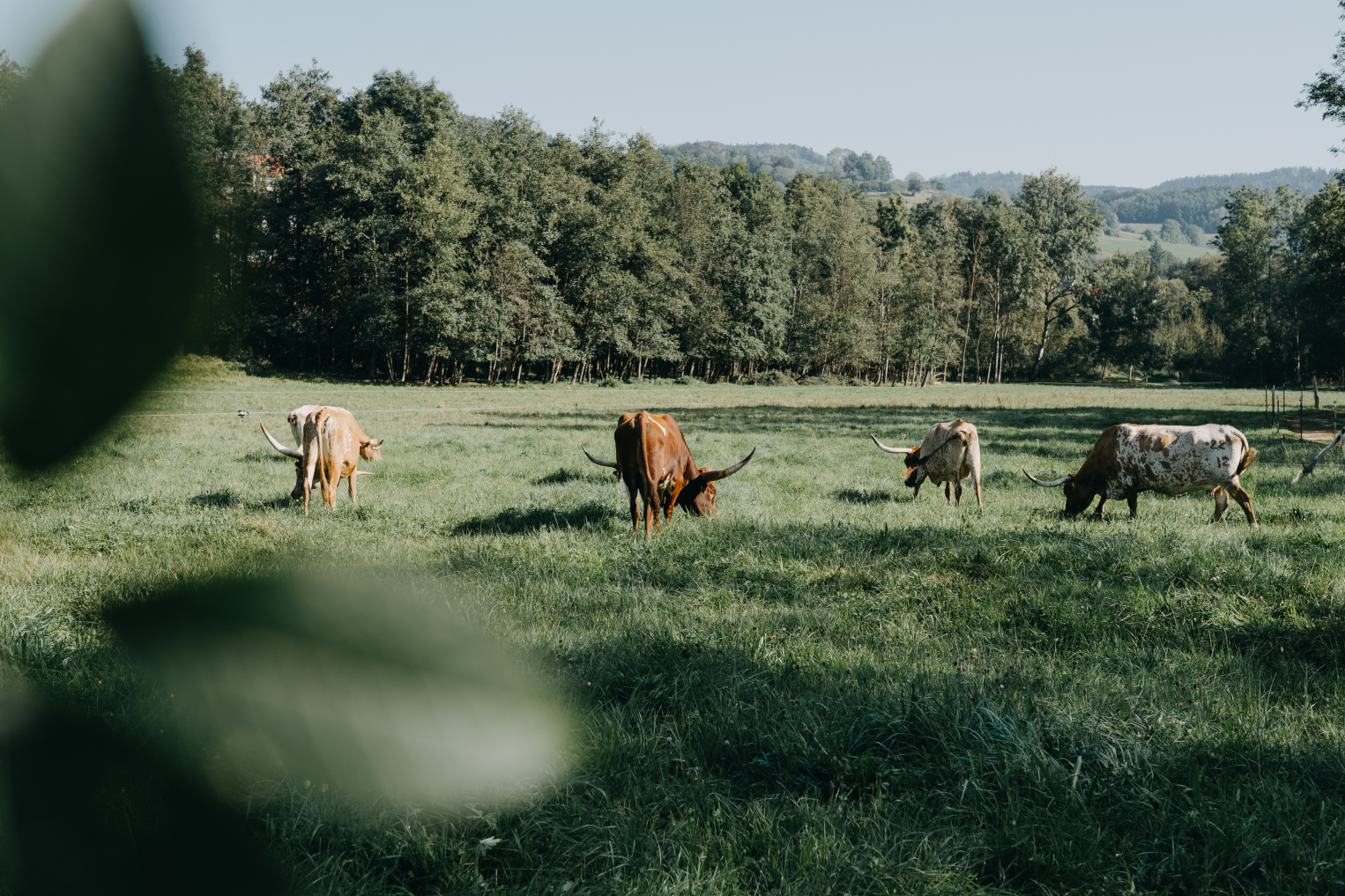 Our farmer carefully raises his turkeys and turkeys on the pastures around his farm in the Waldviertel.
There they have a real lottery life and can do what they want all day long: Stretching their legs on the lush green meadows, pecking the best feed or listening to the rustling of the leaves
On the several hectares of land, the animals can move freely and grow up together in a pack.
There is nothing they have to do without - only one thing: concentrated feed!
In order to ensure slow and healthy growth, our farmer does not use any such feed at all and only uses natural feed! Since we at Fitmeat do not use long transport routes and factory farming, the animals are slaughtered and packaged directly on the farm
Accordingly, there is only a small quantity of this special organic poultry, which is quickly sold out.
Details to the article "Mini farm turkey approx. 7.00 - 8.00 kg"
| | |
| --- | --- |
| Item number | FM103011.6 |
| Born in | Austria |
| Raised in | Austria |
| Slaughtered in | Austria |
| Cut in | Austria |
| Feeding | Maize, wheat, soya (GMO-free!) |
| Meat maturation | 1-2 days |
| Shelf life at 0-4°C | 7-12 days |
| Shelf life at -18°C | 180 days |
| Hygiene advice | Prepare and consume immediately after opening. Kitchen hygiene is important: Keep the cold chain. Store separately from other products. Work cleanly. Heat through before consumption. |
| Storage advice (Fresh) | Store refrigerated at 0 °C to +4 °C. |
| Storage advice (deep-frozen) | *** compartment (-18 °C): best before: see label - ** compartment: 2 weeks - * compartment or ice cube compartment: 1-3 days - Do not refreeze after defrosting. |