Wagyu Beef Portrait: Meat like no other!
Exclusive, sought-after and a marbling that blows your mind! This could be the short portrait of the Wagyu beef breed, one of the most famous varieties in the world. But what is so special about it?
Definition of Wagyu Beef
The hype began with the legendary Koebe Beef. A meat whose degree of marbling amazed the gourmets of this world. Over time, Wagyu Beef came more and more to the fore and from then on both terms were used more and more as synonyms. However, this is not entirely correct.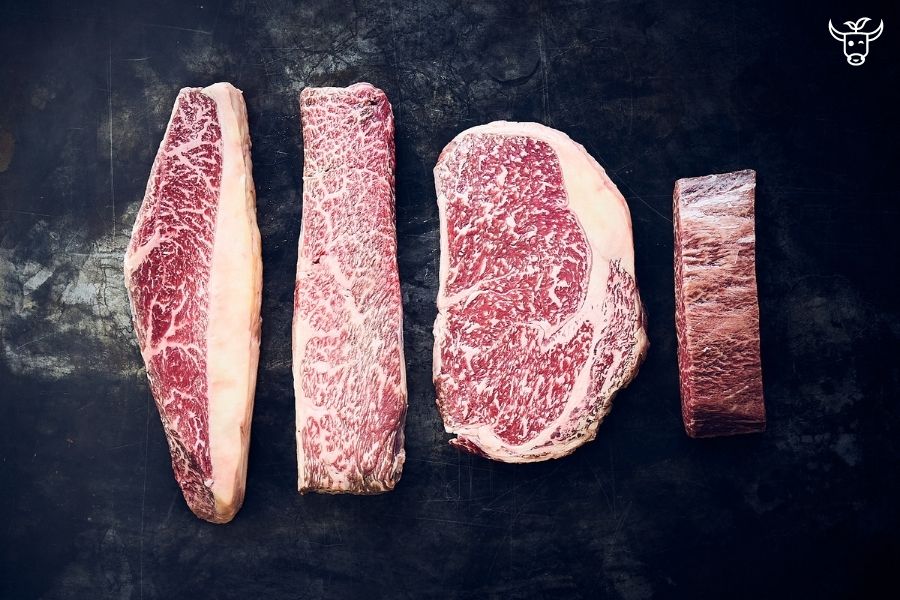 Wagyu vs. Koebe Beef
Literally translated, Wagyu means nothing more than "Japanese beef" and is, so to speak, the generic term for different breeds of beef such as Koebe, Matsusaka or Omi. When talking about Koebe beef, this meat can only come from the Japanese region of Koebe. A bit like champagne, so to speak. What they all have in common is their extraordinary fatty marbling. This strongly pronounced marbling is not even remotely to be found in any other breed of cattle.
The history of the Wagyu
Marbling as the supreme discipline
It is the high level of marbling that has made these cattle famous worldwide and distinguishes them from others. Compared to other cattle, they can produce more than 40 % fat in the muscle, and this is particularly evenly distributed. Usually, the fat is found more in spots or in thick strands in the meat.
These continuous fine fat deposits are also decisive for the special tenderness of the meat and its unmistakable taste. Another factor that caused the hype to explode is that the meat may only be exported from Japan since 2014. As a protected Japanese cultural asset, the only option for international breeding was to raise Wagyu cattle. The first Wagyu cattle outside Japan were bred in the USA in the 1990s.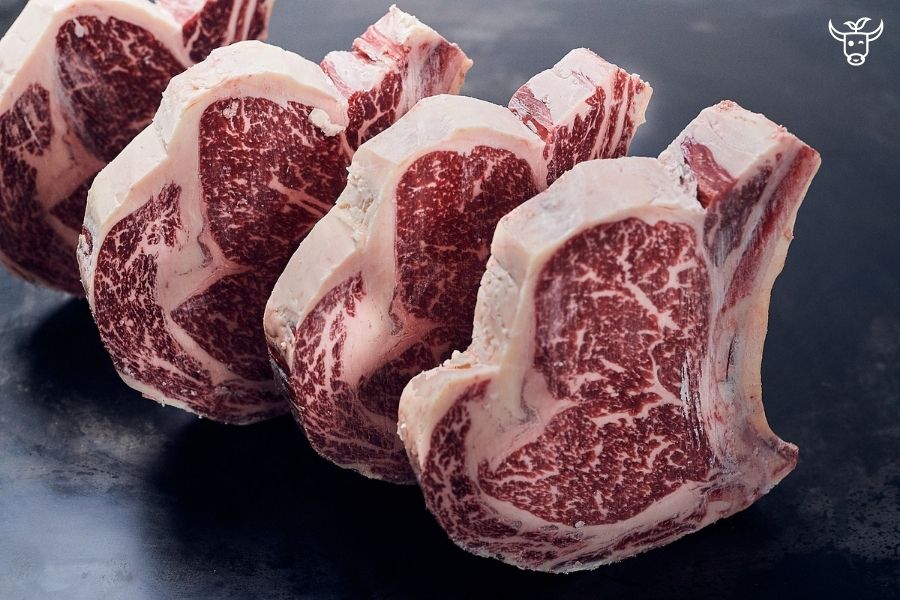 How healthy is Wagyu meat?
Wgayu beef - not all fat is the same
With such a high proportion of fat storage or such a strong marbling, the question naturally arises as to how healthy the consumption of Wagyu meat really is.
Quite rightly, in our opinion. But the fat of Wagyu cattle is clearly different from "normal fat".The meat has an above-average proportion of omega-3 and omega-6, as well as simple unsaturated fatty acids. This means that meat is relatively low in cholesterol and provides important nutrients. However, that's no reason to treat yourself to a large portion of it right away. Apart from the high price, it is still a really proud amount of fat that you would consume here.
So, with a normal steak size, you would run out of breath pretty quickly. Therefore, Wagyu beef is generally enjoyed in rather small portions.
Wagyu cattle from Austria
In the meantime, there are also a few Wagyu breeders in Austria who really understand their craft and put animal welfare in the foreground. The high art of marbling that makes up the delicacy is thus mixed with regional and animal-friendly husbandry.
Compared to Japanese cattle, where the primary goal is to achieve maximum marbling, which can only be achieved with little exercise and light deprivation, the focus here is on a balanced fat-meat ratio.The aim is to combine extremely high quality and enjoyment with respectful and species-appropriate animal husbandry.
In Japanese Wagyu cattle, on the other hand, the fat-meat ratio is increased immeasurably through extreme carbohydrate fattening. While this may lead to an extraordinary pleasure experience, the question arises whether this is really what one wants. Because there is virtually nothing "natural" about Japanese Wagyu meat.
This is what Austrian Wagyu tastes like
Since in our regions meat is enjoyed without a high fat content, the Austrian breeding of Wagyus has concentrated primarily on the taste of the meat. The strong marbling is still desired, of course, but is not completely overdone in comparison. Thus, the noble breed of cattle, with its ingenious genetic disposition, meets high-quality feed, perfect husbandry and careful rearing. A real win-win situation, we would say.
The combination of high fat content and glutamic acid, together with the short meat fibres, makes for a delightful experience that will blow your mind. The meat is fabulously tender and almost melts in your mouth. The flavours are strong and make you pause while eating.It is definitely a speciality that you should treat yourself to.
By the way, Wagyu burgers are also excellent. Because the meat can be wonderfully processed into fabulous burger patties.Have you got the urge to try Wagyu yourself? In our online shop you can find exclusive premium cuts from full-blooded Wagyu cattle from the beautiful Waldviertel region.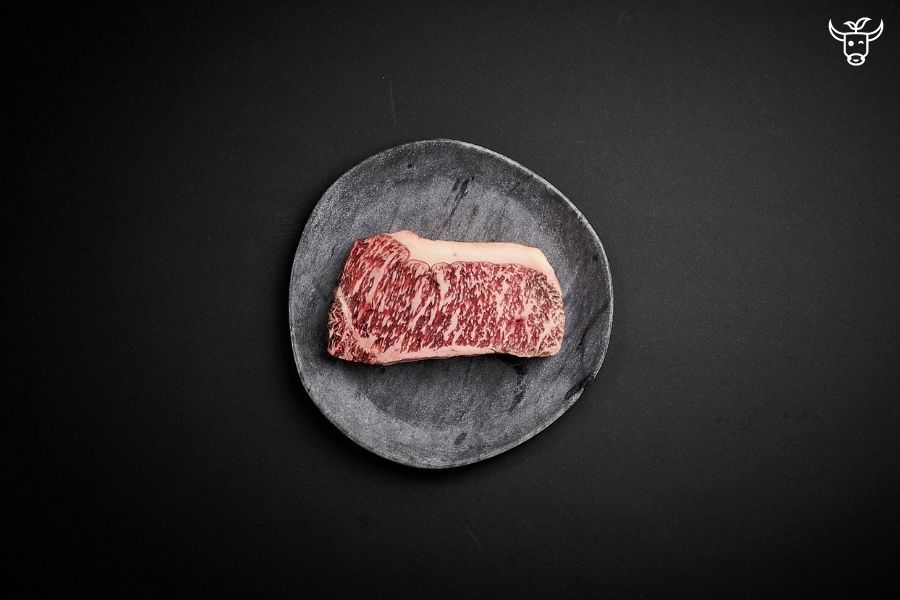 Functional cookies are absolutely necessary for the functionality of the web shop. These cookies assign a unique random ID to your browser so that your unhindered shopping experience can be guaranteed over several page views.
Activated cookies:
Saves which cookies have already been accepted by the user for the first time.
PayPal payments:
Dieses Cookie wird für Zahlungen mit Paypal verwendet.
Timezone:
The cookie is used to provide the system with the user's current time zone.
Information on origin:
The cookie stores the referrer and the first page visited by the user for further use.
CSRF token:
The CSRF token cookie contributes to your security. It strengthens the security of forms against unwanted hacker attacks.
Cookie settings:
The cookie is used to store the cookie settings of the site user over several browser sessions.
Session:
The session cookie stores your shopping data over several page views and is therefore essential for your personal shopping experience.
CAPTCHA integration:
Dieser Cookie wird verwendet, um zwischen Menschen und Bots zu unterscheiden. Dies ist vorteilhaft für die webseite, um gültige Berichte über die Nutzung ihrer webseite zu erstellen.
Cache handling:
The cookie is used to differentiate the cache for different scenarios and page users.
Partner program:
This cookie is necessary for the partner program of the shop.
Tracking cookies help the shop operator to collect and evaluate information about the behaviour of users on their website.
Bing Ads:
This cookie is used by Bing to gather anonymous information on how visitors are using the website.
Mouseflow:
1st party cookie, persistent: Ein Cookie zur Überprüfung, ob es sich um einen neuen oder einen wiederkehrenden Benutzer handelt Dieser Cookie stellt fest, ob der Benutzer ein wiederkehrender oder ein erstmaliger Besucher ist. Dies geschieht einfach durch ein Ja/Nein-Kontrollkästchen, und es werden keine weiteren Informationen über den Benutzer gespeichert. Dieses Cookie hat eine Lebensdauer von 90 Tagen.
Google Analytics:
Google Analytics is used for traffic analysis of the website. Thereby statistics about website activities can be created and read out.
Sendinblue:
Sammelt Informationen über die Navigation und die Präferenzen des Benutzers auf der Website - Dies wird verwendet, um potenzielle Newsletter auf der Grundlage dieser Informationen zu versenden.
Allow functional cookies to show up the live chat widget. You can read everything about Smartsupp cookies here: smartsupp.com/help/privacy
Service cookies are used to provide the user with additional offers (e.g. live chats) on the website. Information obtained via these service cookies may also be processed for site analysis.
SmartSupp:
SmartSupp provides a live chat application for site users. The cookie is used to ensure that the application functions properly over several page views and to generate statistics on the use of the web application.
For creating and using a wish list
Accepted:
Cookie, um die Wunschlistenfunktion zu ermöglichen
wish list:
Cookie, um die Wunschlistenfunktion zu ermöglichen
Wishlist:
Cookie, um die Wunschlistenfunktion zu ermöglichen
Marketing cookies are used by third parties or publishers to display personalized advertising. They do this by tracking visitors across websites.
Google conversion tracking:
The Google Conversion Tracking Cookie is used to track conversions on the website effectively. This information is used by the site operator to target Google AdWords campaigns.
Google AdSense:
The cookie is used by Google AdSense to promote advertising efficiency on the website.
Facebook:
Das Cookie wird von Facebook genutzt um den Nutzern von Webseiten, die Dienste von Facebook einbinden, personalisierte Werbeangebote aufgrund des Nutzerverhaltens anzuzeigen.
Facebook Pixel:
The cookie is used by Facebook to display personalized advertising offers based on user behavior to users of websites that integrate Facebook services.
Instagram:
Token, um den Fitmeat-Instagram-Feed anzuzeigen.
Google Tag Manager:
Pixel, um den Google Tag Manager zu aktivieren
Cookies for the best
Fitmeat shopping experience
Our website, like our steaks, is perfectly tailored to you.
To do this, we at Fitmeat use cookies to keep our website running optimally, to keep track of performance, and to deliver relevant content and personalized ads to you. To make this work smoothly, we use user data, such as which offers are used on which devices.
If you like this as much as our meat and click on "accept cookies", you agree and allow us to process this data. If you do not like cookies
and do not want to accept them
, we will limit ourselves to the necessary cookies and will not be able to provide you with customized content. You can find more details and all options in the privacy settings. Of course, your appetite can change at any time and your settings can be adjusted. You can find more information in our
privacy policy
or in the
imprint
.