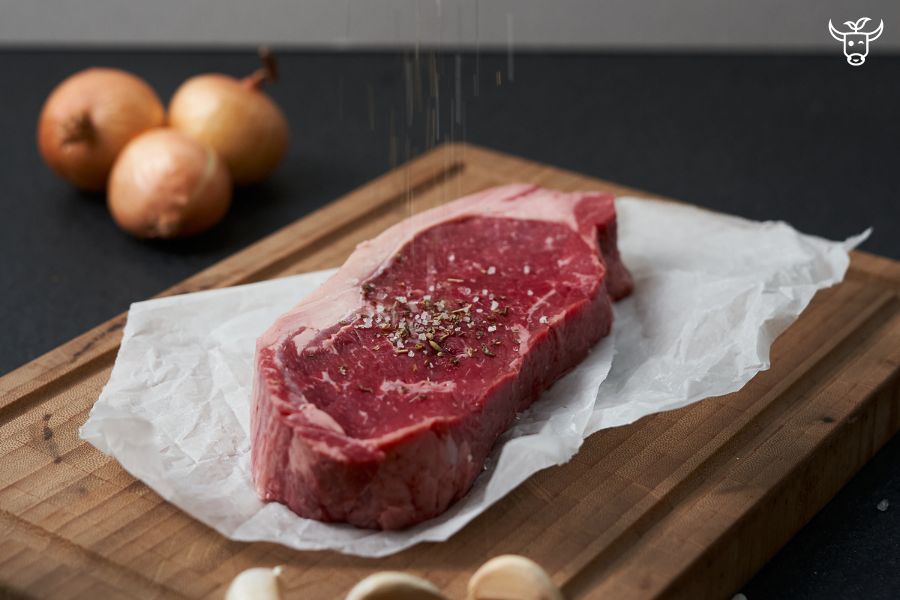 Chill out - Steaks and their resting times
What makes a really good steak a true masterpiece? Well, there are a number of factors involved. In addition to the breed of cattle, optimal animal husbandry and feeding, there is also the maturing time, storage and ideal preparation.
With steaks from Fitmeat, the first five points are already guaranteed. To make sure the preparation is just as successful, we'll tell you the most important tricks. This time: the resting times of steaks.
Why do steaks have to rest?
Short and hot roasted, a dreamy crust full of roasted flavours and a juicy core - bäääm, that's exactly how it has to be. But there is another important point that is often underestimated. Steaks need a resting period, want to chill and first need to recover a little from searing.
Probably some people are now asking themselves why this is the case? First of all, due to the fact that meat consists of muscle fibres. These contract when exposed to high heat, which causes the steak to ball up.
Responsible for this is the protein contained in the meat, which makes up a large part of the muscle. By searing it, it changes its structure, it denatures and the fluid between the protein and the muscle fibres disappears. Conversely, the meat naturally becomes drier in those areas that have been exposed to the most heat.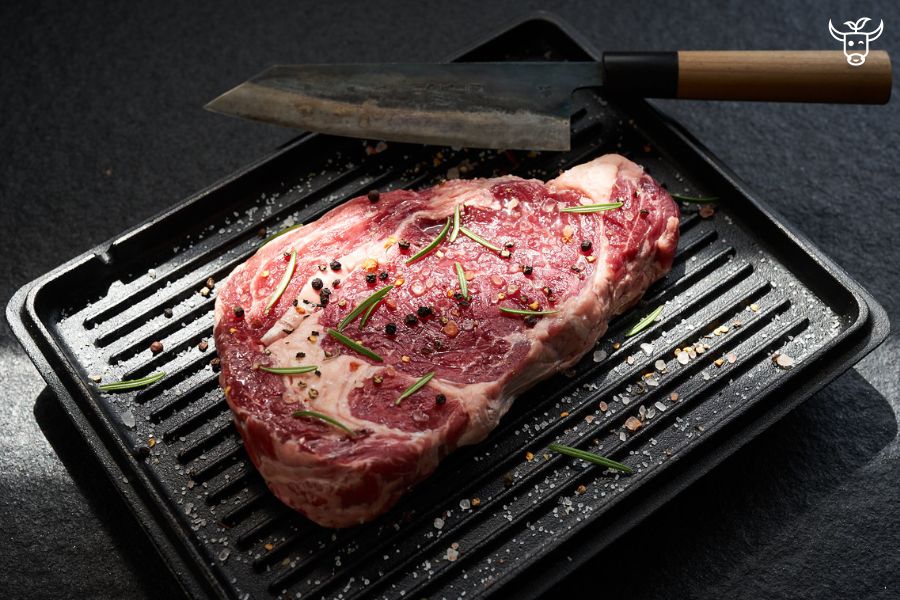 The great after-cooking
Just because you sear or grill a steak briefly and hot, it doesn't mean that the heat doesn't have after-effects. When you finally take the meat out of the pan or off the grill grate, the heat continues to work its way inside.
This is exactly where caution is needed, because the meat is still cooking. So that it doesn't become a shoe-in, you should definitely work with a core temperature gauge.
During the resting time, the core temperature gauge should remain in the meat. As soon as the temperature stagnates, the chilling is over. In this case, the temperature has spread evenly throughout the steak.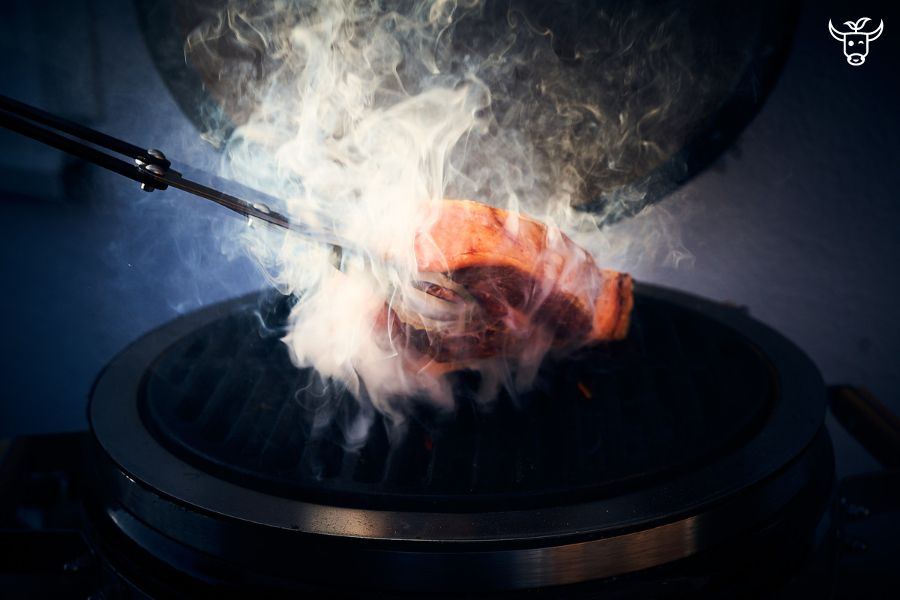 Chilled pleasure - How long do steaks need to rest?
Nach einer Ruhephase erkennt man sofort, dass das Fleisch wieder flacher und deutlich entspannter ist. Die Fleischsäfte haben sich verteilt, ohne dass dabei die geniale Kruste verloren geht. Stellt sich nur die Frage, wie lange Steaks in diesem Fall ruhen müssen.
After a resting period, you will immediately notice that the meat is flatter and much more relaxed again. The meat juices have dispersed without losing the ingenious crust. The only question is how long steaks have to rest in this case.
Here, too, there is a cool rule of thumb. Because the meat gains the last two degrees during the resting time. Ideally, the core temperature gauge should be set to 2 °C below the desired target value during indirect cooking. Together with the resting phase, this creates a real precision landing.
Of course, the length of the resting period also depends on which piece of meat is being prepared. Here we have a brief overview of the different resting phases for you:
| | | |
| --- | --- | --- |
| Calf | Cut | Resting Time |
| | Steak | 5 - 10 minutes |
| | Roast | 15 - 30 minutes |
| | | |
| --- | --- | --- |
| Pig | Cut | Resting Time |
| | Pork Chop | 5 - 10 minutes |
| | Filet | 10 minutes |
| | Roast | 15 - 20 minutes |
| | Pulled Pork (Boston Butt) | 30 - 120 minutes in an insulated box with 2x 1.5 litre water bottles with warm water |
| | | |
| --- | --- | --- |
| Breed | Cut | Resting Time |
| Lamb | | |
| | Lamb Chop | 5 - 10 minutes |
| | Roast | 15 - 30 minutes |
| Poultry (Chicken) | | |
| | Legs | 5 - 10 minutes |
| | Chicken breast | 5 - 10 minutes |
| | As a whole | 15 - 20 minutes |
Resting meat - what is the best way?
There are several methods for letting meat rest after roasting. From re-cooking in the oven, to stone plates, to the controversial aluminium foil, everything is possible.
To make it really perfect, we recommend using a preheated plate or a stone board. In this case, the heat is not unnecessarily drawn from the steak.
Our Fitmeat stone boards are ideal for this (be sure to preheat them) and can also be used for serving.It is important that the meat is not completely covered. In this case, the beautiful crust would soften again.
Why meat should not rest in aluminium foil
Caution is also advised with the well-known trick of using aluminium foil. If a steak is wrapped in aluminium foil, the meat literally begins to sweat.
This causes small drops of water to collect on the surface and soften the crust again. In addition, salty foods can break down or dissolve the structure of the aluminium foil. So healthy and tasty is something else.
Instead of the classic aluminium foil, we therefore advise you to use baking paper or butcher paper. This way, the meat can rest without collecting liquid on the surface and remains beautifully aromatic.