The beef brisket guide for real grillers
Beef brisket, also called full-pack brisket or beef brisket, is one of the most popular cuts of beef. As part of the "Holy Trinity of Barbecue", it is one of the absolute king's disciplines on the barbecue.
It requires a lot of intuition, a perfectly tempered smoker and patience. With our guide, you will learn the most important facts about brisket and how to prepare it optimally.
Beef brisket - the cut
Definition of Full Packer Brisket
For a real beef brisket, you need a whole brisket - a "full packer brisket". This is the brisket core, which consists of the so-called flat and point. The two pieces are connected by a wide layer of fat, the "fat cap". The large piece is called "Flat", the small piece lying on top is called "Point". If the piece is not cut but remains whole, it is called a full packer brisket.
Are you ready to get started? Then we'll tell you what you should look out for when shopping.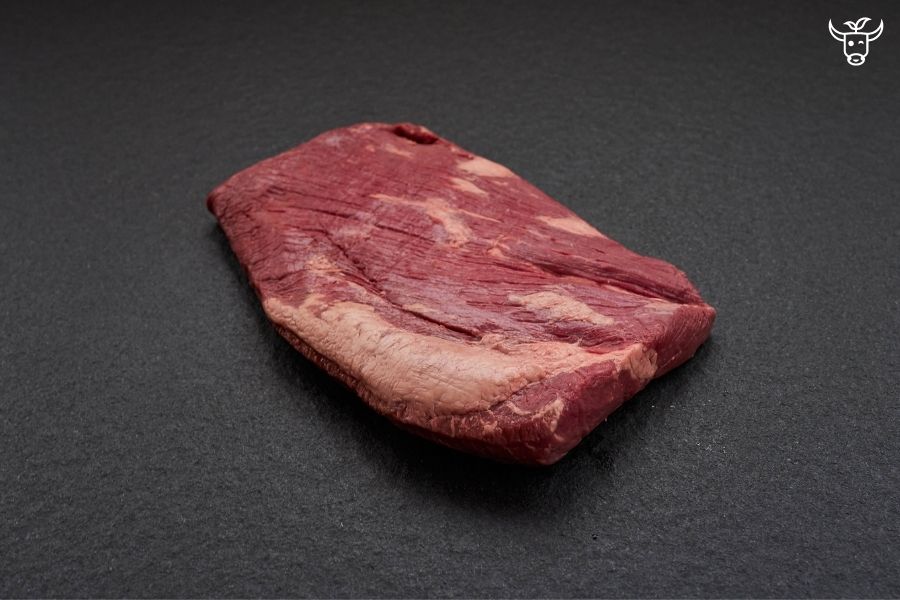 Smoking beef brisket
What to look for when buying
Whether the result will be perfect in the end is already decided before smoking. First-class meat quality and perfect ripeness are the be-all and end-all. After all, the whole procedure can take 1-2 days, so it would be a shame if the meat is dust-dry or simply not tasty at the end. We have a few tips for you to make sure that doesn't happen.
Brisket: Which meat should I buy?
For a juicy beef brisket, it is best to choose a "full packer brisket" from a calf (also called heifer) or a steer. The fine fibres of the calf in particular make the meat of the approximately two-year-old female cattle, which have not yet calved, so interesting.
At Fitmeat you get first-class briskets from the Angus (Red-Angus and Black-Angus), Simmental, Charolais and Pinzgau breeds. These are excellent because of their fullness of meat and beautiful fat cover. This allows the cuts to mature better without drying out.
Deluxe brisket from Wagyu beef
As an absolute deluxe variant, we also always have beef brisket from Wagyu beef (veal and steer) in our range. These cuts are very marbled and have a very intense and special flavour of their own. A real delicacy. So if you want to treat yourself to a real treat with friends or family, don't miss this opportunity.
By the way: Meat from young bulls, young steers or young cattle is definitely not suitable for a juicy brisket. This also applies to smaller pieces. Therefore, it is better to prepare a small brisket (from approx. 2 kg) instead of putting a halved piece on the smoker. (Here you can find our article on young bulls)
Brisket – der Preisvergleich
Briskets are offered in different price ranges. However, one should not be deceived by appearances. They are often offered at a very low price with a thick layer of fat. However, as soon as the cut is trimmed or parried, a lot of weight falls off. A 4.5 kg beef brisket can easily become a 2.5 kg piece. The effective price per kilo doubles. Our briskets are perfect for smocking - be sure to bear this in mind when purchasing and comparing prices!
The price for a good brisket is usually between 15 and 22 € per kilo. Of course, the price increases for the Wagyu beef variety. You will find a perfect selection of briskets in our online shop - feel free to take a look around: Full Packer Briskets by Fitmeat
Marinating brisket properly
Which rubs are suitable?
A good brisket has a distinct beef flavour that should remain in focus. It is therefore advisable to use a high-quality dry marinade (a rub) that emphasises the flavour but does not overpower it.
If you don't want to mix it yourself, but prefer to order a well-balanced rub, we recommend the Brisket Rub or Dalmatian Rub from Ankerkraut. In our opinion, the main ingredients of salt, pepper, garlic and onion make them ideal for a piece with such a brilliant flavour of its own.
If you want, you can inject your brisket with veal jus or beef stock beforehand. This is not a must for a high-quality piece, but it is definitely an option. So in the end, it's purely a matter of taste.
How do you smoke it?
Smoking chips or wood
A nice smoke ring is allowed, but it should not taste too strong and bitter. It is therefore advisable to smoke with fruit wood such as apple wood rather than adding hickory throughout the cooking time. Brisket should only have a fine smoky note.
Different types of wood develop different flavours. Here are the most common types of wood for smoking:
Räucherchips oder Holz
Ein schöner Smoke-Ring darf schon entstehen, er soll aber nicht zu stark und bitter schmecken. Daher ist es ratsam eher mit Obstholz wie Apfelholz zu smoken, als die ganze Garzeit lang Hickory nachzulegen. Ein Brisket soll nur eine feine Rauchnote tragen.
Unterschiedliche Holzarten entfalten unterschiedliche Geschmäcker. Hier die gängigsten Holzarten zum Smoken:
| | | |
| --- | --- | --- |
| Wood | Suitable | Intensity |
| Hickory | *** | *** |
| Apple | *** | * |
| Mesquite | *** | ** |
| Cherry | *** | * |
| Oak | *** | *** |
| Pear | * | * |
| Beech | ** | *** |
Let's go - the smocking begins!
Smoking brisket is almost an art in itself. It takes a lot of patience and the process is divided into different phases and steps. Here is an overview of the steps involved in the preparation
Parry the brisket (if necessary)
Seasoning
Inject
Heat the smoker
Smoking
Steaming
Glazing
Cutting
Smoking brisket - the right preparation
The paring
As so often in life, the right preparation is half the battle. So that a beef brisket into a brilliant brisket, it has to be prepared properly. A good butcher or meat webshop will do this for you. If you get a piece that still has a large cover of fat on it, you have to trim it with a sharp knife. Ideally, however, there is only a little fat left on the top - like this: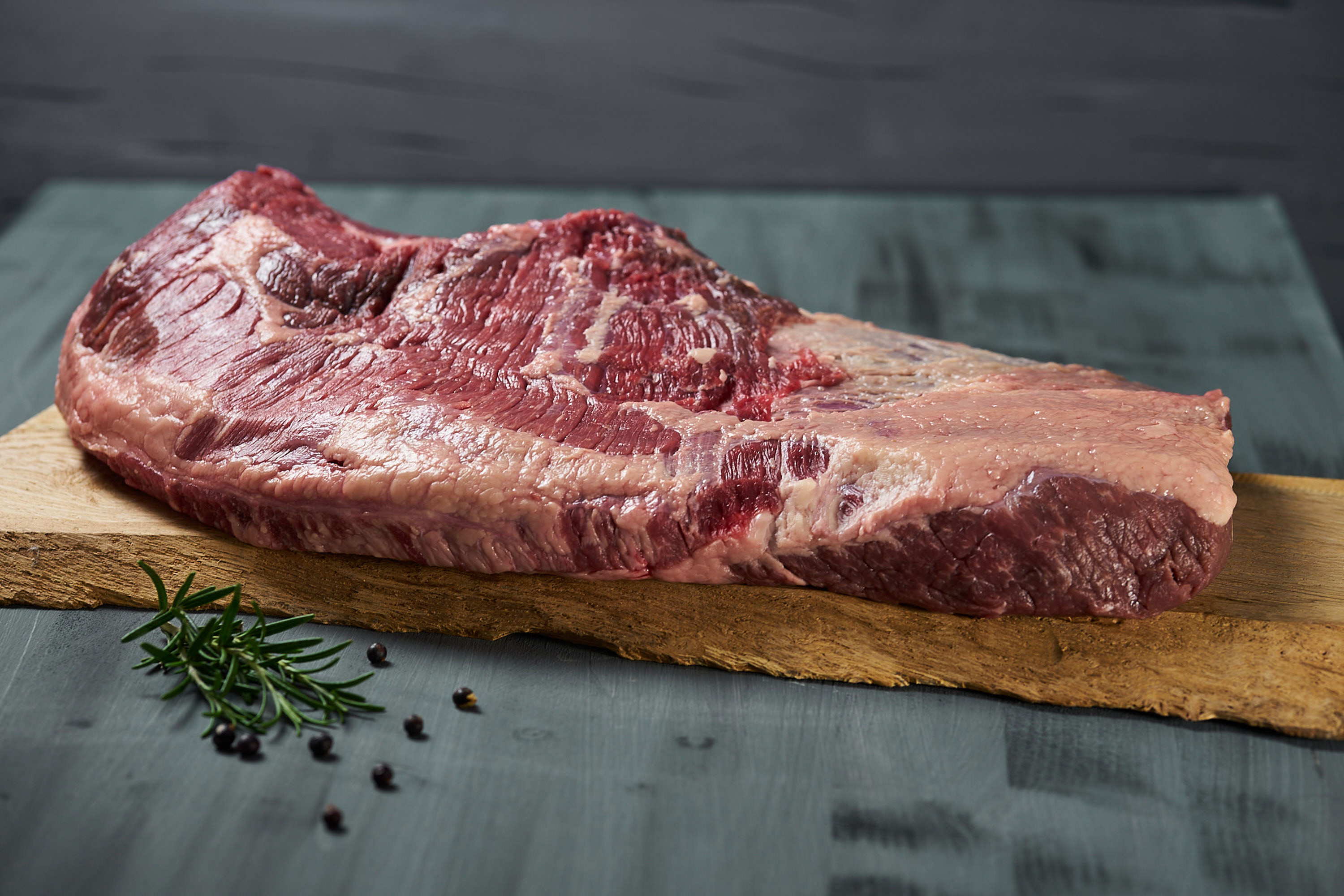 Full Packer Briskets from Fitmeat are always delivered ready to grill - just unpack, season and go!
We prefer to use veal or beef jus mixed with a little Worcester sauce and inject it evenly into the brisket. It's better to inject more often and inject some jus than just in one spot. Unevenly distributed liquid would negatively affect the cooking result.
Seasoning the brisket
A dry marinade or rub is ideal for seasoning or marinating. We like to use the brisket rub from Ankerkraut or the Dalmatian rub.
If you like to mix your own, it is best to choose coarse salt, pepper and, if you like, garlic powder, onion powder, brown sugar or even some ground mustard seeds. Rubs that are too "strong" or generally contain smoke flavours are not recommended.
Smoking - the cooking times for briskets
Depending on the size of the brisket, the cooking time will vary accordingly.
Here is a small guide:
| | |
| --- | --- |
| Weight | Cooking Time |
| 1-2 kg | 6 - 8 Hours |
| 3-4 kg | 8 - 10 Hours |
| 5-6 kg | 10 - 18 Hours |
| 7-9 kg | 12 - 18 Hours |
*Data without guarantee and only as a guideline. The exact cooking time depends largely on the animal, the breed and the preparation method.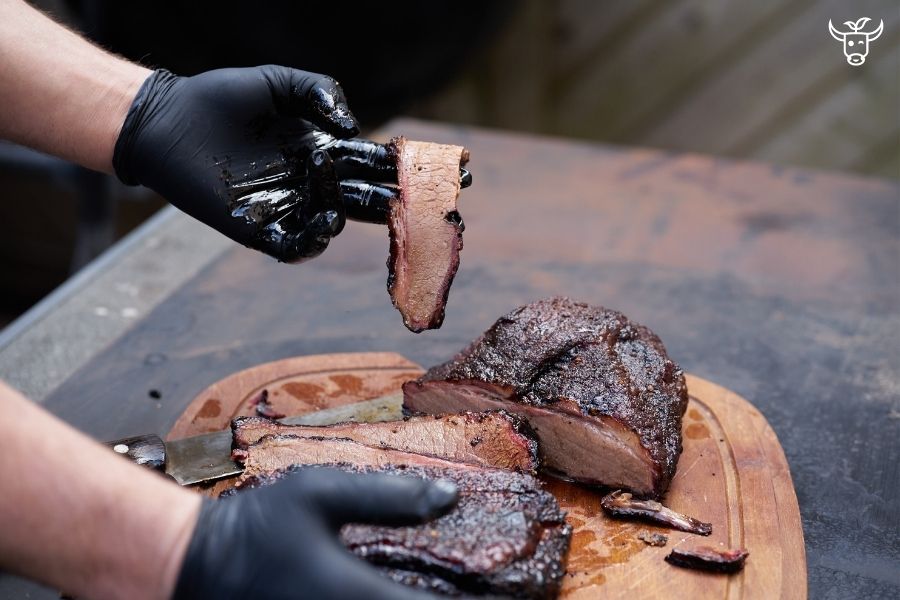 Heat up the smoker
The temperature should be kept constant at 110 - 120 °C throughout the cooking process. The higher the quality of the smoker, the easier it is to maintain the temperature.
A thick plate wall thickness is extremely helpful, as temperature peaks are "absorbed" by the material and the brisket is less likely to overcook. We like to heat the grill with large, coarse pieces of coal and keep adding smoking wood during the first few hours.
Here we go!
The smoker is adjusted and has a temperature of 110 - 120 °C, the brisket is ready parried, injected and seasoned and a few cold beers for the grill master are ready? Then you're ready to go! We always smock our beef briskets open first and then continue to braise them, wrapped in butcher paper.
The smoker is adjusted and has a temperature of 110 - 120 °C, the brisket is ready parried, injected and seasoned and a few cold beers for the grill master are ready? Then you're ready to go! We always smock our beef briskets open first and then continue to braise them, wrapped in butcher paper.
Smoking - this is how it's done!
The smoker has a constant temperature of 110 - 120 °C.
A bowl of water in the smoker helps to moisten the brisket and stabilise the temperature
A handful of smoke chips/wood are placed in the embers and provide a light and constant smoke for the first few hours (add more if needed)
Place the brisket on the grill with the fat side down.
Brush the outside of the brisket regularly with some warm BBQ sauce or mixed jus and rub (from the injection) to keep it moist (every 30 - 60 minutes while it is open on the grill rack)
The open cooking phase ends at 80 °C core temperature. Important: At approx. 70 °C the so-called plateau phase occurs. This is a physical effect in which the liquid from the meat reaches the surface and evaporates there. The surface cools down and it seems as if the beef brisket no longer gets hotter. Do not "counteract" this by increasing the cooking chamber temperature - otherwise the brisket would dry out very quickly!
At 80 °C core temperature, the all-clear is given - the plateau phase is over, the meat is already dark on the outside and looks quite good. Now prepare a generous layer of butcher paper.
The brisket is popped again and then wrapped in butcher paper and placed back on the grill. At a core temperature of 93 °C, it can be removed from the grill. The brisket is now soft and ready for the resting phase.
Similar to a steak, the brisket must also rest for a certain time before it is cut. If the brisket is cut directly from the smoker, the meat juices would spread over the board and the meat would become incredibly dry - no one would be happy with that.
Therefore, wrap it several times in aluminium foil or butcher paper and place it in a thermo box. It can rest here for an hour or more before being cut.

The right cut
Finally the time has come. After hours of smocking and an equally long preparation of the smoker, the brisket is ready for cutting. You can even toast it right away to celebrate.
The meat is carefully removed from the foil and placed on a large board. Use a sharp knife to cut the brisket in half. The direction of the grain is important here: the flat piece is cut into even slices about 5 mm thick, while the point must first be turned 90° before this part can be cut.
The end pieces, where the brisket is thin and crispy, are wonderful for making burnt ends, which are the crowning glory.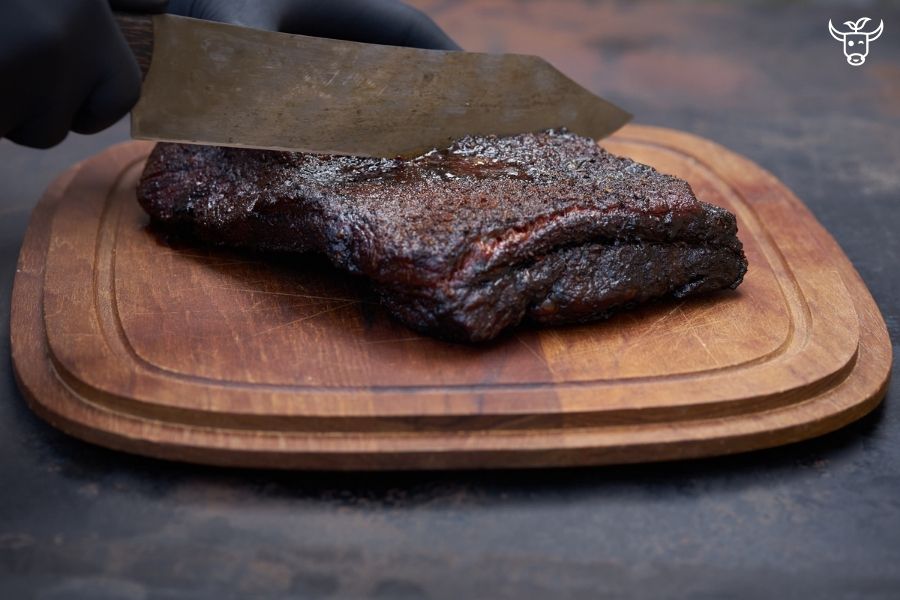 Special: Burnt ends from brisket
You want an extra course? No problem, the burnt ends are just perfect for that.
Simply cut the dark end pieces of the brisket into cubes and glaze them briefly with barbecue sauce in the remaining heat on the grill. The Burnt Ends can then be served as the next course!
Have fun with the preparation and a great result! Smoking brisket is a real experience and your patience will be rewarded in the best form with the ultimate enjoyment.