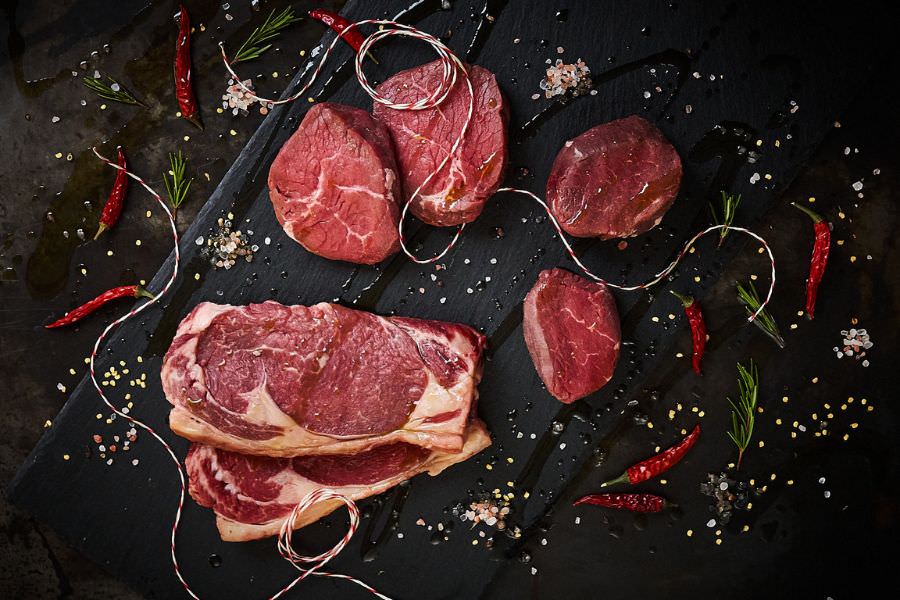 Wanna have Beef? Cuts for grilling, smocking & braising
High-quality beef is one of the most popular types of meat and is incredibly versatile. We show you which cut of beef is perfect for which preparation! Beef is one of the most popular types of meat and not without reason, as it is so incredibly versatile. It's hard to imagine a pan or barbecue without beef.
Sure, a crispy roast chicken or a delicious pork loin are all well and good - but it's hard to match the fabulously aromatic cuts of beef.
From strongly marbled to lean, from intense to mild, from firm to incredibly tender - beef cuts are available for all tastes.
The only difficulty is choosing the right cut of meat and preparing it appropriately. Depending on the country and region, the names and cut shapes of the meat cuts vary - we give you an overview and also mention the most common names.
Beef cuts and their location
Steak cuts from cattle classically come from the back, which is often referred to as the "English" (cattle's back). That is, between the front shoulder and the leg, at the rear end.
So this is where the most famous steaks that we all love so much are hidden. Like the rib-eye from the roast beef, the beef loin, as well as the filet and the T-bone steak. But that doesn't mean that neck, shoulder and rump don't produce equally brilliant cuts.
Depending on where a piece comes from, it has a different proportion of intramuscular fat (marbling) as well as tendons and muscle tissue. This is exactly what determines the taste of the beef, in addition to the optimal preparation. Whether it should be roasted, grilled or braised is therefore purely a matter of location.
Beef cuts for grilling
Which cuts of beef make the griller's heart beat faster? Quite clearly, the absolute steak classics such as the:
They are suitable for short, direct grilling and definitely provide a real moment of pleasure.
But there are even more beef cuts that you should definitely try on the grill (or in the pan). Our favourites?
Picanha steak (aka the "Argentinian boiled beef")
TriTip Steak (hipster steak, especially matured)
Asado De Tira (strips of short rib)
Cuts of beef for direct grilling
The somewhat firmer cuts of beef are of course just as suitable for the barbecue, but need a little more time. These include:
Sirloin steak (from the "flat roast beef" or rump, also known as rump steak)
Flank steak (from the thinness / belly flap, also known as small bavette)
Skirt steak (from the diaphragm)
Tomahawk steak (from the forequarter)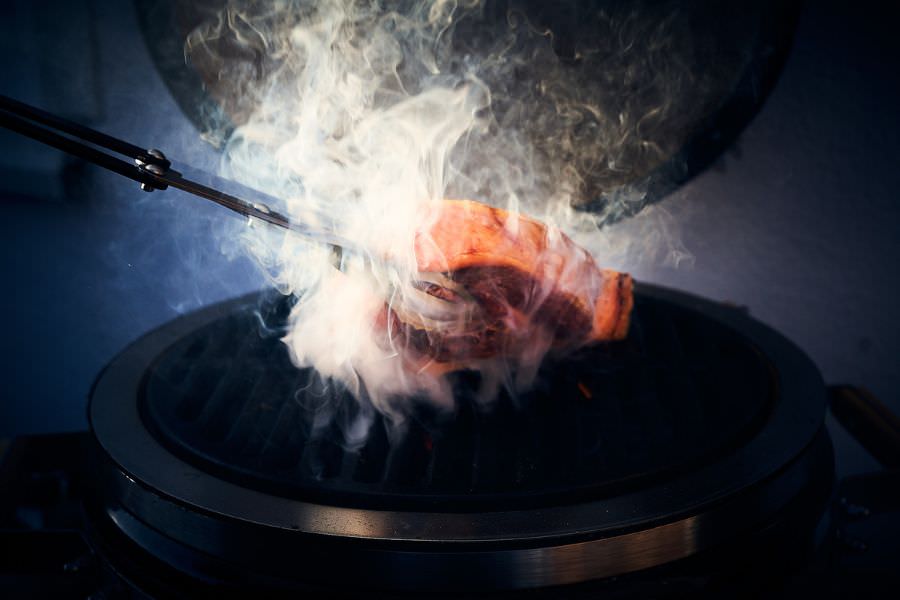 Cuts for searing and indirect grilling
The larger cuts of beef are suitable for a combination of searing and indirect grilling. These include:
Whether for grilling or roasting, the length of time it takes to cook varies, mainly depending on how much the area has been used. More precisely, how often the muscle was in motion. The greater the activity, the more coarse-grained the meat becomes.
It therefore needs a longer cooking time than a short-fibred piece of meat. And last but not least, of course, perfect maturation is important. Because it is only through the maturing process that the meat becomes proper, juicy and tender. That's why we at Fitmeat let our meat mature for up to eight weeks before it's available in the shop.
Click here for our legendary Dry-Aged Cuts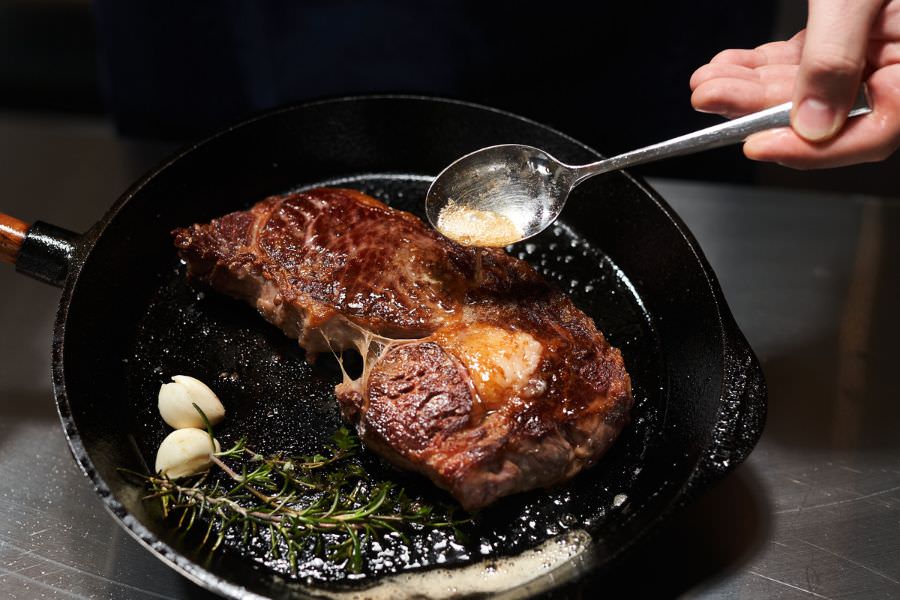 Cuts of beef for smocking
In addition to the classic searing or grilling, cattles naturally also provides ingenious cuts for a fabulous smoking experience!
Of course, the following much sought-after cuts should not be missing:
These cuts provide real high emotions when smocking, because what would the "holy BBQ trinity" be without a Full Packer Brisket? Our Plateribs, with their proud 4 kilograms, also provide a real WOW effect and Short Ribs from the rib arches convince with their thick meat coating. They are all perfectly suited for slow smoking and become butter-tender in the process.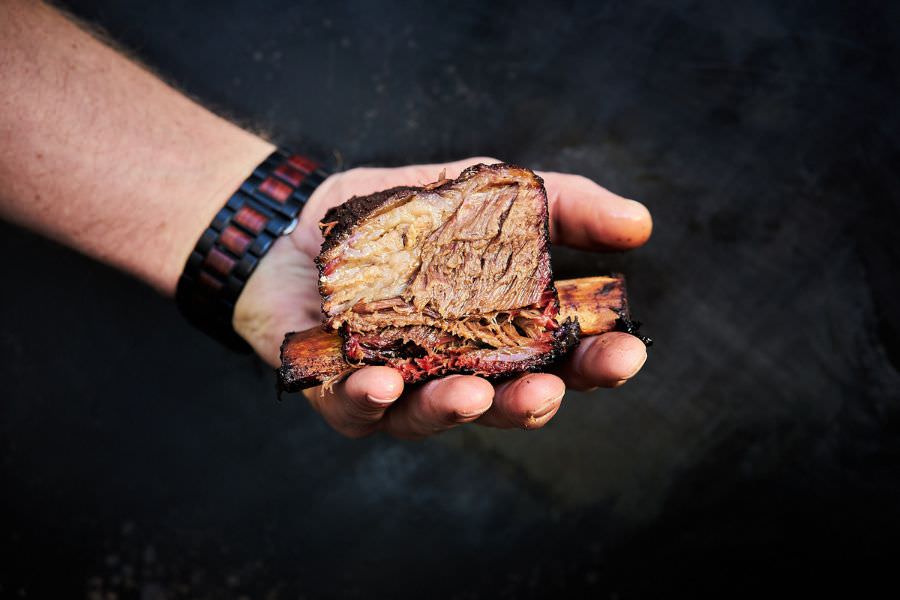 Which parts of veal are suitable for braising?
If you think that beef is primarily only suitable for cooking over the fire, you are very much mistaken. As already mentioned, beef could hardly be more versatile. Of course, there are also excellent cuts of beef that are wonderfully suitable for cooking, simmering and braising.
Braising involves cooking the meat in stock at a high temperature until it is particularly tender. To ensure that this is really successful, mainly cuts from the neck of beef are chosen. Long-fibred or connective tissue-rich cuts of meat are suitable for this, as the collagen they contain dissolves wonderfully and makes the meat juicy-tender. These include:
Beef cutlets (for roulades)
Roast beef (for onion or Viennese vanilla roast beef)
Cap of Rump (what else?)
Hinder shank (for goulash or ragout)
Schwarzes Scherzl (for roast beef)
But the Bugscherzl made from the calf ham of the beef is also a real tip when it comes to braised dishes. The meat is heavily streaked with tendons and perfect for a hearty beef goulash.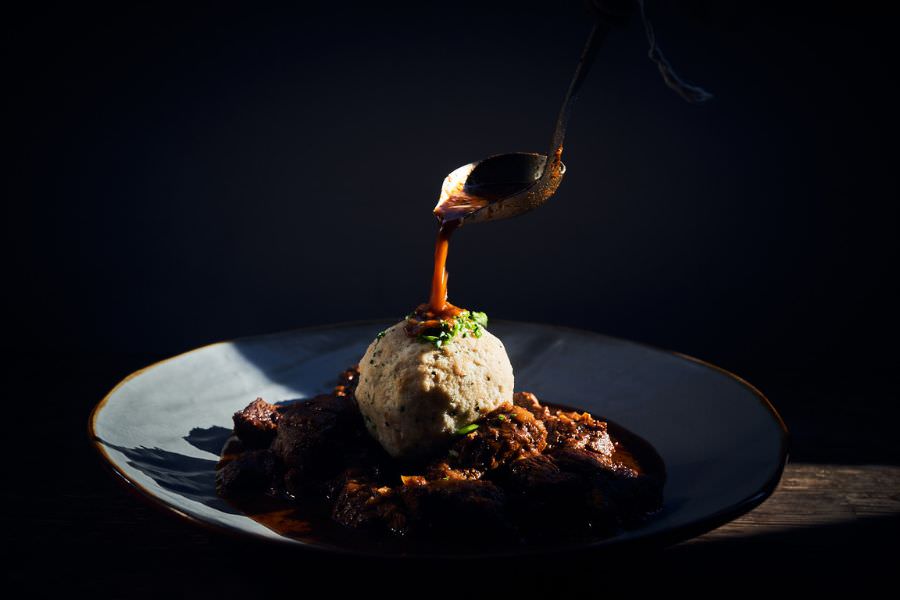 Beef has it all and really makes a difference for every cooking discipline. Whether you're a steak lover, professional smoker, permanent searer or roulade lover, there's something for everyone.
Can't decide which cut you want to try first?
Then we have something brilliant for you to finish off with: because in addition to the best cuts / cuts of beef, you can find the best gourmet boxes to try out in our online shop. See for yourself: